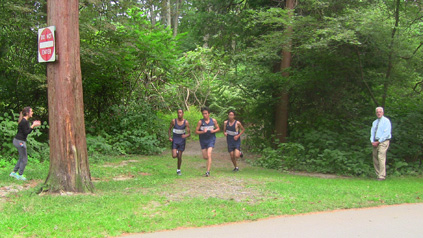 Even after a senior runner broke his ankle, the boys cross country team proved to be a formidable force on the road to GBL's.
On their winning game against Medford on Sept. 23, senior Jonathan Ye fractured his knee two hundred meters before the end of the race. Despite this, Ye and the team beat Medford "convincingly," according to coach David Londino.
With successful victories against Somerville and Medford, Malden High School's boys cross country team is in good shape and ready to work their hardest to attain the title of Greater Boston League champions.
Senior captain Nahom Ghile was outscored by his Somerville opponent, but attained a safe second place while running a great race at an outstanding speed. Ghile was followed by Angus Mo, whose season has also been bright and positive. Junior Jonathan Solomon was right behind Mo taking fourth place, and Senior captain Jonathan Ye figured in the scorings coming in fifth place. Also, Junior Jackie Wang figured, obtaining sixth place.
Victories against Medford were highlights for both the girls and boys team. Continuing his outstanding season, Ghile scored first place, followed by Mo in second place and Solomon in third. Wang attained fourth place, and Senior Blue and Gold member Jonathan DeCicco later scored coming in seventh place.
Although the season has come to an end early for Ye, the dedication of the team shows throughout the season, and the love they have for each other is easily seen.
Next the boys team will run against Everett with the girls. Londino comments that they have "done well in the league," but the "true test" will be at states. "We will see how much they develop," he says.