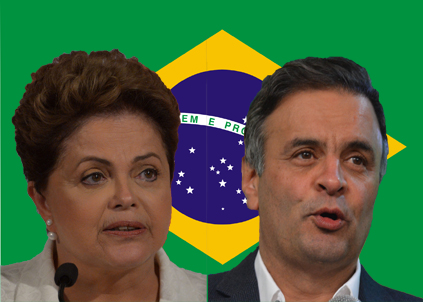 The candidate in Brazil's general election both received less than 50% of the votes at the beginning of October, resulting in a second-round runoff later in the month. Dilma Rousseff, the current president of Brazil, and Aécio Neves, a former governor of Minas Gerais, Brazil, are the two candidates running for president.
Marina Silva, who was in third place with 21.30% votes after the preliminary election, is apart of the
Partido Socialista Brasileiro
(Brazilian Socialist Party). Silva joined the race to replace Eduardo Campos, a former socialist candidate and her running mate, died in a plane crash. The Brazilian Socialist party had recently gained more supporters and it was predicted by many that Silva had a better chance than campos did at beating Rousseff because of a poll held before the election began.
Rousseff, a candidate for the
Partido dos Trabalhadores
(Workers' Party), is running for a second term. The Workers' Party is a party that was launched in 1980 and promotes the practice of a new type of democratic socialism. She was able to make access to electricity more common for the people of Brazil. Rousseff has been known for her effort to reduce federal taxes on the energy bill and taxes on consumer goods.
Although she has been a popular candidate, Rousseff has been criticized for the amount of money that went towards the 2014 Fifa World Cup, held in Rio, Brazil. Some of Brazil supported this decision, but some may argue that the money should have gone towards infrastructure projects. Even though the issue of spending money on the World Cup has worried many people, Rousseff herself has said that she has helped Brazil rise out of poverty.
Neves won 30.60% of the votes in the preliminary election, putting him in second place to Rousseff who won 41.56% of the votes. He was the 17th governor of Minas Gerais and is also related to Tancredo Neves, who was elected to be the president of Brazil in 1985 but died before he was able to take office.
Neves is apart of the
Partido da Social Democracia Brasileira
(Brazilian Social Democratic Party). The party has grown faster than any other party in Brazilian history and has gained popularity because it promotes the defense of democracy, wealth distribution, and economic growth.
The fight in this election has been tough, especially when it comes to advertisement. Like any other election, there have been false accusations. Rousseff was reported to have falsely accuse Silva of trying to take down a anti-poverty program that Rousseff had created to help the country rise from poverty and have a higher number of middle-class people in Brazil. Many believe that the advertisements are a big part of the reason why Silva came in third.
The two Minas Gerais-born candidates will go head-to-head in the second-round runoff on October 25th. Many say that Rousseff is likely to win, but it may be a close race. The preliminary election had been in Rousseff's favor and her advertisement tactics have helped her get ahead in the race. It has been said that her strength is debating, but her public speaking is a weakness.
Even though she was first in the preliminary election, Neves and Rousseff have been statistically tied when it comes to the polls. Some people have said  he race was mostly in Rousseff's favor for multiple reasons but many people believe that they are uncertain of who will be the next president of Brazil at this point, and are eager to see the end results of this election.