Malden High School congratulates varsity boys soccer Coach Jeremiah Smith on being awarded the title of 'Division 1 Soccer Coach of the Year' by the Boston Globe, an achievement few can boast to have even come close to obtaining. Having ended the regular season undefeated, Smith also lead his team to become the Greater Boston League champions for the first time in eight years.
Upon receiving the recognition, Smith admitted that he "was really surprised" and that "it was a tremendous honor." Recently, his own player, senior Mark Ortiz wrote a scholarship-winning essay about Smith, which coupled up with this award. This made Smith feel the recognitions were "a little unnerving," as he is "not used to this kind of attention," since it "seem[ed] like everyday [he got an] email or text from somebody congratulating [him]."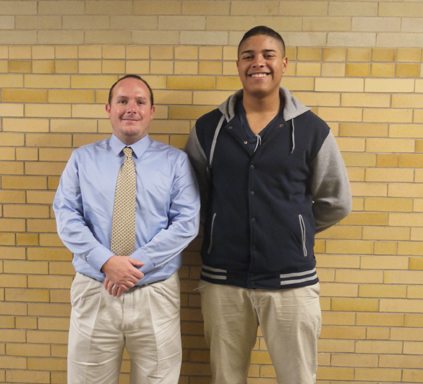 He expressed that he would much rather not be the center of all the attention, as his players "are the ones that really get it done on the field." Smith confessed that this would not have happened without his talented group of players and he "owes [winning this award] to them."
Smith's philosophy on coaching is that "it is not always about being the best player, it is about finding his own level of success and really pushing through limitations." Senior Matthew Silva expresses that Smith was "the reason why [the team] made it far," even when the team "did not [always] agree with some of [Smith's] decisions on the field," they, in the end, wholeheartedly "trusted him."
Senior Julio Salazar goes on to add that having "been coached by [Smith] and getting to know his style of play makes him honored to be on [Smith's] successful team." Salazar truly felt that there was no way to make a "duplicate of [Smith]," as he could always "find [a] way to win against pretty tough teams." Soccer aside, Smith consistently knew "when to make you laugh when nothing seemed to be going right," Salazar commented. To Salazar, Smith "has been a mentor to him on and off the field."
MHS and its students applaud the accomplishments of Smith and thank him for the time and effort he puts to better not only himself, but his players as well.