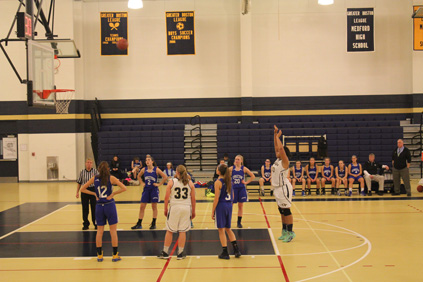 This winter, the Malden High School girls basketball team is ready to play with the mentality that allows them to perform with hard work and passion. Senior captains Jaime MacDonald and Michaela Ilebode are prepared to lead the girls in the right direction, towards success. There are 10 girls, who range from freshmen to seniors, that make up the varsity team.
Along with the captains, Coach Lydia Coverdale is guiding the team in her efforts to bring pride and success among the girls. Coach Coverdale was once a basketball player for the MHS girls team. During her time at the school, Coverdale made one of the greatest achievements a high school basketball player can make throughout their time on the team: scoring 1,000+ points. The MHS staff and the team has gladly welcomed Coverdale back to be apart of the girls basketball team once again.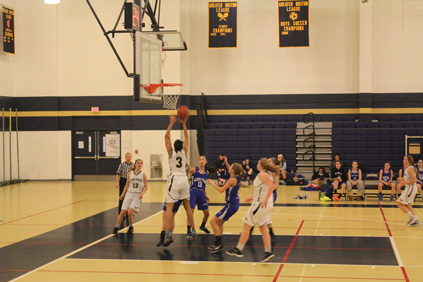 The girls had their first three home games on December 15, 2014 against Georgetown, on Friday January 2, 2015 against Salem and on Thursday January 8, 2015 against Haverhill. The starting lineup for the first game consisted of Ilebode, MacDonald, senior Samantha Drapinski, sophomore LaDaveya Moise and freshman Mackenzie Furlong. Although they lost the two games, it will give them a chance to look at their mistakes and correct them, for success in the future games.
Ilebode states that new members of the team "brought height and ball handling skills." One of the new additions to the team, Furlong describes the team as "hardworking, prideful and strong." Furlong expresses that  "[she is] excited to see what the rest of the season holds for [them]." Furlong hopes to work on strengthening their bond, which is key to having a successful season. Ilebode also expresses that "[they] have definitely gotten a lot closer as a team," but they are also working on more team bonding. Sophomore Caitlyn Leonard also believes that the team should also work on communication.
The team is very excited for the rest of the season and are prepared to improve their skills. Leonard expresses that, "[she enjoys] spending every day with [the] team and love[s] the hard work and passion they bring to each practice and game." Improving their skills is one of the girls' priorities, they always give it their all and put in 110%. Ilebode explains that, "[she] can honestly say [they] have a great relationship with each other, that's what sets us apart from other teams," having this great relationship will allow the girls to have a great season this year.