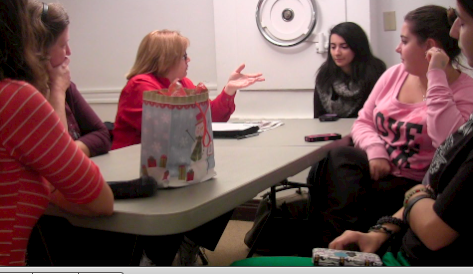 The Zonta Club in Malden was established recently in relation to the much greater international Zonta program. Zonta Club International has the mission statement of  "advancing the status of women worldwide through service and advocacy."  
Over the years, the Zonta Club of Malden has provided awards for youth going above and beyond certain criteria. Recent winner of one of the Zonta provided awards is MHS freshman Sydney Addorisio. Students such as Addorisio have discovered more about the Zonta mission through these awards. It was not until quite recently that the Zonta Club established a Z club for youth. They spread the word about a possible starting of this program to the previous winners of their awards.
The "Z" Club is advised by Carol Ann Desiderio and Dana Johnson. It is set up with a selection of officers. The president of the club is senior Chelsea Sutherland, who attends Mystic Valley Regional Charter School. Sydney Addorisio is the vice president of the club. The club's historian is MHS student Allia Julien. Freshman at Northeast Metropolitan Regional Vocational School Chelsea Shaw is the secretary of the club.
Sydney Addorisio describes the mission of Zonta Club International as "to improve the status of women in society." Addorisio also went on to explain that "Z club has just started for reaching out to high school students [in attempt to] make an impact on our society in school levels, community levels, and eventually internationally."
Since Z club has started this year,  the members of the club have participated in various events locally. They have participated in the Walk for Domestic Violence, the Parade of Traditions, and the "I Need Feminism Because..." campaign. For the feminism campaign, the members of the club each created their own unique signs to hold up and convey reasons why they believe feminism is needed in the world, such as "I need feminism because my period does not invalidate my opinion."
The advisors of Z club were also given letters from kids or parents to Santa Claus. As a unit, the club has worked to complete responses to these letters to bring joy to young children around Christmastime. The letters are short, but still filled with holiday joy, bringing the ideals of Santa Claus to life through the use of exciting and entertaining stories from Santa. The letters are received on Christmas each year and make children's day complete everywhere.
Advisor Carol Ann Desiderio states that "the goal [for 2015] is to give birthday parties to homeless children." With the new year in store, providing birthday parties for children that would normally not get parties is the club's new target. "[The club members] have to keep an eye on the prize," expressed Desiderio.
The club has meetings every Monday at the Malden Teen Center at 4:30 pm. Z club is always looking for new members to join. Addorisio added that people should join because "[it is] a great way to meet new people and make an impact on your society."