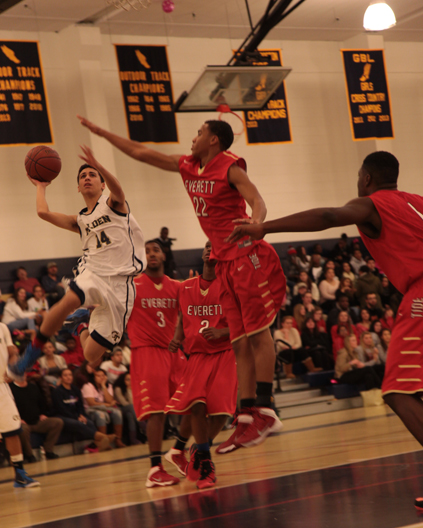 As the last buzzer went off, three seniors hang up their Malden High School jerseys for the last time. Senior captains Rakeem Langston and Isaac Bethea alongside senior Fabian Price-Hernandez left the court against Somerville on Feb. 20 for the last time wearing blue and gold.
The team started the season off like every team wants, winning their first three straight games, turning that to winning four of their first five games. Then the team hit a few bumps along the way and had a rocky season, losing their last seven games of the season. Bringing them to 1-5 in the Greater Boston League, tied with Medford High School for last place.
Although the teams record did not show it, the team had the heart of underdogs shown through their lead scorers Langston and GBL All-Star junior Mark Rogers. Both put on a show every game they played and were great role models on and off the court to their teammates.
MHS fell short by three games to make the state tournament for the third year in a row. This is only the fourth time in the twelve seasons the team did not make the tournament under head coach Don Nally.
Although the season did not go as planned, Bethea learned that "no matter how much potential you have as a team you have to play every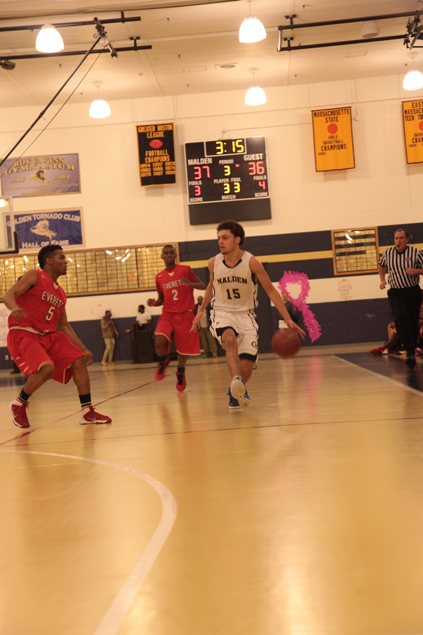 game with your all and not to play to your opponents potential"
However, this team now has tons of potential for the next few seasons, since the team consists of almost all underclassmen. Including Rogers and rising star sophomore Nate Ilebode who both returned to the varsity team this season.
Ilebode stated that "next season [they] have to come out with a bang. Stronger mentally and physically, and have to play every game like its the last." His favorite memory from this season was playing at Salem State against Lynn Classical high school, MHS left with the win. "It was a great atmosphere and it was fun" says Ilebode. The biggest obstacle the team needs to overcome is to work harder when facing adversity whether it is in a game or in preparation for a game.