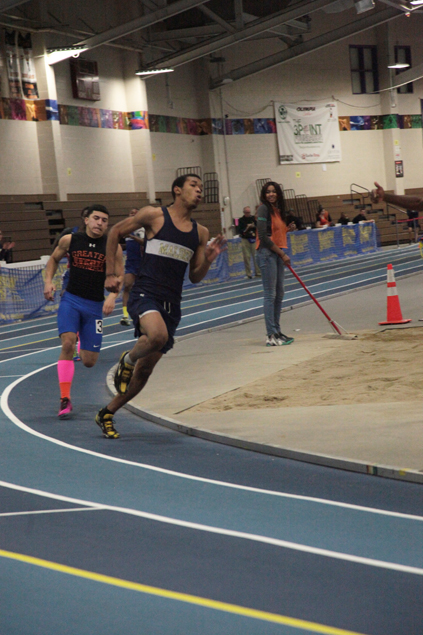 As the indoor track season ends so does senior Kingdolph Julien's indoor career. A well rounded student-athlete, Julien is very involved in the atmosphere at Malden High School.
Julien has lived in Malden for five years. Coming from a family of four other siblings, Julien is fully capable of being a part of a team.  Along with his four years of track, Julien has taken a part of the MHS boys soccer team since sophomore year. Fellow teammate on both the track and soccer team Gutémberg Peixoto Dos Santos describes Julien as "an extremely talented individual."
While reminiscing his track career Julien explains how "[the] experience was pretty enjoyable." Throughout his career he was able "to meet a lot of people and make a lot of friends." Julien claimed that "[during track he] worked hard to achieve [his] goals." When asked what his most memorable moment was, Julien explained how this past season he was a part of the boys 4x400 meter relay that faced off against Somerville at one of the teams last duel meets. The relay was the last event and MHS win depended on the victory of the relay. Julien was a key runner on the team, and described by teammate Mark Ortiz by "it just comes naturally [to Julien], but he still works hard because he constantly wants to improve."
While finishing off his high school career, Julien hopes to attend college this upcoming fall. As he is waiting to hear back from Roxbury college, Boston College, and University of Massachusetts in Lowell, Julien hopes to study psychology. He stated that "[his] only hope in the future is to be somebody and enjoy [his] life to the fullest." Julien advises to other high schoolers to "work hard and challenge [himself]" as well as "the harder [one] works the better the outcome." As Julien ends his high school career he will be deeply missed here a MHS.