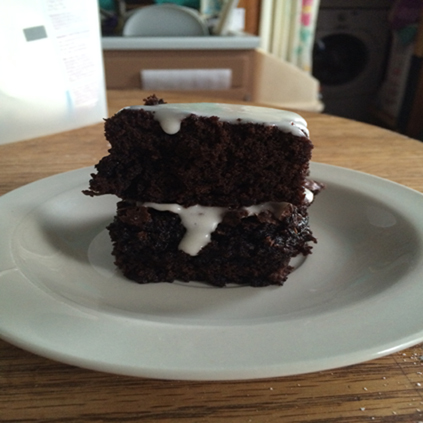 Dark Chocolate Flourless Brownies
Melt the butter, semisweet chocolate, and sugar over low heat. Then turn off the heat, and add in the eggs, cornstarch, salt, cocoa powder, and salt. Once everything is well mixed, pour into a 8x11 pan that was already greased. Bake for 20 minutes or until you can put a toothpick in and it comes out clean.
For this recipe you will need:
2 eggs
6 tbsp. unsalted butter
10. oz. semisweet chocolate
1 tbsp. vanilla extract
1 tbsp. unsweetened cocoa powder
3 tbsp. cornstarch
1/4 tsp. salt
3/4 cups of sugar
Cream Cheese Frosting 
You will need:
2 cups of powdered sugar
1 tbsp. vanilla extract
1 stick of butter
1/2 cup of milk
1 package of 8 oz. of cream cheese
Depending on how thick or thin you would like the frosting, add more sugar for thicker and add more milk for thinner frosting. Add the butter (softened), sugar, milk, vanilla and cream cheese. Once mixed pour on top of the cooled brownies. *If preferred, stack a brownie on top another with a layer of frosting and then cover the top with frosting.*
This recipe is from lifemadesimplebakes.com.