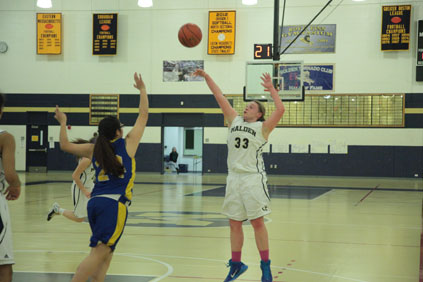 Samantha Drapinski is one of the few seniors on the Malden High School girls basketball team. As she bids her farewell to her last high school basketball season, Drapinski has made her mark here at MHS.
Being on the basketball team for all her four years of high school, Drapinski thoroughly enjoys the sports and the environment. She commented that "even though this [past] season didn't end in a good outcome, [the team] still stayed positive and worked hard throughout the season."
In addition to playing basketball, Drapinski is apart of the girls soccer team as well. Being on the team for all four years of her high school career, Drapinski claimed that "[her] teammates were really supportive." Although at the beginning of her freshman year Drapinski contemplating playing field hockey instead, she realized that she wanted to play soccer after attending captains practices.
Adding on to her athletics, Drapinski is a part of the play production here at MHS. Although not an actress on stage, Drapinski claims "[she] doesn't like being the center of attention [so she] helps behind the scenes with decorating the sets and props." Drapinski enjoys art as well. This year Drapinski was awarded with her first silver key at the scholastic art awards which is a reward to talented artists that only a selected few win.
In the upcoming fall Drapinski hopes to study occupational therapy. She plans to "help people maintain their normal lifestyle after illness or injury." Drapinski has applied to Bay Path University, Salve Regina College, St. Michaels College, and Nazareth College. With her acceptance and decision to attend Bay Path University in the fall of 2015, Drapinski looks forward to helping people. 
As Drapinski bids her farewells to her final basketball season, she looks forward to finishing her high school career here at MHS on a great note.