In 1940 Henry Ford, the creator of the Ford Motor Company, said, "Mark my words: a combination airplane and motorcar is coming. You may smile, but it will come." For years people have associated the idea of flying cars with some futuristic world that they thought was possible in their own imagination, but flying cars may be coming sooner than we all thought.
The new and improved prototype, Aeromobil 3.0 was first introduced and flown in 2014 after the company finished improving from the 2.5 version, which took around 20 years to develop and determine its potential and feasibility. The roadable aircraft was created by Štefan Klein, and will be produced by Airomobil s.r.o. The newest version includes folding wings, which was an element that the earlier versions had lacked.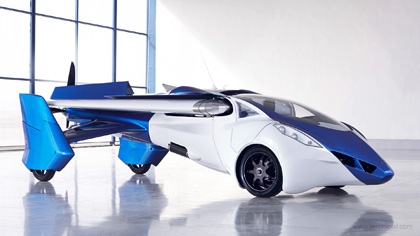 Aeromobil s.r.o.'s take on the idea of a flying car may be different than what most people would imagine a flying car to look like. This roadable aircraft can be driven on the road like any other car, but it is capable of flying like an aircraft when you feel that it is necessary.
When the Aeromobil is used as an aircraft rather than a car, pilots must take off from an airport before flying, but pilots are permitted to land in any area where grass or pavement is present at around a length of 1,000 feet. There is no official price to the Aeromobil, but it will be in the range of thousands of U.S. dollars. According to the company's CEO, Juraj Vaculik, the aircraft is meant for "wealthy supercar buyers and flight enthusiasts."
With an impressive maximum speed of 124 mph when in the air, this aircraft is predicted to eventually limit the need for airports, lower the amount of money spent on multiple roads for cars, and traveling faster to places that can't be connected by a road. An important feature that is currently being added to Aeromobil 3.0 is a parachute system in case of an emergency, making it less likely that the pilot or second passenger on board will have to jump out of the aircraft.
There is still some work that has to be done to this flying automobile, but the company is planning to have it hit the markets some time in the next two or three years. As of this year, the company hopes that their product can start being available for sale in 2017 at the earliest.