A proud member of Malden High School's National Honor Society, senior Eugine Szeto is the driving force behind a recent NHS project encouraging public speaking and societal awareness in the MHS student body. To put it simply, Szeto wishes to push students involved in the project to "be more informed." Located at the Malden Teen Center, he has lead the creation of a variation on MHS' debate team, where students come together, discuss topics relevant to today's society and their own lives and form educated opinions and even resolutions to some of today's pressing societal issues.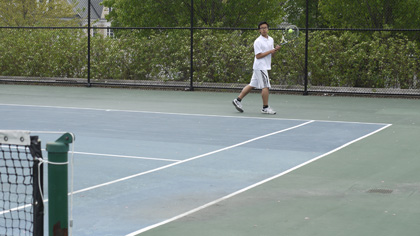 In the first few test runs of the project, Szeto took a direct approach, guiding participants in the right direction in analyzing topics applicable first to their own lives (and later worldwide topics,) discussing the implications of said topics. Now that the first few discussions have ran successfully, Szeto is taking a step back from this direct approach by introducing an idea and letting the students take over the discussion. He does not like revealing his own thoughts on the various topics discussed, as he likes to give participants the "chance to form [their] own opinion[s]" free of potential bias created from hearing Szeto's opinion.
Some examples of topics that have either already been discussed or are hoped to be discussed in the future include the "right to be forgotten from internet searches"; the earthquake that devastated Haiti; and the status, quality, and effects of MHS' school lunches. Clearly, topics can reach quite a broad spectrum, from only directly affecting MHS' student body to an issue that potentially spans the globe. Full disclosure: Szeto is also aided by current Blue & Gold member Jasper Haag (co-author of this article) and Omar Khoshafa, former Blue & Gold member, who help host these meetings at the Teen Center, providing valuable assistance to Szeto.
Lasting around half an hour, these discussions that Szeto forms and leads introduces topics that hopefully help to "develop skills" in debate and analysis of today's issues, whether they be local, political, societal, global, etc. Szeto has many hopes for the project he has forged, but above all he simply wishes for "it to continue." Working with a "distinct group" of participants in the Teen Center, Szeto relishes in the chance to help develop the skills he has grown fond of in his own time on the debate team and wishes to create more informed individuals for today's world. Szeto urges people to watch out for future meetings of the project which may be advertised in the form of morning announcements and flyers posted around MHS (although Szeto has expressed his distaste for said flyers.) One of the various projects of NHS, Szeto is leading participants in a different and distinct direction, aiding in the development of more informed people ready to take part in the daily societal struggles of today's world.