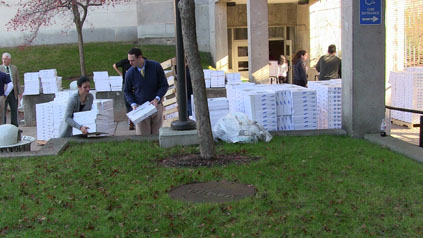 The time has finally arrived for Malden High to become a Google school.
Samsung Chromebooks were handed out to Holland and Boyle house freshmen on Mar. 31, 2015 and Jenkins and Brunelli house freshmen on Apr. 1, 2015. Next year all MHS students will receive Chromebooks. 
After gathering in the auditorium for a short rundown on the schedule for that day, along with introductions from the people who made it all possible,  freshmen were sent to their assigned classrooms where teachers and other faculty members lead them through a series of training, guidelines, and most importantly, getting the Chromebook itself.
"Students will not have to carry a lot of paperwork with them anymore, neither do teachers. Teachers can correct things more easily and have everything at hand," commented freshman Yuwei Zeng. Zeng added, "Everything will be online; homework, essays, whatever. It will be a lot more efficient and easier for everyone. I definitely feel advantageous to be the one of the first people at Malden High to own a Chromebook. It is a step towards better and greater things at this school."
Student were then lead to the library for more training and resetting passwords. They had the rest of the time to explore computers for themselves, asking questions about the chromebooks to make their experience with them as enjoyable and efficient as possible.
"We are really lucky to have teachers work this hard for us to have these Chromebooks." Freshman Tenzin Dechong stated, "It probably has not been a short process, things like this do not take a day. If we could get an upgrade on our wifi, I think that this initiative would be even better. Hopefully these computers will guide our school to success."
"The initial talks with Sprint happened in May. [The committee] did not get the confirmation and the money until October. So, the work that we've been doing with the committee has happened really over seven months," English teacher and Chromebook committee member Sean Walsh explained.
The committee was made up of English teacher Sean Walsh, English teacher Natalia Brennan, History teacher Gregory Hurley, Math teacher Shereen Escovitz, Science teacher Kathryn Bizier, Science teacher Diem Phan, History teacher Damian Aufiero, Librarian Lucia Musilli, Science teacher Shannon Votaw, Math teacher Kayla Scheitlin, and Science teacher Kate Haskell.
"The great thing about [the initiative] is not letting technology be a burden for people," added Walsh. "Everyone has access. We do not have to worry about certain logistical things such as laptop carts and students not having internet at home to do work. Everyone has a device so there is definitely accessibility. It also allows teachers to push twenty-first century skills of collaboration, research, and independent learning. We have students doing different projects and students collaborating online."
"It takes three to five years to do what we did in a year," stated Brennan. "I was really worried about how teachers and students would react to these devices. Being able to walk into a classroom and seeing students pointing at each other's screens while they're working in something is really nice."
"I'm actually really excited to see how things will change," expressed freshman Jenna Kelley. "New things could be added to the curriculum and things could be changed. [She] wants to do something in digital media in the future, like photos and graphic design and video and animation, so maybe this will be the start of that for me and a lot of other students. I think a lot of students can benefit from learning those things."  
As the time passes, Brennan hopes to "distribute chromebooks to the upcoming freshmen and hopefully to the current sophomores and juniors." The committee is currently working on getting the money to give a computer to every student at MHS. 
For more information about the Chromebooks click here to read another article or here to watch a video.