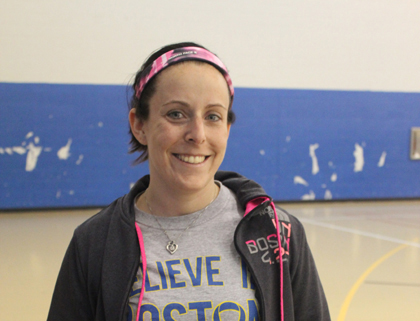 New varsity softball coach, Rachel Timmons is ready to fire up the girls for a great season this year. Timmons has gotten to know the girls very well, "[she] knows their strengths and weaknesses," and is reading for team building. The whole team has personal goals as well as team goals, and Timmons is prepared to help them achieve them all. "[She] has such a love for the game and [she] likes to be a positive impact for the girls," and she wants to push them to be the best they can be.
Timmons has played softball and baseball for most of her life. She played baseball until she was ten years old, on the Malden Youth Little League, and played on the Malden High varsity softball team all four years of high school. After she graduated in 2005, Timmons continued to play in college at Framingham State University, Timmons was captain her junior and senior year and played catcher.
Staying focused is important to Timmons and the team. She wants the team to remember that, "when [they] are in a game, every play matters," and she wants them to notice the little things and if something bad happens, "[they] have to move on." Timmons is excited for the season and can not wait for the girls to get out on the field.