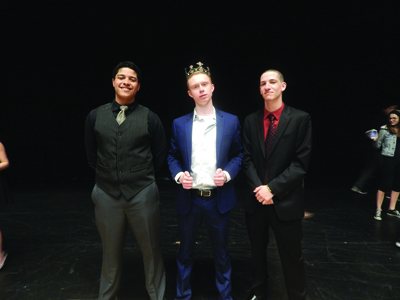 Filled with a plethora of events geared towards Malden High School's seniors, the spring calendar is an exciting time for students who only have a few weeks left of school. One of the farewell events for the seniors is Mr. MHS, which is put together by English teacher and Maldonian advisor Jim Valente with the help of members of the senior class.
On Apr. 29, 2015, the Mr. MHS show was held in Jenkins Auditorium. Seniors Joshua Cronin, Fabian Price-Hernandez, Dominic Pappagallo, Nicolas Quesada Nylen, Tristar To, Nick Hames, Mark Ortiz and Jodens Didie entertained a large crowd with their various talents, including hilarious teach impersonation, all full of laughter and embarrassment.
Each of the guys were escorted by a senior girl who walked them onto stage at the beginning of each portion. At the end of the night, Cronin was crowned Mr. MHS, with Pappagallo as first runner up and Ortiz as second runner up.
Alex Gentile, a member of the school's PACE program, was the first gentleman crowned of the night. Gentile, a very popular MHS student who can light up a room solely through his presence, was crowned as Honorary Mr. MHS 2015.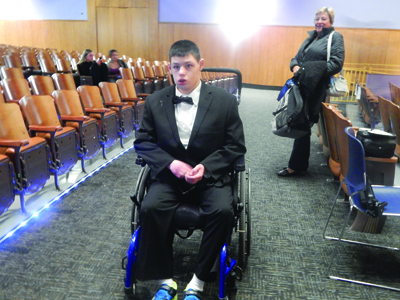 Ortiz admits that his favorite part of the night was "the time before the show when [they] were all relaxing and getting ready." Through his experiences with Mr. MHS, Ortiz has learned that "you can get along with a wide variety of people if you get involved and try."
To adds that Mr. MHS "was a fun night," expressing that he "definitely went out of [his] comfort zone" and "never imagined that [he] would be up on stage half naked, making a fool out of [himself] like that, so it was a great experience overall."
Some big crowd pleasing moments of the overall memorable night were Cronin's impersonation of MHS math teacher Katy Kwong, Pappagallo's talent performance of "Stacy's Mom" by Fountains of Wayne, Hames displaying both his singing ability and impersonation talents as he performed as Ed Sheeran performing the song "Thinking Out Loud" with a red curly-haired wig on, and To getting slapped on stage by senior Laura Gomez as he told pick up lines during the talent competition.
Hames expresses that his teacher impersonation of math teacher Bradley Gelling was his favorite part of the night and with Pappagallo on stage with him, "[they] just couldn't stop laughing." A passion for performing on stage and the great talk around the school about the event is what pushed Hames to join the Mr. MHS competition.
Overall, it was a night that many will remember for years to come, not just for the funny bits, but for the bond that was formed between the MHS seniors, which will last years after they exit the doors of Malden High School.