A group constructed from cooperation and endurance, the Malden High School Crew team is starting off this season with a headstrong attitude and the determination to get them far. The varsity team is led by coaches science teacher Shauna Campbell and math teacher Sarah Jones, along with junior captains Samantha Forestier and Stephen LaFauci, and senior captains, including Blue and Gold member Julie Lam, Devon Laudadio, Isadora Coleho and Long Nguyen. This year's varsity coxswains are junior Austin Giang, sophomore James Mac, as well as Lam.

With the bitter New England spring weather, the team has sometimes found themselves practicing indoors more often than outdoors. This set the team back, but every member always managed to make time for the sport. A typical practice for the crew team is about three hours long every single day, consisting of different drills and techniques, with a consistent amount of feedback from the coaches following them along on the water.
Nguyen stated that "the most challenging thing about crew is the hectic schedule that goes on during the season." He also explained that "after April break, crew takes place seven days a week, with practice on weekdays and back to back races on weekends. It's easy to burn out knowing that your weekends are spent from 9 AM to 6 PM in races, leaving no time for anything other than crew."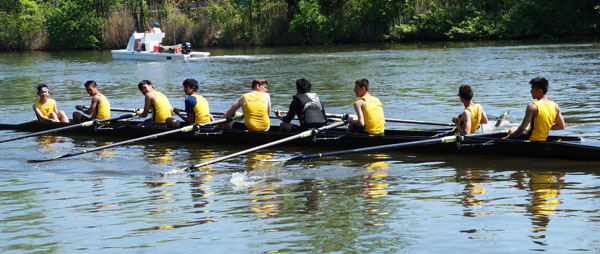 An important factor of the crew team is the togetherness that constantly surrounds them.  Nguyen adds that he "strongly believe[s] that the crew team shows the most teamwork among any other sport team at Malden High." Being a member since his freshman year, he expressed that "[they] have to match each other's movements as closely as possible in the boat. This requires the entire boat to share a single mindset since all eight have to work together in unison."
Sophomore Ariel Gutowski stated that "the crew team is like a family. Our butts and legs and arms may hurt, but we get through it. It's a miracle we're still in one piece." Gustowski, along with senior Ayutha Basuseto, junior Gabrielle Casaletto sophomore Vivian Nguyen, and Giang  who leads them, were named State Champions last year for their Girls Novice Four boat. Gustowski, who initially planned to do outdoor track for the Spring season at MHS, wanted to "try something out of [her comfort zone]" and eventually became interested in crew through mutual friends and upperclassmen.
She was especially interested in the team aspect of crew, as track was a more "independent sport". Many people agree with this notion, as does freshman Jimmy Tran. He adds that "it honestly doesn't matter if someone is significantly stronger or significantly weaker," because "when [we are] on the boat, [we] have to synchronize every single stroke because it moves the boat faster, so if teamwork and cooperation isn't incorporated, there really is no point in trying." He also expresses that  "[The crew team] is probably the most team-based sport at Malden High. All of the older members are extremely helpful and they work to improve the newer members a lot."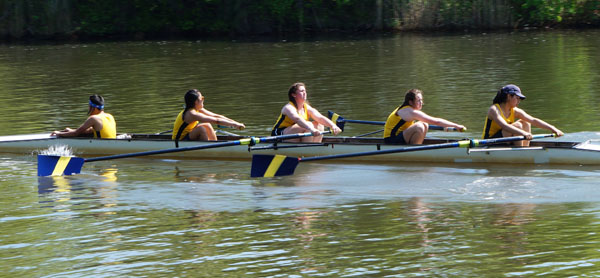 "If I had to describe the coaches in one word, it would be strict." Tran said. "But they're only strict because they want [the team] to strive for greatness. They really push us to be the best we can be."
The fifth annual Moose On The Malden Regatta was held on May 17th at the boathouse on Commercial Street. Local vendors and volunteers served food and sold merchandise. The teams that competed were Cambridge Rindge and Latin, Holyoke, MacDuffie, Malden, Medford, Megunticook Rowing, Milton, Mystic Valley, Nauset Tech, Pioneer Valley Riverfront Club, Row Boston, Somerville/Everett, Springfield, Waynflete, and Yarmouth.
Malden's top performing boats were the Boys Novice Four boat with a first place medal, the Boys Novice Eight boat with a third place medal, Girls Varsity Four boat with a third place medal, the Boys Varsity Eight boat in fourth place, and the Boys Varsity Four boat in fourth place.