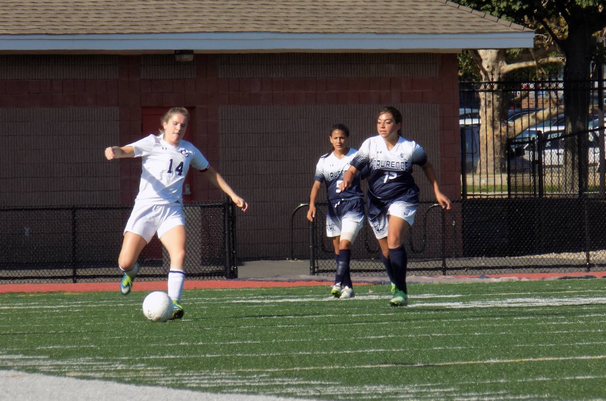 After the showing at MacDonald Stadium on the Sep. 19, Malden High School's girls varsity soccer beat the Lawrence Lancers by a landslide, 6-1. Led by junior Felicia Lombardi's hat trick, along with goals by senior captain Kristina Gilbert, juniors Cleverina Cong, and Lucia Ramos, the Golden Tornadoes are starting the season off strongly.
From the starting whistle, it was clear that the team was determined to pull out the win. Crisp passes and rushes down field laid the groundwork for the onslaught that would ensue. At just inside the 6 minute mark, Lombardi made her way down the field and struck the ball for an early goal. It would be only 4 minutes later when Gilbert netted the second goal of the game. Leading 2-0, the Golden Tornadoes set the pace of the game into high gear, notching two more goals, by Cong and Lombardi, before the first half came to a close.
Gilbert, Lombardi, and Cong were all over the Lawrence defense, not allowing them to move the ball up the field and if by chance they did, senior captains Lucia Quesada Nylen and Sabrina Barreto stopped any chance of a Lancer goal or even a shot on net for that matter. According to Barreto, the team was "pretty nervous considering Lawrence [had] never been in [their] [schedule] before," which only served to agitate the nerves to the team since no one knew what to expect. By the first half's end, the nerves had dissipated and the team was on track for a solid win. The Golden Tornadoes had effectively ended all chances of a Lawrence victory.
About 10 minutes into the second half, Lombardi scored her third and final goal of the game, completing her hat trick. For the ensuing 20 minutes, Malden maintained complete control without lapse of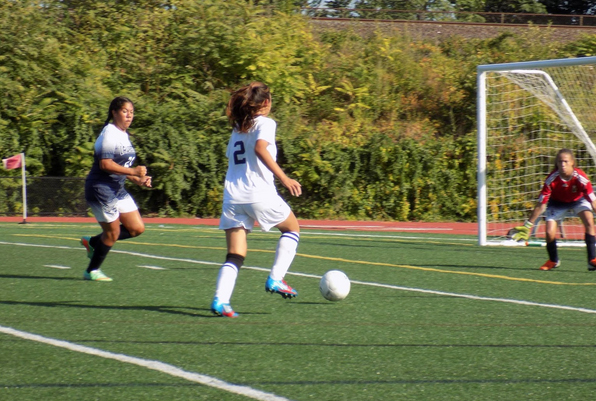 judgement or mistakes, effectively shutting down Lawrence's offense. At the 30:55 mark of the second half, Ramos shot a high and lofty ball from about 20 yards out which sailed right over the Lawrence keeper's head. In comparison to past games, the first half was the more exciting half, confesses Barreto, since "normally [they] come back in the second half and score most of [their] goals [then]."
Not 3 minutes later, Lawrence was able to sneak a ball over Malden senior goalie Melyssa Ferreira, ending the Malden shutout. The girls did not let it affect their play however. In fact, they fed off of Lawrence's goal to be able to put one last goal made by sophomore Izabelly Barros with just seconds left in the game, concluding the game with a score of 6-1.
If the girls continue to play at this pace every game, the hopes of winning the Greater Boston League, or even the Massachusetts Interscholastic Athletic Association State Tournament, is well in reach.