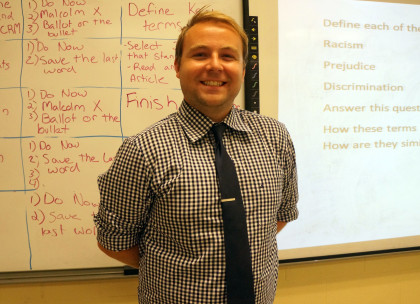 Malden High School gives a warm welcome to the highly-skilled new addition to the staff: Kurtis Scheer. Scheer began his journey to teaching history at Northeastern University in Boston, Massachusetts, where he received his Master's Degree in Teaching. Scheer was a student teacher here at MHS, working with Rick Tivnan and Dana Marie Brown. His love of History began in his very own high school classroom, with his favorite history teacher, Mr. Parlan. Scheer talks about how Mr. Parlan made history "fun, exciting, new, and interesting." Scheer adds that growing up in the Boston area also furthered his love of history, as being in Boston means being constantly surrounded by a historical atmosphere.
Although history is one of Scheer's top priorities, he also has several other exciting hobbies as well. Scheer indulges in outdoor activities in his free time, such as snowboarding, surfing, mountain biking, and longboarding. Scheer is also a previously sponsored skateboarder, although his days of "ollie-ing and kickflipping" are in his past.
"He's a good teacher, and he has a great attitude," says Ashanti Baptiste, a member of Scheer's first period history class. Baptiste also states that she enjoys the "throwbacks" in his class, as well as the current events. As a student of his, I believe that being in class with Mr. Scheer is exciting, informative, and professional. Royal Temple, another student of Scheer's first period class, adds that Scheer listens to him, and that he's fair. Temple states that, "period one history has the biggest impact on me outside of class." Scheer's students appreciate him and believe that he is flexible, unique, and full of knowledge.
Scheer's favorite thing to teach in history is the rise of industry in the United States, more specifically the rise of the entrepreneur. He looks forward to teaching potential future entrepreneurs, and also inspiring kids to become entrepreneurs with the knowledge they receive.
When talking about teaching at MHS, Scheer says it is going "fantastic." He adds that he couldn't be happier with all of his students and all of his classes. As for his future, Scheer hopes to be teaching for the rest of his life in Malden. He states that even though he's traveled across the globe, teaching kids around the world, Malden is still his favorite place to be, because of the endless diversity, and the great group of kids he gets to interact with that keep him excited for each coming year. Scheer adds that he's excited to "see where we're going, and how we're gonna get there, embracing the journey."