Patrick Finnegan has decided to start his teaching career off at Malden High School as one of the newest teachers on the staff. Finnegan, who had recently taught at Brookline, Massachusetts Beacon High School for a short amount of time, has been teaching for two years so far.
Finnegan formerly graduated from Bridgewater State University here in Massachusetts with a Bachelor's degree in History, and a minor in secondary education. Finnegan explains that he is a Boston native, and was drawn to Malden by hearing, "good things from a family friend."
He explained that when coming in for his interview here at MHS, it was his favorite place out of all the schools he had been interviewed by. Finnegan expressed that when meeting Mr. Brown and other history teachers, he was drawn to the school by, "they way they described the school," and the students that he, "had the opportunity to meet." He felt that MHS, "just seems like [his] kind of place."
This year, Finnegan is a part of the History, English, and Special Educations Departments. He is co-teaching two United States History 2 classes with Holland and Tivnan, a 12th grade English class with teacher Shannon Alexis, and teaching two U.S. 2 classes by himself. Finnegan's audience in his classes are mostly sophomores and seniors. Junior Bethlehem Sisay explains that she enjoys Finnegan's class and that, "He really cares about [their] education." Finnegan has explained the experience as,"a lot of fun," because it is an experience that allows him to, "learn a lot," through working with other teachers. Finnegan feels that co-teaching has, "[worked] out really well," and that, "it is what's best for the students."
Outside of MHS and teaching, Finnegan coaches lacrosse and football for both middle school teams. He also enjoys reading in his spare time.
Finnegan feels that he "couldn't possibly enjoy [MHS] more," due to his students, co-workers, and the overall atmosphere of MHS. He expresses in the Blue and Gold's "New NHS Staff" video, that he is "fortunate enough to have a ton of awesome classes." Finnegan says that his goal is to be, "the best history/special education teacher that [he could] possibly be."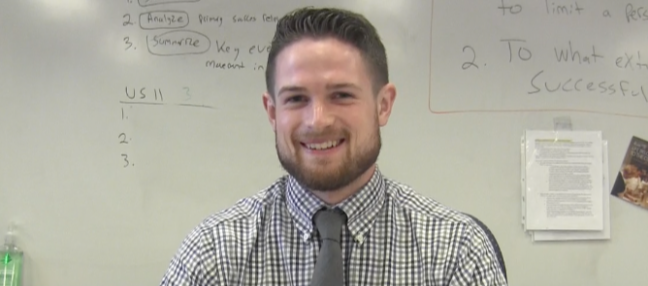 Correction: In a previous version of this article, a video Finnegan referenced was listed as "New NHS Staff." This is incorrect; the video is actually "New MHS Staff."