The morning of Oct. 10, 2015, a group of students from Malden High School arrived at the Atria Maplewood Senior Living center to take part in making art pieces with residents at the center. Seniors Kamila Regalado and Laura Suarez organized the event as their community project for the National Honors Society. "[They] wanted to have a project to bring together different members of the Malden community and [they] thought [their] project would do just that," expressed Regalado.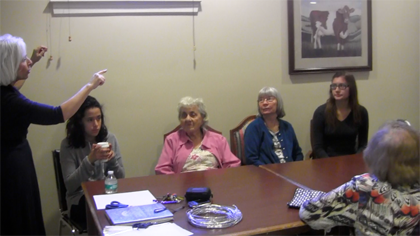 Regalado and Suarez collected materials for the project, including leaves and other natural mediums, for the art project. "[She] was pleasantly surprised how welcoming the residents and staff were," mentioned Regalado.  
The lesson began with a brief introduction and a meet and greet. The first project consisted of manipulating aluminum wire wherein residents and students were asked to shape them to represent an emotion. Some of the wires were wavy, some were wild, but each expressed emotion in its shape.
Next they were asked to form line patterns to again express emotion. Some used the wires from before to create a pattern whereas others used freehand. The last project involved leaves in which the residents and guests arranged them in patterns, shapes, and abstract designs. There was a variety of designs, one stand out piece being a fan made of leaves with a lovely balance of calm and chaos.
Both students and residents alike enjoyed the day's activities. Ted Goltz, a resident, found it to be enlightening and "had fun learning about art and meeting the students." Freshman Rebecca Villatoro worked with Goltz on the projects and enjoyed using unconventional materials she otherwise would not have thought of using to create art. Barbara Difronzo, another resident, is in agreement with Goltz and would happily participate in another art class. Senior Sreypech Tham also attended and was already very fond of art, so it was of no surprise that she took satisfaction in the project. Tham mentioned that apart from the art, she liked interacting with the residents and would gladly return for another class.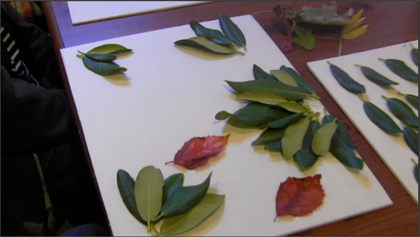 The highlight of the project for Suarez was "creating unique designs with the leaves and being able to share the experience with the residents." She added, "[She] like[d] that even though [they] used the same supplies, each person made a different and unique design."
It is said  that art is subjective. Everyone is an artist in their own way. Art has no wrong or right way to be done. Regalado and Suarez's project demonstrated these aspects through their project as students and residents became artists for the day and took the skills and knowledge learned to apply in the future.