With a passion to work in a school setting, Nada Bourji joins the Malden High School staff as the new guidance counselor for the freshmen in Brunelli and Jenkins house.
Bourji originally grew up in Canton, Massachusetts, and has recently moved into Malden. During her childhood, she grew up in a second-generation Lebanese household. Growing up, she visited her relatives in Lebanon and went to school in America. Bourji feels that because of this she receives the "best of both worlds".
Her passion for helping students drove her motivation to become a Guidance Counselor. "[I come] from a family of teachers." says the Guidance Counselor. Bourji feels excited to be in Malden, she especially wants to help students academically and support them throughout their high school years, believing that this is the best part of being a Guidance Counselor. "[I have] always wanted to work in a school setting," commented Bourji. Bourji expressed that when she was in college, "[She] really liked [her] Psychology class and my Counseling Theories class, so [she] combined two interests together and decided to become a Guidance Counselor."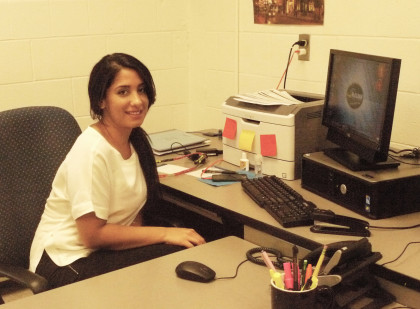 This is Bourji's first job in counseling after recently graduating from college. She is happy that the culture at Malden High School and the city of Malden is highly diverse, and her goal at MHS is to solve various issues and help out the students of the Jenkins and Brunelli house through difficult times. Her time adjusting is smooth-sailing, for Bourji finds the staff extremely friendly.
Bourji believes that an important goal here at MHS is to gain more experience and learn more about her profession. She feels "extremely grateful and excited to be here." Bourji says that, "Guidance Counselors are here to help and support you through your decisions," and to help students to not, "be overwhelmed by college." She would like to like tell to students who are stressed about their future after High School "to look for help from their Guidance Counselor."
Correction: In a previous version of this article, it was stated that Nada Bourji grew up in Canton, Massachusetts and currently lives in Malden, Massachusetts. This was incorrect; Bourji grew up in, and still lives in, West Roxbury, Massachusetts.