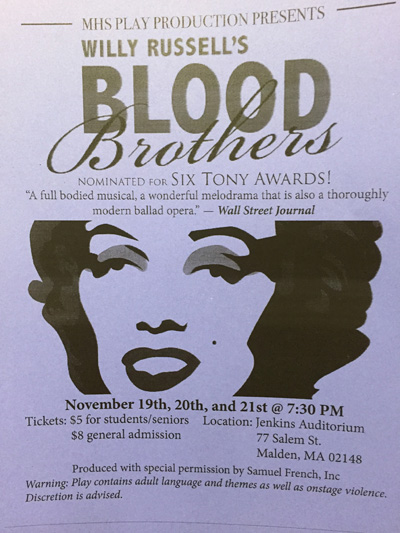 From Nov. 19 to Nov. 21, Play Production will be showcasing the musical production of "Blood Brothers." The play will be held at the Jenkins Auditorium for two hours, starting at 7:30pm. The tickets cost $5 for students and senior citizens, and $8 for general admission. Adult content such as language, suggestive themes, and violence are included in this play. The hit musical was created by the successful playwright Willy Russell.
Production kicked off in September, giving the crew two months of preparation. Sean Walsh, English teacher and director, explained that the musical centers around two brothers born to Mrs. Johnstone, a single mother who is "forced for [non] economic [related] reasons to give up one of her children to a rich family." The setting takes place in London in the late 1950s with music having "a little bit of an 80's feel," added Walsh. "The brothers grew up as best friends never knowing that they are actually brothers" and "the musical follows their different lives," expressed Walsh. The boys also developed feelings for the same girl and experience issues with education and employment, leading to a tragic moment at the end.
Walsh mentioned that he has been wanting to do this play for long time. One reason is that the department has not taken a strong dramatic story before and the second reason is that the show tackles many issues present in today's society. Walsh continued, "People are talking a lot about income inequality" along with the topic of gun control. "The characters use guns throughout the play as it [demonstrates their attempt] to escape their economic standing [and] their poverty.¨
The roles present a challenge for the actors because they have to transition from portraying seven year old children to adults in their twenties. All the actors will be using British accents so as to better portray the characters.
Blood Brothers is unique based on its dramatic portrayal, its inclusion of dancing, and the mature content. The target audience is mostly for young adults, making it a perfect choice to feature to Malden High School students. The part Walsh is most  looking forward to is putting all the pieces of the production together so the audience can understand the production. The play arises the question, "Is this faith or is this the sense of what class does?¨