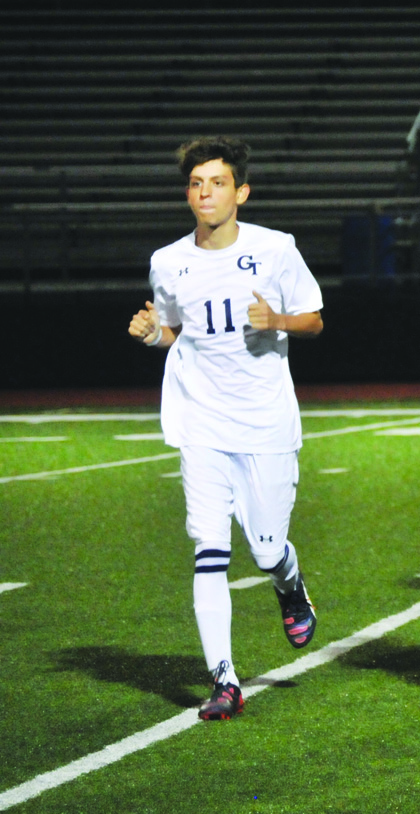 1. What did you think about your season?
This season was astronomically better than what I thought it was going to be. Losing so many seniors, especially starters, made me feel like we were going to have a very disappointing season, but I was completely wrong. This year's seniors really stepped up and so did the underclassmen, whether they were a freshman, JV, etc. We had a fantastic season once again.
2. Do you think you have improved?
Through my three years on the team, I feel as if I had a big improvement, in attitude and skill, although I'm still not as good as I would like to be, but some people have it, some don't.  
3. What was your favorite memory of the season?
As far as memories go, everyday was a good memory with the guys, but my favorite of the season was winning 5-1 in Somerville. That win showed the rest of our opponents that we weren't a lightweight team and it was more special for me because my cousin coaches the Somerville team and it's always good to beat him.
4. How long have you played soccer?
Growing up in Brazil, I basically played soccer since I was born, but it wasn't until I was 12 that I actually played for a team. After high school, I plan on, hopefully, attending college and I'd probably continue playing soccer more for fun with friends than competitive.
5. Are you going to continue to soccer?
I'd probably continue playing soccer more for fun with friends than competitive.
6. What was your favorite team and/or game to play against?
Though my three years, my favorite team to play was definitely Everett. I have had a lot of friends on the Everett team, every game was competitive, the atmosphere was great, and we won all 6 games against them in my time on the team.
7. What advice would you give underclassmen who are also playing or wanting to continue with high school soccer?
To all of the underclassmen that are playing or aspiring to play, my advice would be to enjoy it; the game and the family, and also to give it your all, because coach recognizes hard work and you'll always improve.
8. What will you miss about MHS?
What I'll miss about MHS and the team is the bond we all have. All of the players, coaches, teachers, students, all are understanding and supportive to one another and we are a family.
9. What's your favorite thing about soccer?
My favorite thing about  soccer is how it can make you forget about all of your problems and have a good time with your teammates.
10. What does being a part of the MHS soccer team mean to you?
It means being part of the greatest team at MHS, having the best time, and meeting the best people in high school. I wish the best to coach Smith and the future teams. Roll GT.