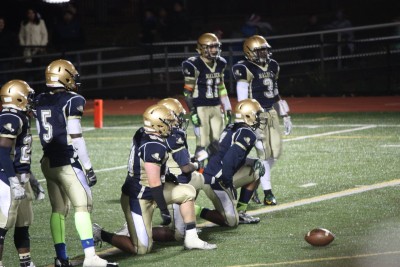 For the first time since 1991, the Malden High School football team made history after defeating their long-time rival, Everett High School. Even with strong wins against Arlington Catholic, Methuen, Somerville, and Chelmsford, Everett did not compare to the overwhelming and shocking success of Malden with a score of 22-19.
"[They] approached this game just like any other game this season." "[They] did [their] prep and went in knowing [they] had what it took to win," explained senior captain James Knox. He continued, stating that "[they] didn't let the fear that it was Everett into [their] heads, and with that mindset [they] were able to get the job done."
Senior captain Danley Exilhomme mentioned that "[his] mindset going into the game was to slow the game down mentally because of all the tension between both teams." "One of [his] goals before [he] graduate[s] was to beat Everett and the senior class [of 2016] knew [they] were the class that was going to do it," explained Exilhomme. He expressed that he felt "complete" after the game because his older siblings also attended MHS with the same goal in mind and were not able to reach it. But, Exilhomme was able to attain this goal for himself and them as well. "It felt good to play a big roll in such a historic moment… [and]even better because [Malden's abilities had been] doubted [but] proved [its capabilities.]"
Senior Deven Kelley "knew it was the most important game of [their] careers so [he] had to focus and take it one play at a time." Kelley added, "It was the best feeling in the world but [they] had a playoff game the week after so [he] carried the same mentality for the upcoming game."
Everett's football team has won 10 MIAA Super Bowl titles since 1997. They also won the Greater Boston League over the last two decades but when Malden won against Everett on (date), it was the Tide's first loss to a league opponent since Thanksgiving of 2001 against former GBL member Cambridge. An article on the game on ESPN reports the game's play. "After spotting the Tide a 12-0 lead, the Tornadoes roared back with three straight touchdowns to go up by 10 in the final few minutes of the contest. Midway through the third quarter, defensive back T.J. Elie pounced on a pass batted by teammate James Knox and ran it back 60 yards to paydirt for a 15-12 score; then, with four minutes to go, promising sophomore quarterback Jared Martino called his own number on an option keeper to make it 22-12."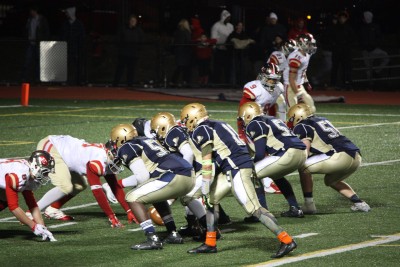 The team is in agreement that their favorite memory from the game was "the field being swarmed by crazy Malden fans," as stated by senior Robert Collins. He described that he "was getting hugs and high fives from everyone but was still in shock that the class of 2016 had actually got the job done." Collins further expressed, "It was such an unbelievable feeling and it definitely changed [his] life." In addition, sophomore Jared Martino commented on the game as being "a special moment [that] was honestly surreal." Martino grew up playing Pop Warner football where Everett was always a competitive opponent and so finally beating them was "one of the best moments of [his] life." The seniors have been waiting for this game since their freshman year and entering the game "felt as if [they] were going to war," described Collins. "[His] mindset after the game was a huge sense of relief...as if a huge weight had been removed from [his] shoulders and [they] had just made history. [He] couldn't help but cry."
Players expressed their gratitude for their coaches, stating, "It had to have been the highlight of their coaching careers" stated Kelley. "[The coaches were] extremely proud of [the team] … [and] saw that [they] played as a family and knew how much emotion [was] put into the game" expressed Collins. Exilhomme closed, saying, "Most of [their] coaches played for Malden and never beat Everett so ... they felt just as good as the players." Malden's triumph over Everett marks a historic moment for the football team with the entire Malden community sharing in their victory.