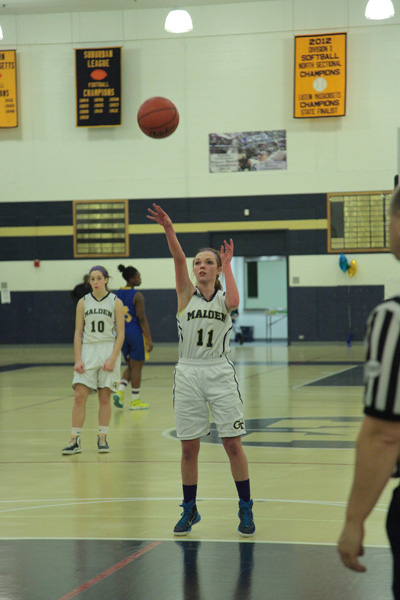 With winter approaching, Malden High School's girls basketball team are back and preparing for their season. They are ready to step up and fill the shoes of last year's seniors. "[They] have a great coaching staff who will encourage [their] players to grow and develop each week both individually and as a team" stated head coach Lydia Coverdale.
For the varsity team, leadership stems from returning players, including seniors Yasmene Brown, Tishida Stroud, Janaya Walcott, Sushan Chen, LaDaveya Moise, juniors Morgan Pennachio, Caitlyn Leonard and sophomore Mackenzie Furlong. They will push the team to work together and prosper through the season. These girls have been a part of the Malden Girls Youth Basketball (MGYB) program for years and understand the expectations and demands of the basketball season. The varsity team will also be welcoming newcomers junior Grace Cappuccio, sophomores Xue Zhou and Tiffany Tortora this year. "[She looks] forward to their contributions and positive energy" expressed Coverdale.
The enthusiasm and energy of the team pushes the girls to improve. The team's ability to work as a cohesive unit and encourage each other sets them apart from other teams. Their focus and improvement for this season centers around defense. They plan to be aggressive and work harder than ever to challenge their opponents. Coverdale explained that "[she is] proud to say that the varsity, junior varsity and freshman teams are made up of a great group of student-athletes with lots of potential on and off the court."
Tryouts were held for three days from Dec.1 through Dec. 3, 2015 with the third day being the final cut. Coverdale said the coaching staff was "looking for players with a positive attitude who are coachable [who] possess potential to grow as a basketball player, and display athleticism necessary to keep up with the demands of the sports."
This season, not only do they want to work on their defense, but the team also looks to continue to improve offensively and to minimize turnovers.  Last season, Coverdale noticed the development of the girls as student-athletes and the effort they put into each practice and game. The bond created with each other was also further developed.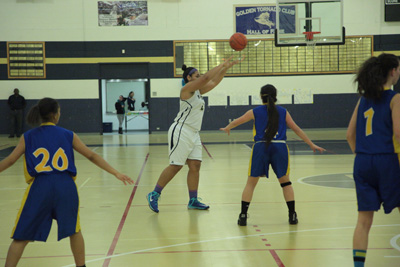 Each season, they always want to be the best they can be. Coverdale implied that for them to be the best, it requires commitment and "each player must be willing to make their teammates their number one priority." Advice she will give to the girls is to "believe in themselves" and cooperate together so they can be successful. All in all, she wants to see the girls become "productive" with good characteristics.
Coverdale is looking forward to see the team's progress for this season. She's proud of their hard work and energy they put into the team and noticed the girls striving for success during tryouts. The coaching staff is preparing the team so that the girls can reach their full potentials.