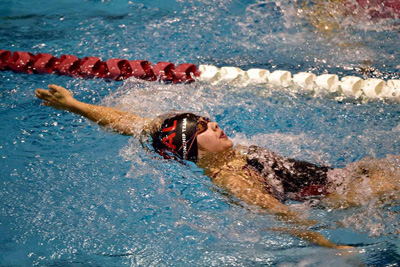 As swim season progresses, junior Vivian Nguyen falls more in love with the sport. Nguyen first began swimming at the age of seven and has since been a major part of her life.
One of Nguyen's favorite memories about swim was at a states competition during her sophomore year. Nguyen mentioned that  "[she] tend[s] to get
really nervous before [her] races" especially during the states meet. But she explained that her friends and teammates as well as her brother Kelvin Nguyen, MHS graduate, helped to calm her down. At that meet she "raced in the 100 butterfly and looked up to the scoreboard and [she] saw that [she] got a best time" which gave her a sense of pride in the race that she was so nervous about beforehand.
Nguyen loves everything that has to do with swimming but her all time favorite thing has to be the way it challenges her both physically and mentally. Being part of a great team also makes the love she has for swim only grow. Nguyen credits her team and family for her success, stating, "There's nothing greater than having a supportive team cheer you on."
Nguyen has no doubts that the swim team will have another successful season as they have in the past. When Nguyen thinks about the next few meets and the rest of the season, three words come to mind, "confident, excited and eager." She is working hard to qualify for states with hopes of becoming a state champion for the 100 butterfly and break the record. With her tireless work ethic and support system of teammates and family, Nguyen is sure to thrive.