By Kristy Yang and Megan Downer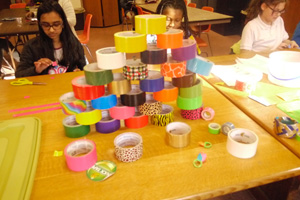 On Wednesday Feb. 17, 2016 the Malden Public Library hosted a Duct Tape activity event in the program room. The event was held for students in grades 5 through 12. Patrick Brennan hosted the event, helping students create various items out of only duct tape. Items made by the students included rings, wallets, and other small items.
Walking into the event, students were greeted with a warm welcome and the sight of a pyramid of duct tape rolls stacked on a table. The duct tape available to use varied in patterns and colors from silver and gold to more extravagant ones including One Direction duct tape and tape with a yellow and black giraffe print. The event caught the attention of younger students such as those in the 5th grade.
The event lasted for a total duration of two hours, from 3 to 5 pm. Many students who attended were able to create at least 2 items with the duct tape. Each item called for precision as creations such as the wallet needed all sticky sides of the tape to be covered perfectly on the other side. Other items such as the classic ring took quite a while to make due to the fact that well over 40 small cut squares of duct tape were necessary to complete the ring.
Overall, the event was a success, sending kids home happily modeling their new duct tape creations.