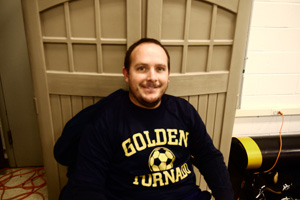 Wrestling coach Jeremiah Smith loved wrestling while in high school and college, influencing him to take on the coaching position at Malden High School. However, that was not his only reason for becoming a coach. During his time in New Hampshire there was a wrestling program that was cut off, which lead Smith to transfer schools. In doing so Smith thought, "If [he] found a coaching job, [he] would hang it up, just to focus academy." For being part of the sport that he loved. Mr. Smith was very lucky when he found a job for being an assistant coach at Melrose. During this he kept going to school & coaching, leading him to who he is today.
Before being a coach, Smith played many sports such as baseball, basketball, and football. The sports he participated in did not peak his interest until wrestling "the best independent sport to play." The sport is a one on one match between two players with tactics and skill to beat a player by a time limit. Through life experience from his time in high school and college, he polished his skills and knowledge by being a coach for all three sports each season, as well as a wrestler. "It's different for everyone" stated Smith. In addition to his passion for wrestling, Smith is also an English teacher in room B236.
His students and fellow wrestlers are supported and encouraged by Smith's advice on lessons or ideals. Co-captain Michael Castro stated that "[Smith] does a good job and taught [him] a lot, and [he] see[s] him teaching and transforming people to aim [high] at the nationals and tournaments." Smith is viewed highly by students and wrestlers alike. "[Smith] does a really good job [because] he teaches and cares about everyone." Deyshawn Boucaut stated, "This is [his] second year of wrestling [and Smith] gave [him] enough confidence in [him]self [to continue on in the sport]."
"He is a great motivator to support [his] with sports and schoolwork," commented Wisoy Pires. Pires continued complimenting Smith for the help he provides to the team. Nelson Chen mentioned that he is a skilled wrestler and "motivates [him] and supports all [of his] teammates to keep going."
Co-captain Anthony Johnson added that "[Smith] pushes [them] hard, trains [them] through Monday to Saturday, [and] is very motivated and [inspires people] to join wrestling." In addition, Berta Rivera is in agreement with the team and appreciates that Smith "cares about the team's health." 
Smith's inspirational influence is apparent in both his students and wrestlers.