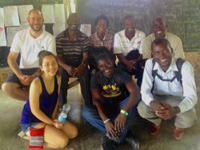 Malden High School's Haitian Club has been raising money and supplies for the Matènwa Community Learning Center (CLC) in Haiti since February, beginning with a Hearts for Haiti fundraiser before February break. The fundraiser supported school meals for the Matènwa CLC, since many of the students in attendance, only get their meals at school.
One U.S. dollar raised will buy a student at Matènwa CLC a meal. Haitian club advisor and French teacher, Paul Degenkolb, thought "a simple fundraiser like this would be a way to start the conversation about building a relationship between Malden and Matènwa while greatly benefitting students with small-scale donations."
Donations for Hearts for Haiti will be accepted by Degenkolb until the end of next week and delivered to a co-founder of the school in Cambridge. After that, donors will have access to Lincoln Massachusetts based Friends of Matènwa link. So far there has been $135 raised.
Items such as colored pencils, watercolor paint sets, craft/popsicle sticks, soccer balls, and yarn will be collected until Friday, Apr. 8. These items are main donations needed by the school. Money donations will also be collected to ship the items donated to the school in Haiti. Degenkolb is striving to ship two barrels full of items, each costing $160.
This is Degenkolb's first year advising the Haitian Club. After spending two summers learning Haitian Creole at UMASS Boston Haitian Creole Institute and traveling to Haiti on a fellowship with ESL teacher Jessica Haralson, Degenkolb was motivated to advise the club.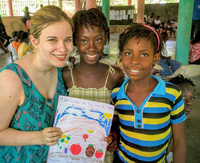 While at the school, Degenkolb and Haralson learned that Matènwa CLC is an innovative school, modeling a new system to replace the "outdated French system" with a "more forward-thinking type of school where students learn in Haitian Creole - the language they actually speak."
The area that the school is located in does not have access to electricity. Only a few homes have solar panels but there are neither "passable roads" nor running water and indoor plumbing. Though life without these things may be difficult, these people have "a tremendous respect for education and desire to learn, and the school is truly a focal point in the community."
To donate, drop items or money at H314.