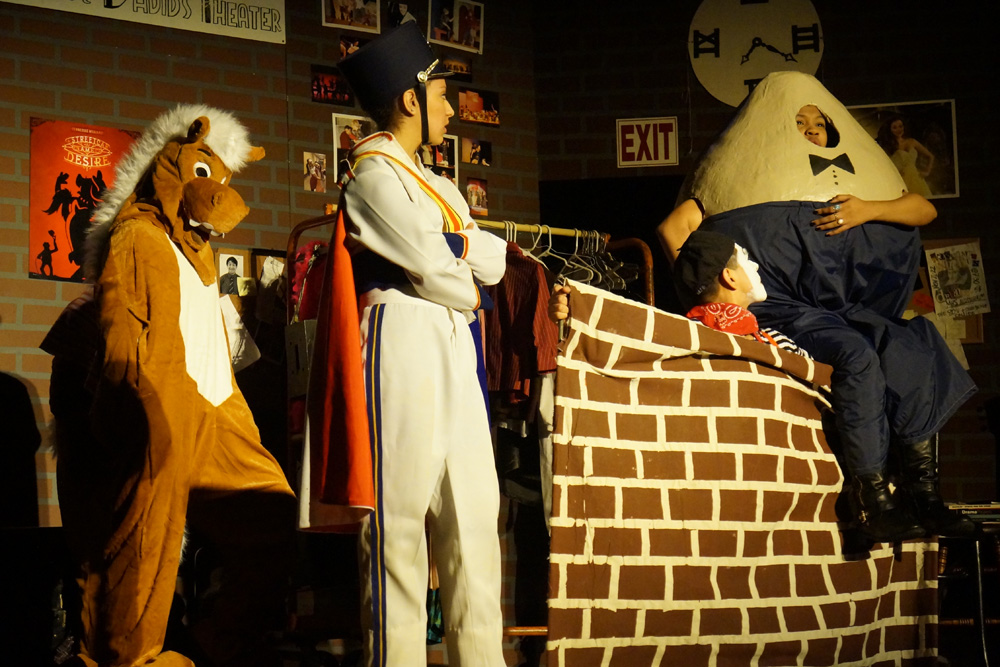 Based on the nursery rhyme Humpty Dumpty in 1946, Robert Penn Warren published a similar novel called "All the King's Men." Malden High School's Play Production is greatly known for recreating famous plays like Shrek: The Musical but this time around, Play Production created their own version of All the King's Men with a twist.
Competing against at an average of one hundred-twelve acts produced by other students in the state of Massachusetts, MHS Play Production knew they needed to make an impact. Going into competition within a couple of weeks, the members of Play Production practiced endlessly, fitting every hour as they could. Senior Sarah Bendell, who played as herself, told Blue and Gold "[her] goals for the competition were to mainly tell people [their] story."
All the King's Actors is a play that connects with many people and as Bendell says "connect[s] deep social issues with a cause that is close to all of [their] hearts." Members of the Play Production "went [into the competition] with the mindset of whether or not they won, [they] had to share [their] story" expresses Bendell. Senior Kamila Regalado expresses that the director Mr.Walsh "makes it a point to make it about the competition and to really make it about working on something that's important to [them]."
Now come competition day, Play Production performed and made it to the semi-finals of the High School Drama Festival. As the Massachusetts Educational Theater Guild puts it, "The competition is organized [and based] on three levels – preliminary, semi-final and state."
Each performance is based upon the acting and technical design. Although they will not be moving on in the competition, on behalf of MHS's Play Production and Bendell, they "hope that [their] message stuck with [the audience] and [are proud to all have the opportunity] to take part in writing together and showing everyone what Malden Play Production is truly about."
As senior Brayan Angulo puts it, "[he and the cast] just plan to focus and commit to the next and last play [they are] working on for the year" and intend to impact their audience with this final performance.  With every production that's put on, Regalado states "[they are] going to connect as a class and be truly focused on executing what [they create].For their final play, Malden Play Production will have a couple changes in their cast. Senior Sajeanah Cadet explains, "Mr.Walsh have given [her] the opportunity to help direct the show [in the spring], [in] which [she] is very excited about!" All-inclusive, Malden High School's Play Production performed great at competition,but as the year comes to an end, they intend to create a show never done before.