Malden High School's Figure Skating team had their final competition of the season on April 2, 2017, for the Silver Streaks High School Challenge Cup, hosted by the James McVann-Louis O'Keefe ice rink in Peabody. Senior Allyson Kummins medaled first in her freestyle program, Junior Alyssa Ardai medaled second in her freestyle program, and they medaled second in their team maneuver. They competed against skating teams from different cities throughout Massachusetts, such as Lexington, Burlington, Winchester, Ducksbury, and the Boxboro area.
Elizabeth Gibbons, MHS math teacher and coach of the figure skating team, was really proud of the way the girls skated in the competition. Regarding the girls' performance at the competition, she said it was, "really good," and that "[she] was really proud of them." Gibbons explained that, "[She] think[s] probably one of the most exciting parts of the day was [that] they gave out a school spirit award to the team with the most spirit and [the] Malden [team] won." Also, she feels that the team was able to "get some good feedback on our school spirit." One of the reasons why this competition was particularly special to the team was that it was Kummins's last competition, since it's her senior year and she'd be leaving the team once she graduates this June.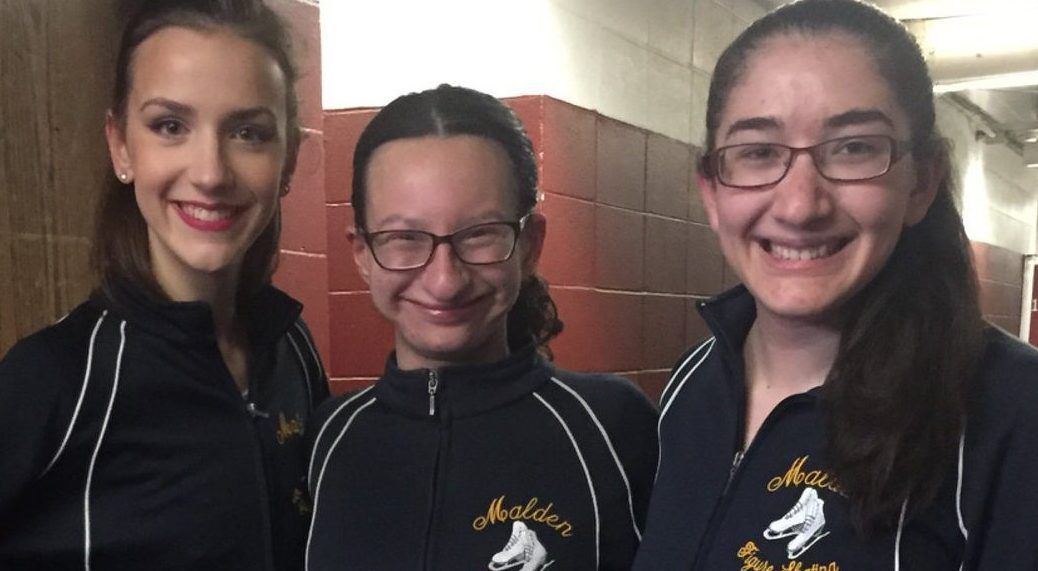 Allyson Kummins had her preliminary free-skating program at 2:35 pm on Sunday afternoon, coming in first for her event with her routine to the song "I Love You Always Forever" covered by Betty Who (originally sung by Donna Lewis). She felt, "really proud of the way [she] performed overall," despite the fact that there was minor technical mistake in her program, but she "came back from it really well and was able to finish strong." Kummins believes that her confidence had really improved this year, which had helped with her, "overall ability to perform," and her routines had been, "getting a lot stronger." Kummins explained that, "This year was a lot more sentimental for me because it's my senior year," and, "The other girls have time left to enjoy High School Skating." She definitely wants to continue skating at Babson College after she graduates from Malden High School, and she's really excited to start skating there since they, "have a beautiful rink on campus." Allyson explains that even though, "They don't have a skating team yet, [she's] hoping that [she] can start one just like we did here at MHS. Even if [she] can't start a team [she] will definitely continue skating on their open sessions and [she] plan[s] to get certified to teach Learn to Skate Classes over the summer."
At 2:30 pm, Alyssa Ardai did a showcase number to the musical "New York, New York" with a cane and hat in hand, placing first in one of her events. Ardai explains that for both her solo and pre-preliminary pieces her routines were the same as the ones before, and she placed second. She feels as though, "the best [performance] was "New York, New York" because I've been practicing it for this show we had in March," Although she feels like she didn't do as well on her "You Raise Me Up" performance, due to the technical difficulties at the time where the wrong song was played twice. Each time they played the wrong song, Alyssa had started doing her routine and get about halfway through it before they realized it was still the wrong song, and by the third try they played the right song. Unfortunately by that time, Ardai had already gotten really tired by that point and so, she wasn't able to put as much effort into it as she would've liked to. Ardai feels that she's, "improved a lot in this year, because [she] was able to learn new skills and almost landing on [her] axle and starting [her] double jumps, starting flying spins…[she's] more consistent in [her] jumps and spins."
After the competition, the figure skating team was able to celebrate their exceptional performance with a team dinner at the Tulip Lounge, a hibachi restaurant in Stoneham, with all of the skaters and their families, bringing a close to the figure skating season.