The 23rd anniversary of iconic musician Kurt Cobain of Nirvana's early death from suicide happened on April 5, 2017. Additionally, the 15th anniversary of front man of Alice in Chains Layne Staley's death also occurred on April 5, 2017. Not only were both musicians extremely talented and greatly missed by fans all over the world, but both were icons of the grunge genre and movement of the nineties.
Grunge, dubbed "the Seattle Sound" by some because of its origins, was a sub genre of rock music that came into light during the early nineties. The genre's rise mostly took place in Seattle, Washington, although many bands started from other cities. The movement was first underground, starting in the late 80s, a decade defined by phony, hair-metal bands decked out in outrageous outfits and an unnecessary rampant sexualization of women. The movement seemed to be a response to that, a direct opposite of rock bands at the time. The genre included elements of punk and heavy metal, and was a type of alternative rock, characterized by distorted guitar and introspective, personal lyrics, which were also called "nihilistic" and "angsty".
Although no one knows exactly who was the "first" grunge band, there were many bands who were in the mid to late 80s who are categorized as "grunge", like Green River, Mother Love Bone, the Melvins, Mudhoney, and Screaming Trees. There were many albums that were released before the 90s, like Bleach by Nirvana, Superfuzz Bigmuff by the Melvins, Mudhoney by Mudhoney, Clairvoyance by Screaming Trees, etc.
However, the 90s proved to be the decade where grunge broke out into the mainstream, particularly in the year 1991, where several grunge bands released albums that were definitely great and some being iconic. Examples are Soundgarden with Badmotorfinger and Pearl Jam with their debut album Ten. However, probably the most iconic grunge, and even alternative rock album of all time, was Nirvana's Nevermind, which changed the course of rock music and definitely brought grunge into the mainstream. Other albums that were released in the 90s were Live Through This by Hole, Dirt by Alice in Chains, Superunknown by Soundgarden, In Utero by Nirvana, and Vs. by Pearl Jam.
As the genre progressed, the four bands who were on the top of the grunge movement, nicknamed "the Big Four of Grunge" were Nirvana, Pearl Jam, Soundgarden, and Alice in Chains. Nirvana had members Kurt Cobain, singer and guitarist, Dave Grohl, drummer, and Krist Novoselic, bassist. Pearl Jam consisted of members Eddie Vedder, singer, Mike McCready, lead guitarist, Stone Gossard, rhythm guitarist, Jeff Ament, bassist, and Dave Abbruzzese, the drummer at the time when their first three albums were released. Soundgarden was backed singer Chris Cornell, guitarist Kim Thayil, bassist Ben Shepherd, and drummer Matt Cameron. Alice in Chains had singer Layne Staley, guitarist Jerry Cantrell, bassist Mike Starr and drummer Sean Kinney.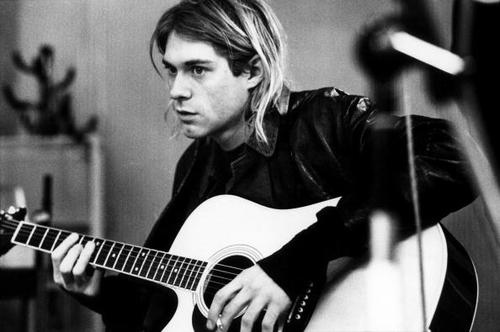 All of these bands came from Washington; Nirvana originally came from Aberdeen, Pearl Jam started out in Seattle, so did Soundgarden and Alice in Chains. Not only did these bands have a similar location, they also had a lot of connections between them, especially Pearl Jam and Soundgarden. Stone Gossard and Jeff Ament were in a band called Mother Love Bone, which lived from 1988 to 1990. The talented Andrew Wood was the lead singer, and unfortunately passed away from a drug overdose on March 19, 1990. This prompted Gossard and Ament to form a new band, searching for a singer and another guitarist, however, they were approached by Chris Cornell, who used to be Wood's friend and roommate. They created a project, a band called Temple of the Dog, and they released their self-titled album Temple of the Dog, which was a tribute album to Andrew Wood. Other than Gossard, Ament and Cornell, the band also has Eddie Vedder and Mike McCready, who would later team up with Gossard and Ament to create Pearl Jam.
While grunge's wave of popularity did last the early 90s, by the time the mid 90s were coming around, the movement declined. Many "grunge" bands became disgruntled at their sudden fame and started to resent it. Bands even hated the term "grunge", because technically the bands belonging to the "grunge" movement all had distinct sounds, and the term grouped them all into one category. Other factors came into play, like Kurt Cobain's suicide on April 5, 1994, Pearl Jam's battle with Ticketmaster over rising ticket prices, which lead to them cancelling their summer tour, and bands struggling with drug addictions.
Grunge did leave an impact and inspired other bands as well. Bands like Silverchair, Bush, Candlebox, and Foo Fighters were described as post-grunge, since they emulated the grunge sound, while becoming more mainstream. The movement even spurred a reaction back in the UK, and that movement became "Britpop", lead by bands like Blur, Oasis, Elastica, Pulp and Suede. A song created by Oasis called Live Forever was a response to Nirvana's song I Hate Myself and I Want to Die, because Noel Gallagher, guitarist of Oasis, did not like grunge's pessimistic lyrics. Damon Albarn of Blur even said that "if punk was about getting rid of hippies, then I'm getting rid of grunge." Popular grunge bands still live on today. Pearl Jam are still widely successful and acclaimed, releasing several albums in the 2000s and 2010s, and are even getting inducted into the Rock N' Roll Hall of Fame in 2017. Soundgarden reformed in 2010, and Alice in Chains also reformed, recruiting William DuVall as their lead singer due to Staley's death.
In summary, grunge was a revolutionary movement in rock history, that was applauded by the mainstream media but was also hated by bands themselves, who preferred to be underground instead of facing sudden fame and success. Although sadly short lived, grunge managed to impact music and cause waves in alternative music history.