National Honors Society, an organization created to "recognize outstanding high school students"  inducted new members into it's John W. Hutchins chapter on Wednesday, May 10th in the Jenkins Auditorium with its 90th annual induction ceremony.
The induction ceremony began at seven o'clock and featured a walk through of all members, candle lighting service, ceremonial transfer of club officers, senior tributes, and mentor and teacher of the year honorees. The night concluded with a showcase of senior service projects in the cafeteria.
NHS encourages its students to further their understanding and active participation in the Four Pillars of Society: scholarship, service, leadership, and character. Each year, students who either apply or are recommended by a NHS Faculty Board Member receives an application to be filled out in which they personally detail their in and out of school commitments which include but are not limited to clubs, sports, community service, and volunteering. This process assesses the students' qualities of service and leadership. Scholarship is reflected in the requirement of an 88 (B+) average and character is reflected in a clean disciplinary record. The acceptance process is thorough and the requirements are rigid to ensure that National Honor Society members reflect the best each school and chapter have to offer.
Senior Lizley Bertolini, a newly inducted member, recalls that MHS's chapter advisor, computer science teacher Paul Marques, often describes his members as "conduits of society" for they not only should exemplify and live up to the Four Pillars of Society but, through these pillars, should contribute to the betterment of their communities.
Bertolini, who will be attending the University of Massachusetts at Amherst, recognizes that not only is NHS allowing students to help their communities but is also helping students present themselves to the world. She says that " [she has] always wanted to be a doctor, so [she] could help others and make a difference" and that she believes "being a part of NHS has opened so many doors for [her] and [she's] sure it had a lot of weight in my admission into the amazing pre-med program at UMass Amherst."
Bertolini, as a senior, was given given the chance to tribute one important person in her life. She chose her mom to honor and concluded with a well known quote she believes embodies her relationship with her mother "Here's to strong women everywhere. May we know them, may we be them, may we raise them."
The senior tributes took up much of the latter half of the night but the first half was comprised of many smaller speeches, pledges, and acknowledgements.
Despite being a new member and one of the only five sophomores to be accepted, Salma Bezzat describes her favorite part of NHS as being "surrounded by some of the brightest and most inspiring students at MHS."
Bezzat believes in the importance of the induction ceremony because, not only does it formally introduce new members, but it passes on a tradition that, in acknowledging the hard work of all the upperclassmen, introduces the underclassmen to the idea that "the more [she sees] them take action the more [she'll] follow in their footsteps".
The opening of the ceremony was led by Paul Marques and Stephen Deng, the now former president of NHS, with greetings from the School Department and the City of Malden with Mayor Gary Christenson sharing a few words directly with the NHS members and inductees. HIs parting message was of Malden pride and a call to action saying "now to whom much is given, much will be required."
The induction of new members followed, composed of three main parts, the first being a candle lighting service. Senior students who exemplified through their merits one of the Four Pillars of Society were chosen to speak of their experience with that pillar and light a candle symbolizing that pillar. Felicia Lombardi lit the candle of leadership, Cleverina Cong lit the candle of scholarship, Grace Melo lit the candle of service, and Maria Ramos lit the candle of character.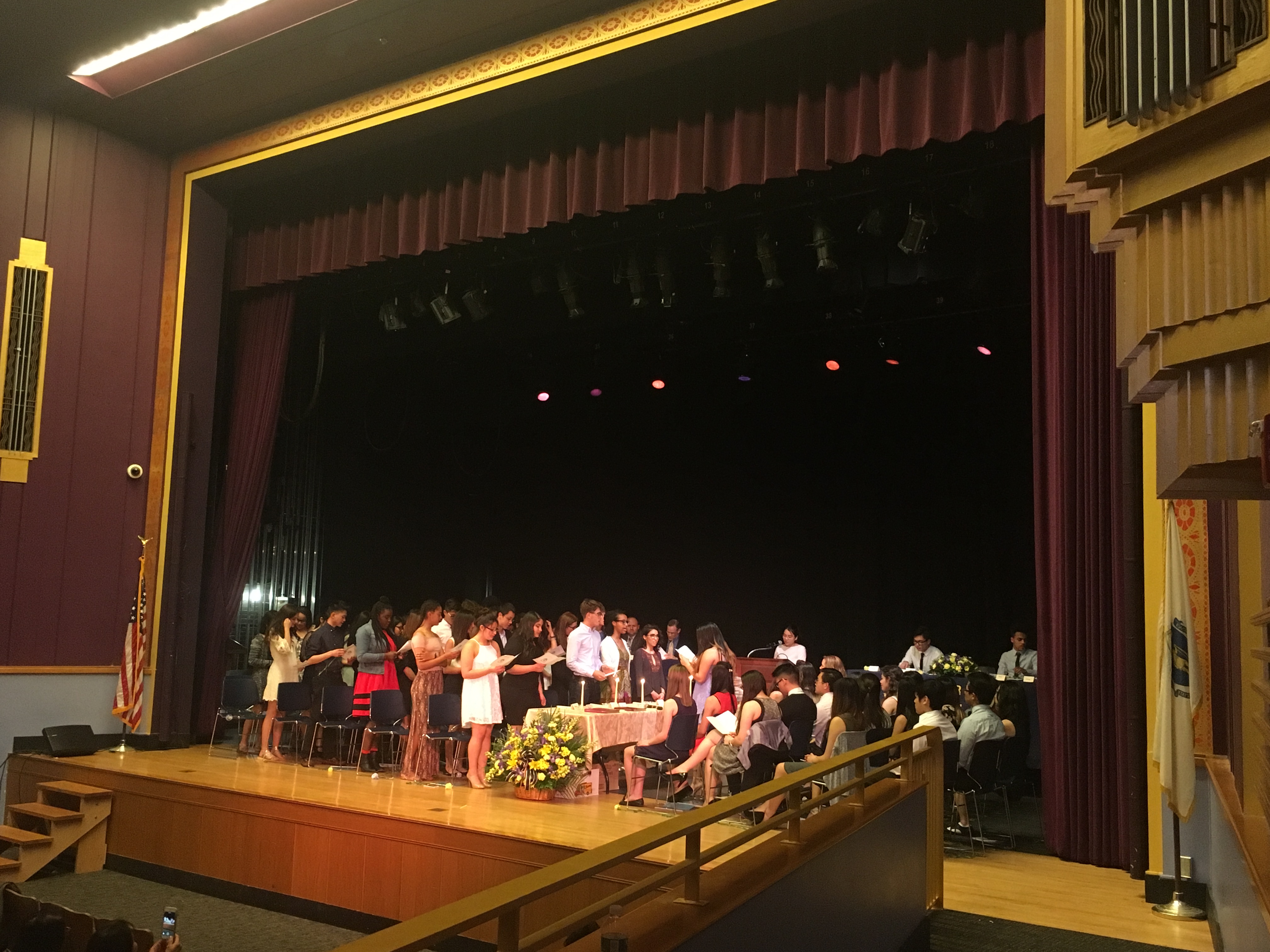 After the candle lighting ceremony, all new members stood up and took the National Honor Society Pledge which reads as follows:
"I pledge myself to uphold the high purpose of the National Honor Society to which I have been selected, striving in every way, by word and deed, to make its ideals the ideals of my life. I pledge to maintain my high scholastic standing, to endeavor intelligently and courageously, to be a leader, to give myself freely in service to others, and to hold as fundamental and worthy an untarnished character. In doing so, I shall prove myself worthy of a place in the National Honor Society."
To end the induction portion of the ceremony, new members were presented with their certificates, cards, books, and pins by MHS Principal Edward Lombardi and Marques.
The induction portion was followed by the installation of new officers which include a transfer from senior President Deng to junior President Isabelle Maraschi, senior Vice President Phuong Nguyen to sophomore Vice President Birkuti Tsige, junior Secretary Manny Quesada Nylen maintaining his post, and from senior Treasurer Gabe Oliveira to junior Treasurer Patrick Pereira.
The presentation of plaques, books, and sashes to senior members and their tributes were followed by the "Teacher of the year" and "Mentor of the year" awards which were awarded to English teacher Yahaira Marquez and Barbara Scibelli respectively.
The event came to a close after the awards were handed out with Principal Lombardi and Marques delivering closing comments and a final farewell from former president Deng.
With those final words, the ceremony ended and members and spectators alike were invited to the cafeteria to enjoy snacks and refreshments as they observed the senior service projects.