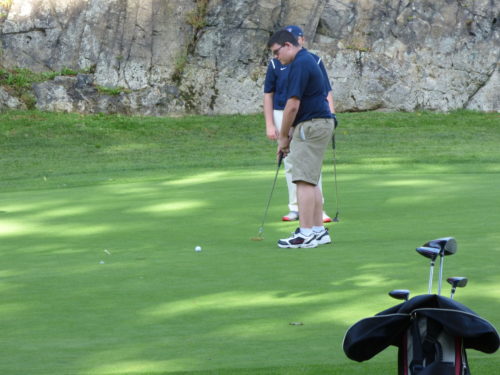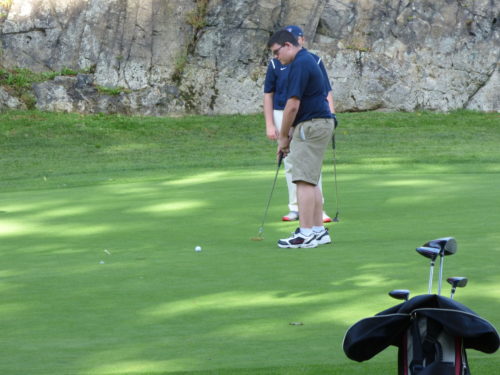 As the golf season is coming to an end, players on the team like Sophomore Sean Lightbody are getting prepared for the Northeast Conference.
Lightbody's first hands-on experience with golf was "going mini golfing with [his] dad", which had inspired his interest in the sport. Once he found out about the MHS golf team, he decided to join it during his freshman year along with other new players recruited by Nick Ansaldi, last year's team captain.
Even though Lightbody wasn't bad at golf during his first year on the team last year, he has improved a lot of his skills such as swinging and putting (stroke made to cause the ball to roll into a near hole) as it is his second year on the team. As a team, their goal this year is to improve their performance as the "team[s] performance last year wasn't that great [as] most players needed to practice a lot since they didn't have a lot of experience" stated Lightbody. From the first few games of this season, the golf team has improved a lot since most of the players have gotten more experience from before.
Lightbody's goal this season is to play more in matches because "[he has not] gotten to play a lot during matches last year". Him and his team have been working towards attending the Northeast (NEC) conference this season, which is new this year to the team as they have been attending the Greater Boston League (GBL) for the past few years. They are attending this very soon as it almost the end of the golf season. Even though their goal is to be prepared for the NEC, the main goal Lightbody and his teammates have is to have fun and enjoy the season.
This season "has been pretty fun" so far for Lightbody, also mentioning that at times, "it can be a frustrating sport". He has had a great time with his team so far this season.
Lightbody believes that if people are interested in golf, they should consider joining the golf team as it can be a fun and enjoyable experience with teammates.
Lightbody and his teammates are looking forward to going to the Northeast Conference (NEC) near the end of the golf season this year, as they have been preparing for it from the start of the season.