35 points, 10.6 rebounds, 5.5 assists with 2 steals and a block, while shooting 63.1% from the field. No those are not video game numbers on the easiest difficulty, those are what Giannis Antetokounmpo is averaging in the first six games of the 2017-18 NBA season.
Listed as a forward for the Milwaukee Bucks, Antetokounmpo (or "the Greek Freak" as he is known as to those that struggle with the pronunciation of his name) has emerged as an early favorite for the the regular season MVP award after a historic start to the season. After a 32 point outing against the Charlotte Hornets last Monday, Antetokounmpo broke the franchise record of points scored in a four game stretch with a 147 points, breaking the record previously set in 1969 by the NBA's all time leader in career points scored, Kareem Abdul-Jabbar. The craziest part is that "the Greek Freak" is only turning 23 this December.
Last season, Antetokounmpo emerged as an all-star for the first time in his career, winning the Most Improved Player award while averaging 22.9 points, 8.8 rebounds, 5.4 assists with 1.6 steals and 1.9 blocks. Those ridiculously well rounded stats made him the first player in NBA history to finish the year among the top twenty in all major statistics. This season, he seems to have taken his game to another level. In fact, currently his Player Efficiency Rating (PER) ranks at a never before seen 36.5. To put that into perspective, according to Basketball Reference, Wilt Chamberlain had the season with the single highest recorded PER of 31.81, in the 1962-63 NBA season.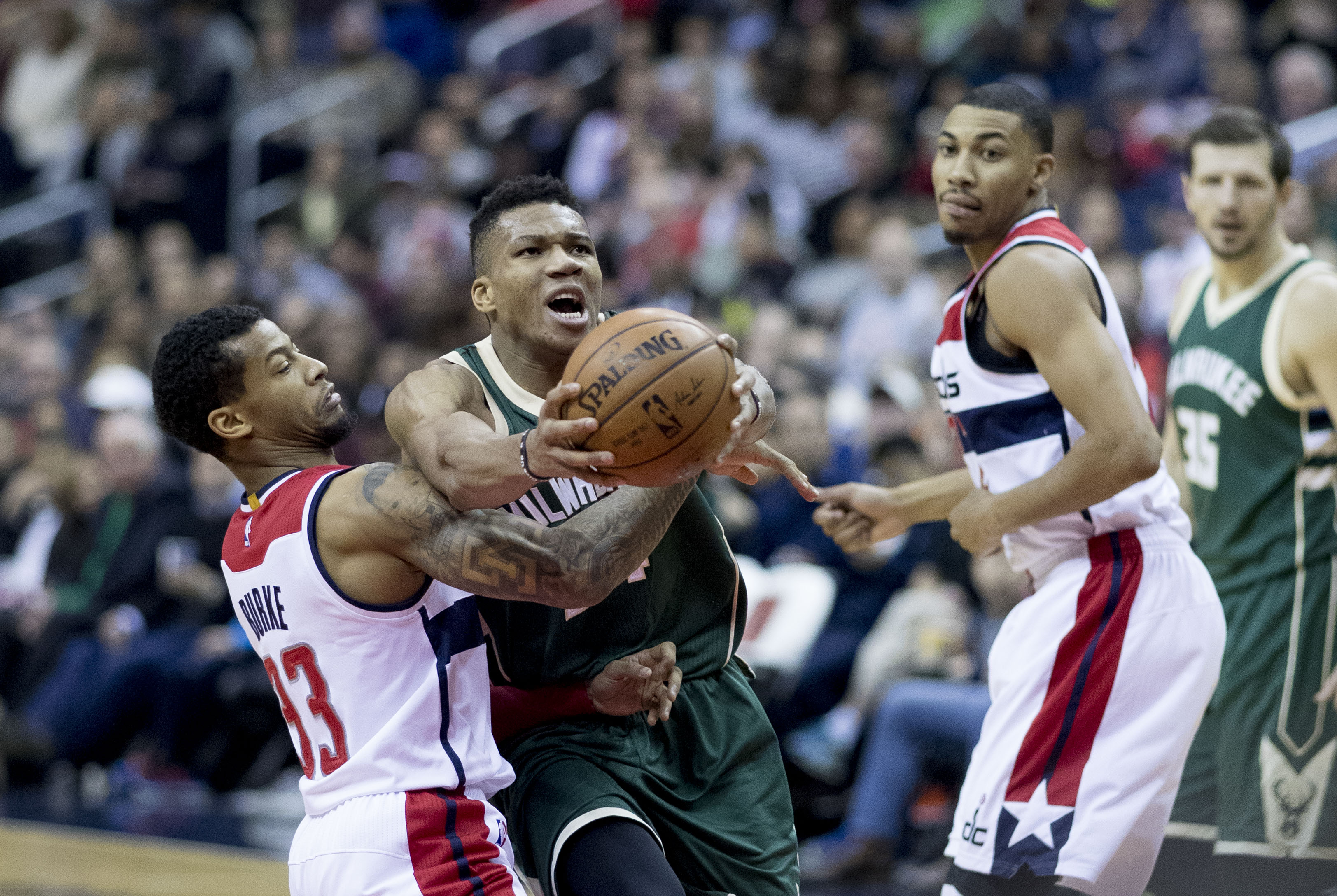 As his nickname suggests, what makes Antetokounmpo the player he is is his freakish size and athleticism. Standing at 6-11, and weighing in at 220 pounds, Antetokounmpo has the size and finishing ability of a big man combined with the speed and ball handling of a guard. He utilizes his size and length to bully defenders inside the paint. However, where Antetokounmpo is most lethal is in the fast break where he is virtually unguardable and can go the length of the floor is just about two dribbles. His skill set combined with his height and speed allows him to see over the defense and either set up wide open teammates or get to the rim at will during a fast break.
As mentioned, Antetokounmpo is listed as a forward yet he can practically play and defend against all five positions on the court. He is a "do everything" player for the Bucks, as he is their primary ball handler, post-up player, as well as their best defender. In fact, Antetokounmpo is so well rounded as a player that after the 2016 All Star Break, the Bucks decided to play him at point guard for the rest of the season due to injuries at that position.
Despite his historic start to the season, there is little chance that Antetokounmpo keeps up this pace for the rest of the season. Regardless, he has come a long way since being the raw prospect who was drafted 15th overall in the 2013 draft and averaged only 6.8 points per game his rookie season.
The most remarkable aspect of him developing into a top five player in the NBA is that he has done so without even developing a consistent jump shot. In an era that has been defined by the three point shot, Antetokounmpo is the only elite wing player in the NBA with a below average three pointer as well as a below average mid range game. In fact, his career three point shooting percentage is a very underwhelming 28%.
Although an inconsistent jump shot is the one glaring weakness in Antetokounmpo's game, the level of success he has had without a jump shot speaks volumes about  how great of a player he is already, as well as how limitless his potential is as a basketball player. Simply put, if Giannis Antetokounmpo even develops into an average NBA shooter, he will become the single most unguardable player in basketball. What is ironic is that he may already be that.