In the Ward 7 elections held on November 7th, 2017, David Camell won, filling former Councillor Neil Kinnon's spot after his resignation.
Jerry Leone
Jerry Leone is running for re-election for ward 6, and is working in other parts of city.
Opening Statement:
"For the people who don't know me I have served on the school committee for the past two terms and safety is my top priority, being a policeman in the United States reserve. So, being on the school committee has taught me a lot about government and serving on various committees, such as the budget. So, coming in the city council I will have that experience. And I'm also the chairman for the safety sub-committee as well as the co-chair of policy. I know everybody on the city council, so it will be a smooth transition if I'm elected." (10/1917)
Public Commentary:
"Currently on the school committee we have a public forum where people come. But I agree with the first part of your question we should have public forums. I know in the city council you have to be sponsored. But I think these are the voters and they pay taxes. They are electing us. So, to say they can't speak is silly. So, if on the council I would vote that and support that and vote for that. Thank you." (10/19/17)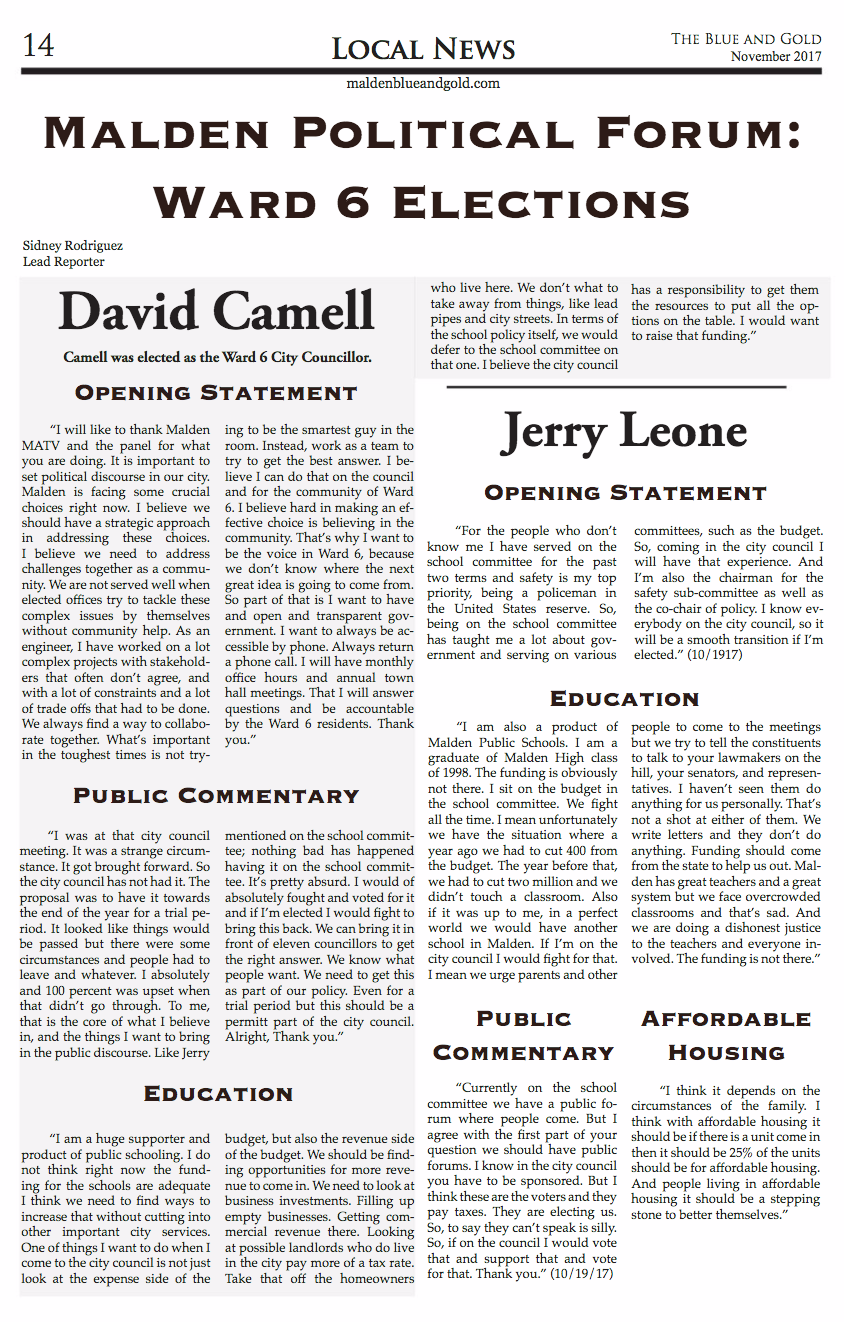 Thoughts on Education:
I am also a product of Malden Public Schools. I am a graduate of Malden High class of 1998. The funding is obviously not there. I sit on the budget in the school committee. We fight all the time. I mean unfortunately we have the situation where a year ago we had to cut 400 from the budget. The year before that, we had to cut two million and we didn't touch a classroom. Also if it was up to me, in a perfect world we would have another school in Malden. If I'm on the city council I would fight for that. I mean we urge parents and other people to come to the meetings but we try to tell the constituents to talk to your lawmakers on the hill, your senators, and representatives. I haven't seen them do anything for us personally. That's not a shot at either of them. We write letters and they don't do anything. Funding should come from the state to help us out. Malden has great teachers and a great system but we face overcrowded classrooms and that's sad. And we are doing a dishonest justice to the teachers and everyone involved. The funding is not there.
Thoughts on Affordable Housing:
I think it depends on the circumstances of the family. I think with affordable housing it should be if there is a unit come in then it should be 25% of the units should be for affordable housing. And people living in affordable housing it should be a stepping stone to better themselves."
David Camell
Opening Statement:
I will like to thank Malden MATV and the panel for what you are doing. It is important to set political discourse in our city. Malden is facing some crucial choices right now. I believe we should have a strategic approach in addressing these choices. I believe we need to address challenges together as a community. We are not served well when elected offices try to tackle these complex issues by themselves without community help. As an engineer, I have worked on a lot complex projects with stakeholders that often don't agree, and with a lot of constraints and a lot of trade offs that had to be done. We always find a way to collaborate together. What's important in the toughest times is not trying to be the smartest guy in the room. Instead, work as a team to try to get the best answer. I believe I can do that on the council and for the community of Ward 6. I believe hard in making an effective choice is believing in the community. That's why I want to be the voice in Ward 6, because we don't know where the next great idea is going to come from. So part of that is I want to have and open and transparent government. I want to always be accessible by phone. Always return a phone call. I will have monthly office hours and annual town hall meetings. That I will answer questions and be accountable by the Ward 6 residents. Thank you.
Thoughts on Public Commentary:
I was at that city council meeting. It was a strange circumstance. It got brought forward. So the city council has not had it. The proposal was to have it towards the end of the year for a trial period. It looked like things would be passed but there were some circumstances and people had to leave and whatever. I absolutely and 100 percent was upset when that didn't go through. To me, that is the core of what I believe in, and the things I want to bring in the public discourse. Like Jerry mentioned on the school committee; nothing bad has happened having it on the school committee. It's pretty absurd. I would of absolutely fought and voted for it and if I'm elected I would fight to bring this back. We can bring it in front of eleven councillors to get the right answer. We know what people want. We need to get this as part of our policy. Even for a trial period but this should be a permitt part of the city council. Alright, Thank you.
Thoughts on Education:
I am a huge supporter and product of public schooling. I do not think right now the funding for the schools are adequate I think we need to find ways to increase that without cutting into other important city services. One of things I want to do when I come to the city council is not just look at the expense side of the budget, but also the revenue side of the budget. We should be finding opportunities for more revenue to come in. We need to look at business investments. Filling up empty businesses. Getting commercial revenue there. Looking at possible landlords who do live in the city pay more of a tax rate. Take that off the homeowners who live here. We don't what to take away from things, like lead pipes and city streets. In terms of the school policy itself, we would defer to the school committee on that one. I believe the city council has a responsibility to get them the resources to put all the options on the table. I would want to raise that funding.
Thoughts on Affordable Housing:
"The ability for seniors to stay in their homes is something that concerns me quit a bit, both for rental and for homeowners. On both of those fronts, I want to see the tax burden on older homeowners is looked at in a compassionate and reasonable way. We don't want them losing their home. And on rentals for affordable housing, we definitely have to look at the amount or percentage that goes to affordable housing. The only thing I would differ I think from my colleague or opponent is saying "it is a stepping stone." I think for seniors at that point in time we are looking at a situation where that is going to be their home that they are going to stay in. Where that would be appropriate in other spots of life. I wouldn't agree for that for seniors."