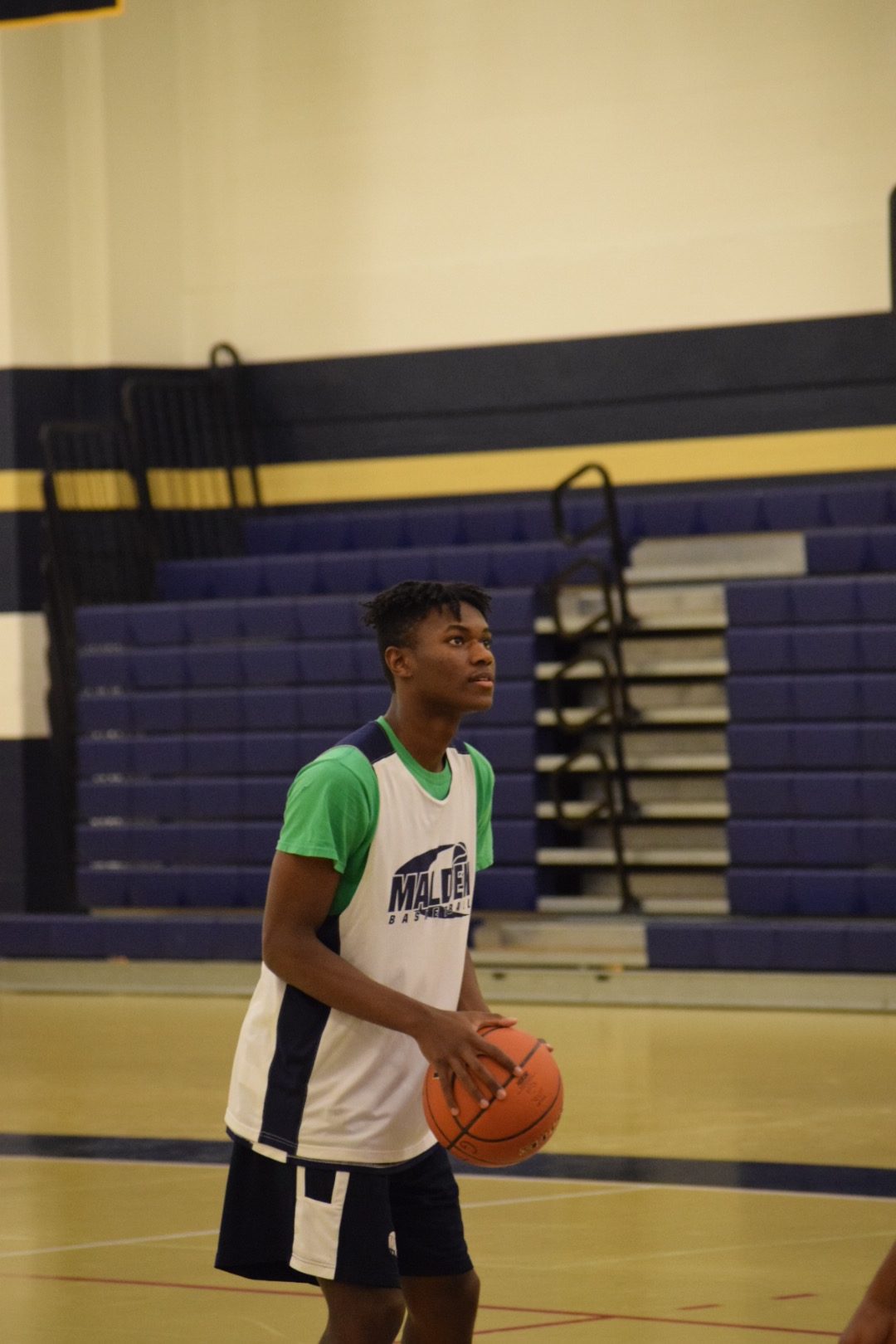 As the boys basketball season begins, the team as a whole is hoping to make it as far as possible throughout the season. Last season, the MHS boys basketball team had an overall record of 16-6, which consisted of tremendous effort from all players. Although the team fell short during the playoffs with a loss during the first round of the tournament, they are ready to advance further this season.
Senior Malik Bissett recapped last season to be an exceptional season. Despite falling short in the playoffs, the team was able to put up a tough fight in every game. Coming prepared and mentally focused every game is what the team must do to continue to improve from last season. Bissett continued to explain that communicating more on defense and tightening on defensive possessions also needs to be progressed further by the team.
Bissett mentioned two newcomers on the team Tyler Holness, from Medford and Thomas Redwood from Everett. Senior Thomas Redwood admitted that although he is a newcomer himself on the team, he is definitely going to do his part on the help and contribute as much as possible.
Redwood added that there are other newcomers on the team as well who will make important contributions. Sophomores Cameron Lloyd and Brutchel Hyppolite being few of the many on the team who show great prospects as a player. According to Redwood, Lloyd is a great shooter, plays defense, and runs the floor well. Additionally, he explained that Hyppolite contributes to the team with the ability to shoot and get rebounds.
Bissett expects the team to make the tournaments again while being more prepared as well as taking one game at a time. Personally, Bissett continued to explain that, for himself he hopes to be better than last season considering he now has an important role on the team. He hopes to contribute any way possible, points, rebounds, assists, and defensive possessions. He states that it "doesn't matter, [they] just [have] to keep working as a team."
During practices, the team runs through the sets every package as well as competing and scrimmaging. Giving it their all at practice and the help of their Coach Don Nally conditioning them, are steps the team are taking to experience a successful season.
Both Bissett and Redwood agree that they're hoping this season goes well. Bissett hopes that this season will be a good one, taking into account that it is be the final one for some.
Sophomore Brutchel Hyppolite recalled that although last season went well, it should not have ended the way it did. He made it clear that the team should have beat Somerville in the first round and kept advancing rather than falling short early on in the playoffs.
In spite of the fact that the team is strongest in running the floor, Redwood believes that the team needs to improve in executing plays. Personally, he hopes to improve in his mid-range shooting, ball handling, and getting to the basket strong throughout the course of the season.
Since this season consists of a variety of different players, Hyppolite expects the team's chemistry to slightly improve. He stated that "[he feels] like [they] are more talented than last year because [they] have more guys with shooting abilities" but that they "need to continue being tough to progress further."
Despite the fact that the season began with a scrimmage against Woburn, Redwood concluded that the team is still getting into the "flow" with everything and getting used to how one another plays, seeing what they can and cannot do. He states that they are "getting used to each other and the more [they] play together, the better [they are] going to get."
Both Bissett and Redwood are looking forward to the game against Everett. As a former player from Everett, Redwood is looking forward to competing with previous teammates and with a "rival school." Bissett added that last season, MHS lost to Everett twice, so it is "nice" to have another chance at beating their rivals.
When asked whether the change of divisions will impact the outcome of the season, Hyppolite answered by saying, "Not at all. I actually think it will help the outcome of the season because [he feels] like all teams on [their] schedule are teams [they] can beat."
Senior captain Fern Bernard is looking forward to a successful season with his teammates, with the exception of doing better than last season. With such leadership, he wants to lead his teammates to a successful season. He described how he wants the team to be known as "hard workers."
Overall, the team as a whole is hoping to dominate every team they face and hope to go undefeated.