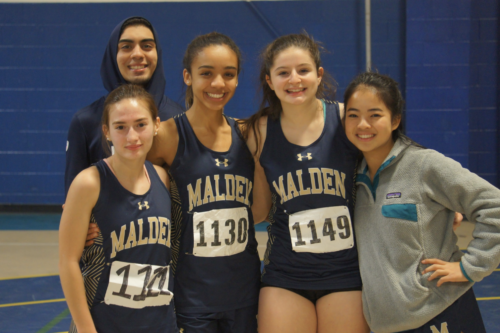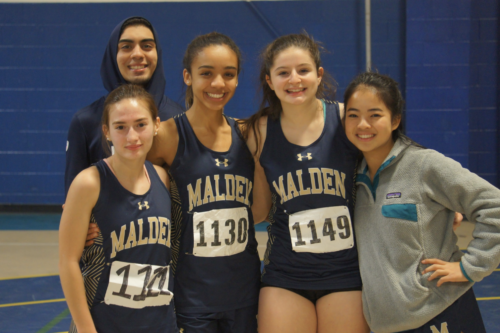 The girls' indoor track team had a fantastic season this winter, ending with a final score of six wins and only one loss. To tie up the season, they had their final dual meet against Gloucester on January 22nd, and graciously took the win. However, what most of the team members, even Coach David Londino, believe was one of the harder competitions and a huge key meet for this year's season was the meet against Peabody on January 18th. Sophomore Eva Federico believes that the Peabody meet had a huge impact on their season because "it broke the dry spell [the team] had against them," which made their victory even sweeter.
Overall, the season was one of the most exciting, "One of the best seasons that Malden High [has had]" Sophomore Emane Boufaida happily reported. Junior Genny Murphy commented that "the NEC is much harder than the GBL was, so holding [their] own against [those] teams meant a lot to [them]." With their final score of win and losses, the team was really able to show other high schools that the Malden High track team is not something anyone should underestimate. Boufaida believes that, thanks to the great success of indoor track, members moving on to outdoor track "have so much [more] depth to go into."
Now, the team's upcoming events are states competitions and the league meet. The team has many states qualifiers this year. Senior Rachel Eaglin has qualified for States in the hurdle event, completing them within 8.9 seconds. In addition, Junior Shataeya Smith, who's throw of 33.2 meters earlier in the season, also brought her to States. Smith was later able shock herself by breaking not only her personal record yet again but also the school record with a throw of 34.9 feet. Other State attendees include junior Shaquora Wallace for the 55 meter dash, the girls 4x800 relay race team which include seniors Jasmine Gray, Kylie DiMaro and Allie Russo along with sophomore Isabella Machado. Furthermore, there are two more meets, one on January 28th and another on February 11th, in which more qualifiers will be determined.
"[The team] just feels like one big, athletic family," Federico described. "[They] really encourage [her] to do [the] absolute best [she] can, [they all] stand beside [each other]." Everyone was very welcoming at the beginning of the season and were always supportive of one another. Smith carries on to explain that the positive environment "[helps the team] succeed". A great thing about the girls successful season was creating wonderful friendships in between practices and meets, as well as memories that will be remembered for years to come. Murphy explained how "every track season introduces [them] to new people and [one] can come to be really good friends with [their] team." The enthusiastic energy not only shows when attending one of the team's meet, but also in individuals. Many spriters, jumpers and throwers were able to break their own personal records and continue to develop their talents; Smith's favorite part of this season was her personal improvement, "this season has helped [her] focus on who I am and my talents." The team was sure to push their limits and work very hard so that they could not only start off with a bang but end with one too. "If [she] could describe [the] season in one word?" Federico said, "[it would] definitely be Fantastic"