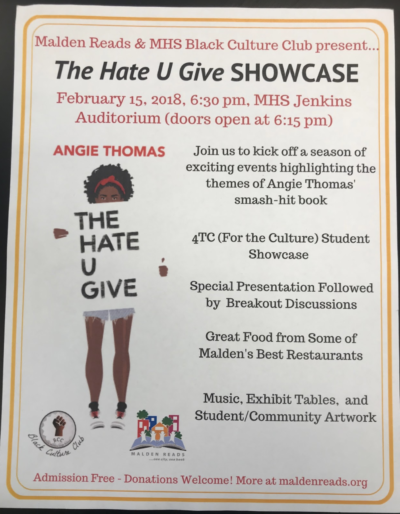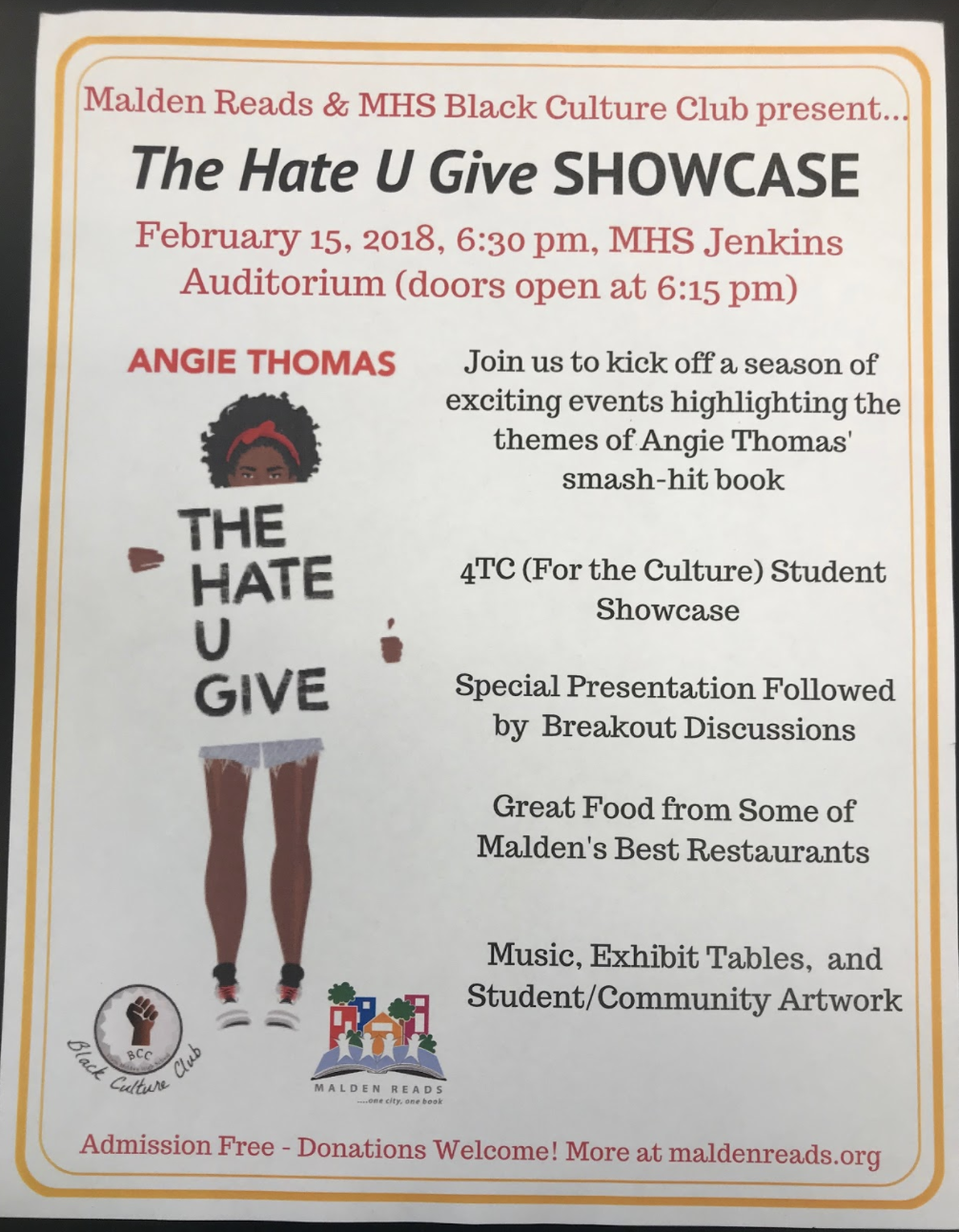 In collaboration with the MHS Black Culture Club, Malden Reads will be hosting The Hate U Give Showcase next week.
Malden Reads is a community reading program that tries to encourage reading, while also promoting the library and other city resources in order to build community. It invites the community to read the same book and participate in a series of events related to the book's themes. They are looking forward to deepening connections in the Malden Community this year.
The MHS Black Culture Club was created at the beginning of this school year to help educate students about past and present black heritage, including areas outside of the United States, since the school does not have many events that acknowledge black heritage. It is being run by President Gerdley Cadet and Vice President Christina Charles.
This event will be focusing on Malden Reads' book selection of 2018 of the Malden's "One City, One Book" program, The Hate U
Give by Angie Thomas. The novel is about Starr Carter, a 16-year old girl who lives in an urban black neighborhood that deals with problems such as gang violence and poverty, all while attending a private school in a predominately white, wealthy community. The novel was at the top of The New York Times young bestseller list and won the Boston Globe Horn Book award. It is also a finalist for the Kirkus Prize.
The event will talk about themes and topics from the book such as the issue of racial profiling, police brutality, drug addiction, racial and economic inequality, and today's adolescent world. There will be a special presentation in the Jenkins Auditorium, 4TC (For the Culture) student showcase, exhibit tables, opportunities for dialogue in breakout discussions, and student and community artwork being featured.
As this is the kickoff event for the Malden Reads' book selection of 2018, there will be more exciting events related to the book in the future.
If you are interested in going, The Hate U Give Showcase will be held on February 15, 2018 at 6:30 pm at the Malden High School Jenkins Auditorium. Admission is free but donations are welcome.