The 78th Annual Junior Varieties took place in the Malden High Jenkins auditorium on March 9th and 10th, hosted by the Class of 2019. This year's theme was "Cruising through Jv's" with twenty-two acts. There were four dance groups and an act with one dancer, Chon Huynh. The first group  was the step team and the dancers were Coralie Deus, Guerlyne Desane, Bryana Bichotte, Tiannah Macharia, Ariana Alexandre, and Keila Dumerant. A group known as "Cypher" performed to the song "DNA" by BTS and the dancers were Vinnie Truong, Chon Huynh, Sammy Lee, Guanhua Ao, Quang Nguyen, Vivian Dang, Jenny Nguyen, Astha Lama, and Suiyenah Chen. The Dance group "Airbound" performed to a song mix by various artists and the dancers were Kevin Phan, Kevin Ruan, Hao Ly, Gary Mei, and Zhengyue Yu. The last dance group was "Azonto 4.0" that performed an African dance and to a song mix of Afro-Beat music and the dancers were Cedrina Missamou, Alexia Jones, Audrey Magloire, Camille Nommi, and Laura Masseau.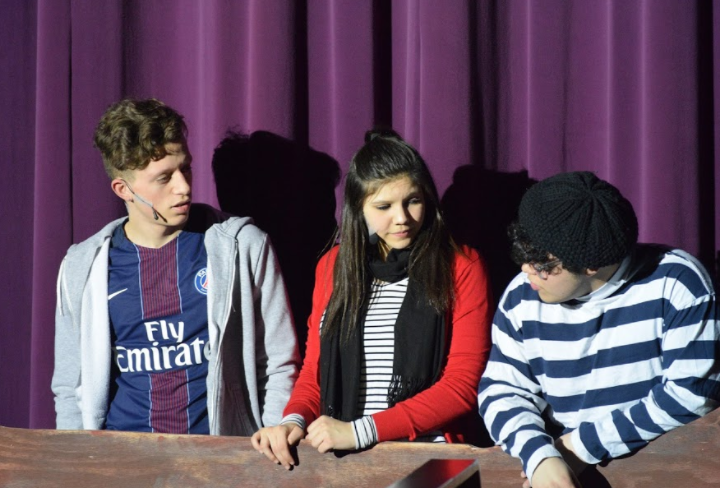 There were twelve singing performances. The first singing act was by Lauryn Poindexter singing "New Rules" by Dua Lipa. The next act was pianist Briana Le with Renata Tomaz singing "Lay By Your Side" by Sam Smith. Meghan Yip sang "Sure Thing" by Miguel and "Mine" by Bazzi. Menna Bessah sang "Bright" by Kehlani. Sherley Maxime sang "Read all about" by Emeli Sande. Delilah Doeleman sang with an original piece called "Upside." Marquis Smith performed an original rap song. Louna El Hamwi sang to "Hold Me Down" by Halsey. Tatiana Batista sang "I Fall Apart" by Post Malone. Nada Tuffaha and Santiago Portillo performed "Best of Her" by Daniel Caesar. Quang Nguyen, Jenna Vannella, and Kaytlin Kwong sang "Thinking Out Loud" by Ed Sheeran. The final act of the night ended with Leticia Sidney singing "Resentment" by Beyonce.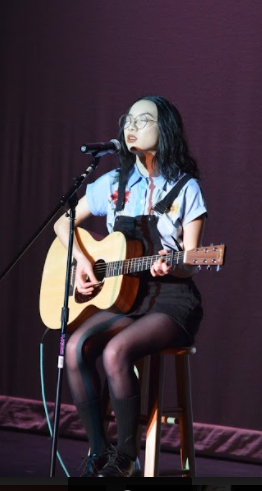 The acts that fell neither into a singing or dancing category included the MHS Chamber Orchestra with a Compilation by various artists with performers Naomi Brill, Brendon Ky, Renet Chan, Jun Jie Kwang, Yuying Li, Thomas D'Onofrio, Pryanna Alper, and Wilson Chau. Sara Zakaria, a lead reporter for the Blue and Gold, recited a speech called "Muslim This ISIS That" by Peace House. Birukti Tsige and Mirabelle Jean Louis recited a speech called "Somewhere in America" by Belissa Escobedo, Zariya Allen, and Rihannon McGavin. A performance of a band known as "Musical Sensation" performed with an original piece called "Run away" with Ishmael Sylus and Joao Victor Fontim as lead singers, Wesley Pierre as the pianist, and Brutchel Hyppolitte as the drummer. Another band  known as "Loud Division" performed "Triple Threat" with Thomas D'Onofrio, James Plowman, and Jimmy Ton.
Class Advisor and History teacher, Rebecca Corcoran says her experience advising JVs "was definitely an experience. Not having any stage experience and putting together a show was difficult but [she] had some really amazing officers and volunteers and acts who helped put it all together."
Corcoran says that overall she "really enjoyed it. It was really satisfying to see from the beginning when [we] had nothing to a full blown show in the end. [It] was definitely worth it."
Unfortunately, there were some "technical difficulties on friday night that there was nothing [we] could do about but on friday particularly, the acts really pushed through. Nobody totally melted down and [they] went with the flow which was great and saturday [they] had an almost perfect show so it was totally worth it and it was good to end on that instead of on the technicality issues" says Corcoran.
Corcoran has attended JV's the other three she's been here and thinks that "[she] probably won't enjoy them as much as [she] did this one just because [she] doesn't plan on doing it again so this was like the one time [she'll] be 100% involved in it but [she has] always enjoyed it. It's always a great show."
Sophomore, Vivian Chen attended JV's and says that she has thought about doing JV's herself but never had the courage to and says that if she were to ever do it, she'd do "a speech similar to the people from [her] top two favorite performances." Chen says that on friday "there were technical difficulties but overall, it was really good."
Math teacher, Cassandra Poole, helped out on both days of the show. Poole says that last year when she attended, she had no idea what it was until she got there and says she "enjoyed it because [she's] never seen something like that before. [Her] school didn't really do talent shows so [she] was really surprised but thought it was really good."
Poole says that "one of her freshman students suggested that [she] be the freshman advisor since nobody else has signed up and half of the people [she's] talked to told [her] not to do it because it's so much work but [she] thinks it sounds interesting and sounds fun. [She] likes that kind of thing, managing and planning type things and [she] loves her freshmen."
Poole says she "really liked the Orchestra. [She] thought it was really cool how [they] got just as much applause and people were just as into that as [they] were into the rap performance or the dancing performances. [She] feels that people who just play instruments or are just an Orchestra like that maybe don't get as much recognition."
Junior, Delilah Doeleman has always sang and "some of [her] friends told [her] to audition for JV's, so [she] did and then [she] was in the show."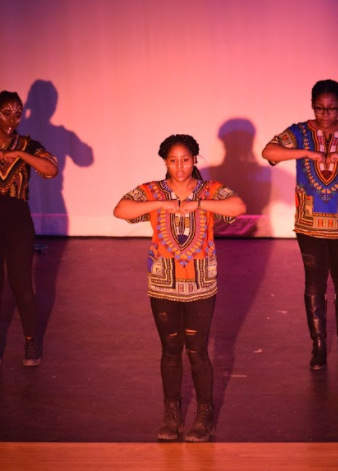 Doeleman thinks this year "[they] put in a lot of effort to make it the best show possible. On Friday night [they] had some technical difficulties which was just bad luck but [they] got through the show and it was still pretty good. On saturday night, everything went perfectly and it was an amazing show. [She's] so proud of everyone who did it, especially the backstage crew and Ms. Corcoran because [they] all put in so much time and effort."
Doeleman also says that she was "more nervous during rehearsals then for [her] actual performance. Once [she] got out on stage, [she] wasn't nervous at all and felt really comfortable which was super different than what [she's] used to because [she] usually gets a lot of stage fright."
Sophomore, Tatiana Batista says she initially wasn't going to perform in the show "because [she] didn't think [she] was going to make it past auditions but [her] friends kept encouraging [her] to try. [She] finally decided [she] was going to audition the day of sign ups and hoped for the best."
She decided her song "after many songs and practices. 'I Fall Apart' was a popular song at that time, that everyone loves and somehow relates to. [She] thought it was perfect."
Batista says she "loved last year's JV's from an audience perspective but seeing all of the work that goes into the show, made [her] appreciate it more. Everyone is so talented and [she] loved every single act."
Sophomore, Jenny Nguyen has performed in the dance group for JV's in both her years at MHS, in the dance group, Cypher. "It was easier to perform this year because [she] was already used to the whole process of preparing for the show. [She] feels that this years show was better than last year's only because [she] knows that every act and performer gave it their all on shownight and in rehearsals."
Nguyen also mentions that when she's on stage, all she cares about is "focusing on the dance, music, and cheers from the crowd. The lights help you to think that no one is watching you, making you less nervous. All the cheers, screaming fans, help [her] and the rest of the group continue dancing on the stage. [They're] like an energy drink. [They] give a shocking effect. Even if one of [them] makes a mistake, the crowd encourages [them] to keep going as if it never happened."
All in all, the Class of 2019 has pulled of a great show, continuing the string of many great JVs shows over the years. Next year, the Class of 2020 will take on the role of organizing the single biggest fundraiser for the class.