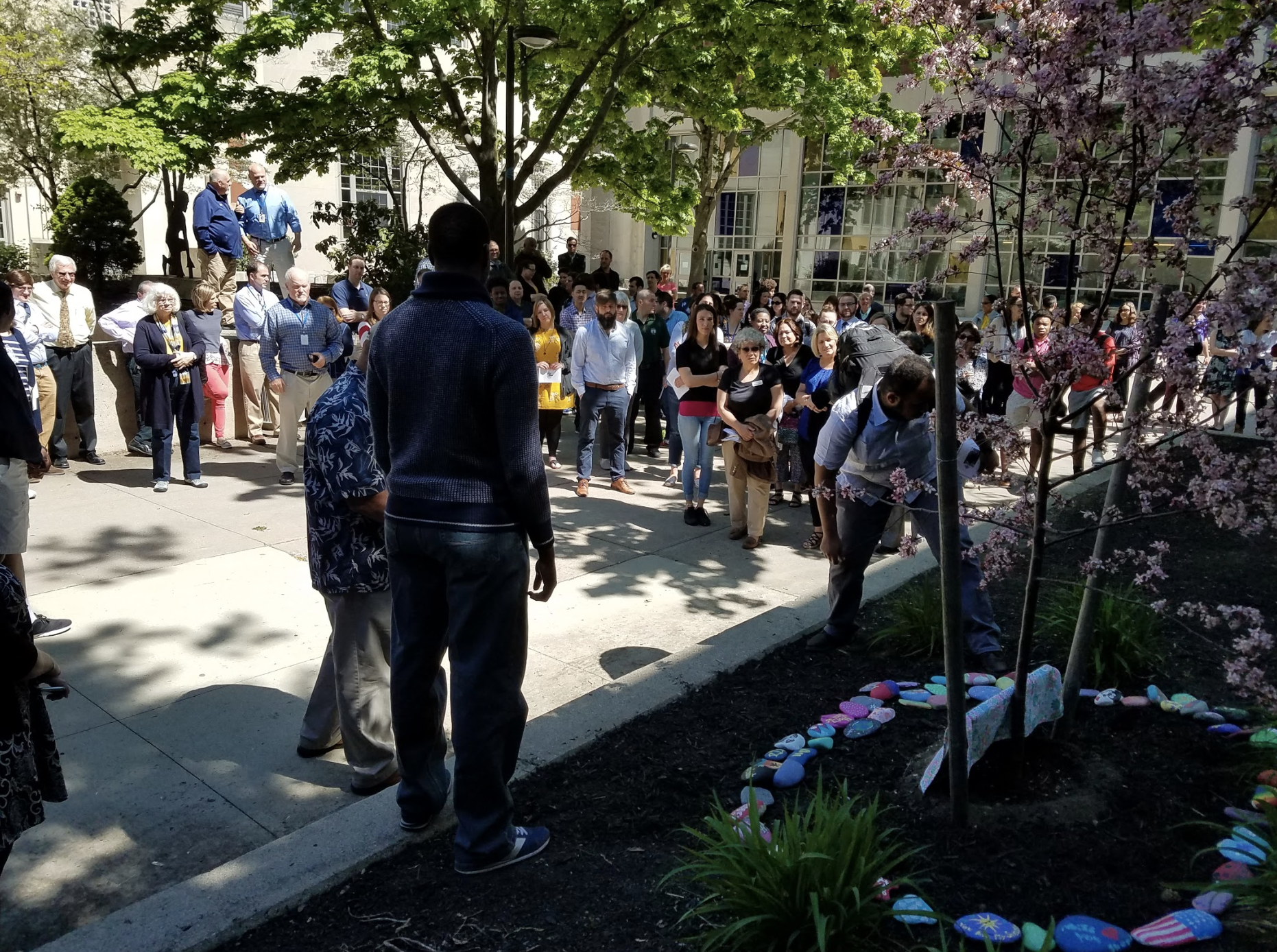 Students commemorate David Holland around a tree memorial. Photo by Ana Pirosca. 
Written by Ailin Toro and Tobi Pitan
Dave Holland was a teacher at Malden High school for about 15 years who passed away in July 2016. On Monday, May 14th Malden High School held a memorial service for him to remember the light he had brought to the school.
The idea to have a memorial service for Holland came from "a group of students and staff [that] [came] together to remember a staff member [who] clearly made a difference in a lot of lives" said MHS principal Chris Mastrangelo. These students were Sebastiano Paret, Shawn Nice, Sebastian Laguerre, Robert Berlus, Shane Bedard, Annie Bahn, Erika Santana, and Brianna Bethea. They came up with the idea of painting the rocks utilized in the service while students, under the supervision of Automotive teacher Chris Bazzinotti, designed a plaque in which Holland was honored.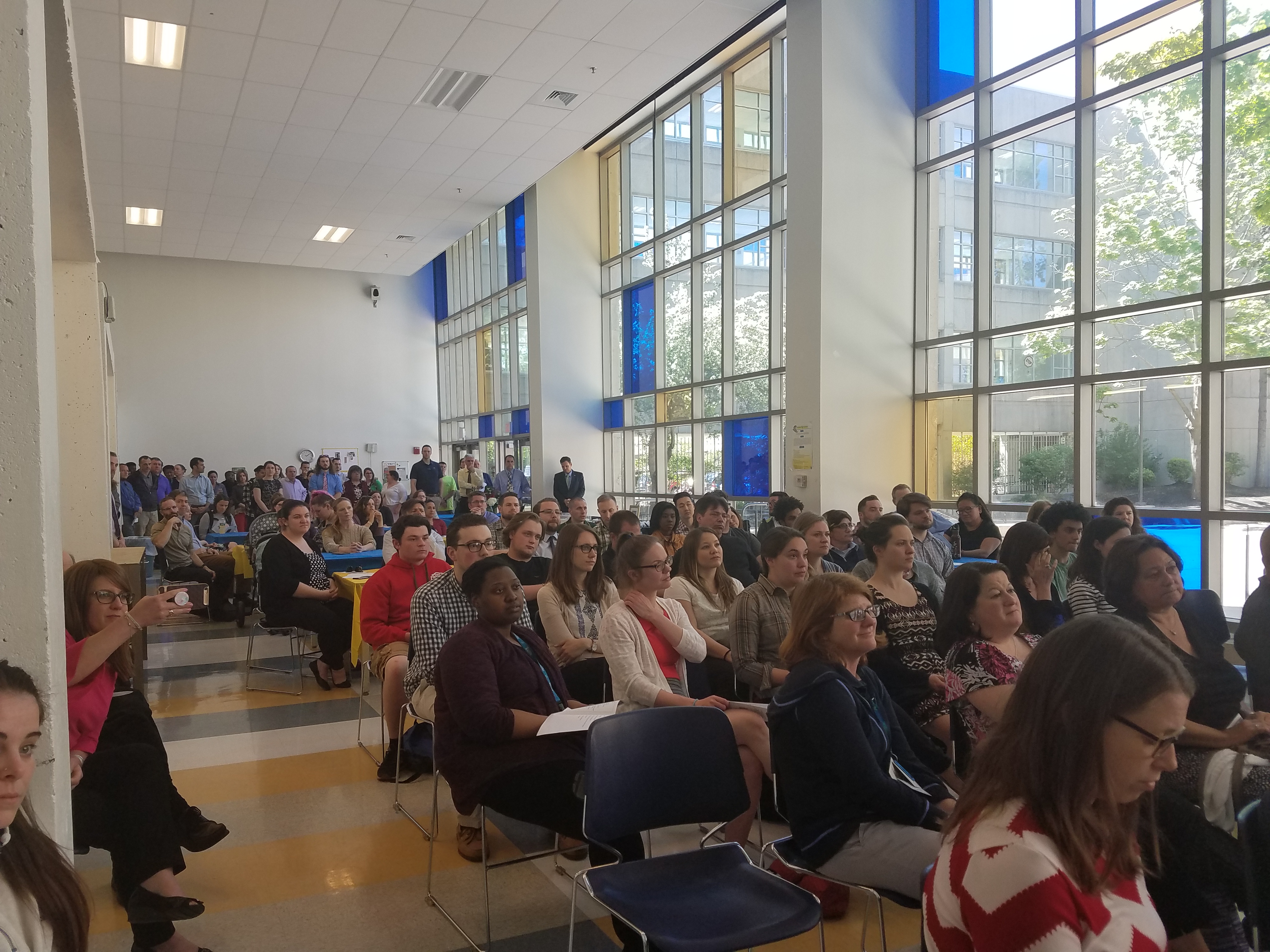 MHS teacher Mitchell Abbatessa was the Master of Ceremonies for the memorial service. He spoke about the history of Holland as a science, math, and history teacher at MHS. Abbatessa described him as a "human encyclopedia that had a mastery up to many volumes" and "a great man who loved his family." Abbatessa summarized Holland as "indescribable" and added that "he would do anything to help anybody" and "always had an optimistic [outlook]." When asked about how Holland enhanced the Malden community, Abbatessa responded by saying that "he made you think." Holland "wasn't just a guy [he] knew that worked at the high school, he was more of a friend."
Michelle Holland, David Holland's wife, gave a brief speech about her husband and thanked everyone for their attendance. She stated that he "was a really sweet guy" who had "deep and profound and lifelong love of education and learning". She "[hopes] that that translates and goes through all of the students".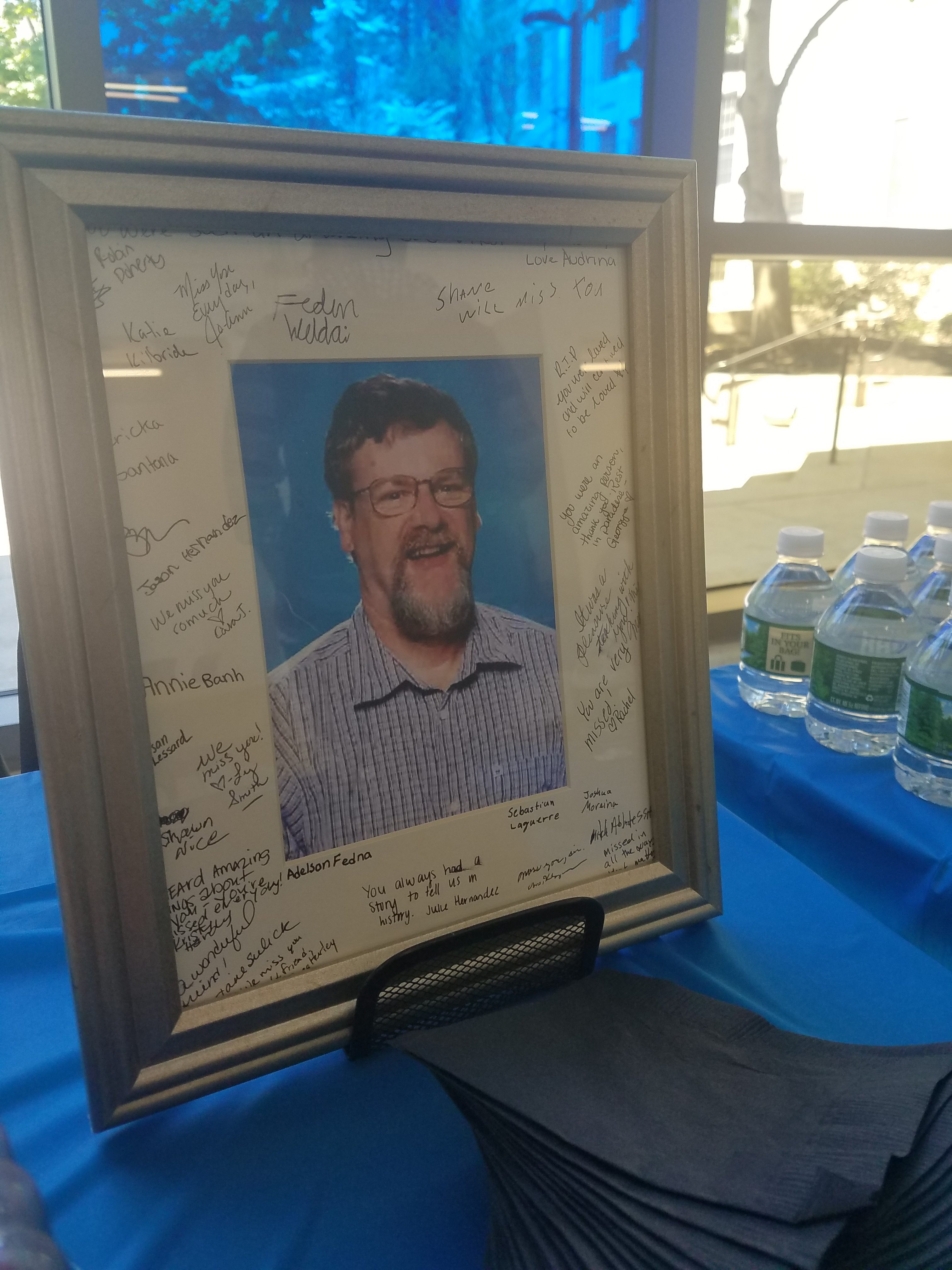 Next, Paraprofessional staff member Cedric Francis also spoke a few words about Holland. Francis described Holland as a "man with a big heart" who "was honest in his convictions in regards to his faith, [and] his love to his family and his students." He noted how "one of his fondest memories of [Holland] was that he never talked down to his students and always engaged them as equals."
Additionally, Shawn Nice read a tribute written by former MHS teacher Jamie Green whom Holland co-taught with. The tribute described the experiences of these two teachers as they worked alongside one another "serving kids who needed extra love." Nice read about how "Mr. Holland made Mr. Green laugh everyday they worked together and was there to support him through some tough times."
Another student, senior Sebastiano Paret read an excerpt from The Merchant a book that Holland had written himself.
Subsequently, a video of Holland's performance in the teacher round of the Poetry Out Loud finals in 2015 was shown and sophomore Brianna Bethea presented the plaque that was made in honor of Holland. Bethea said that this service in particular was significant because it was done "out of the goodness of the [students'] [hearts]." Ms. Cassidy and Ms. Smith approached her to participate in the service and she became interested in volunteering and giving back to the Malden community.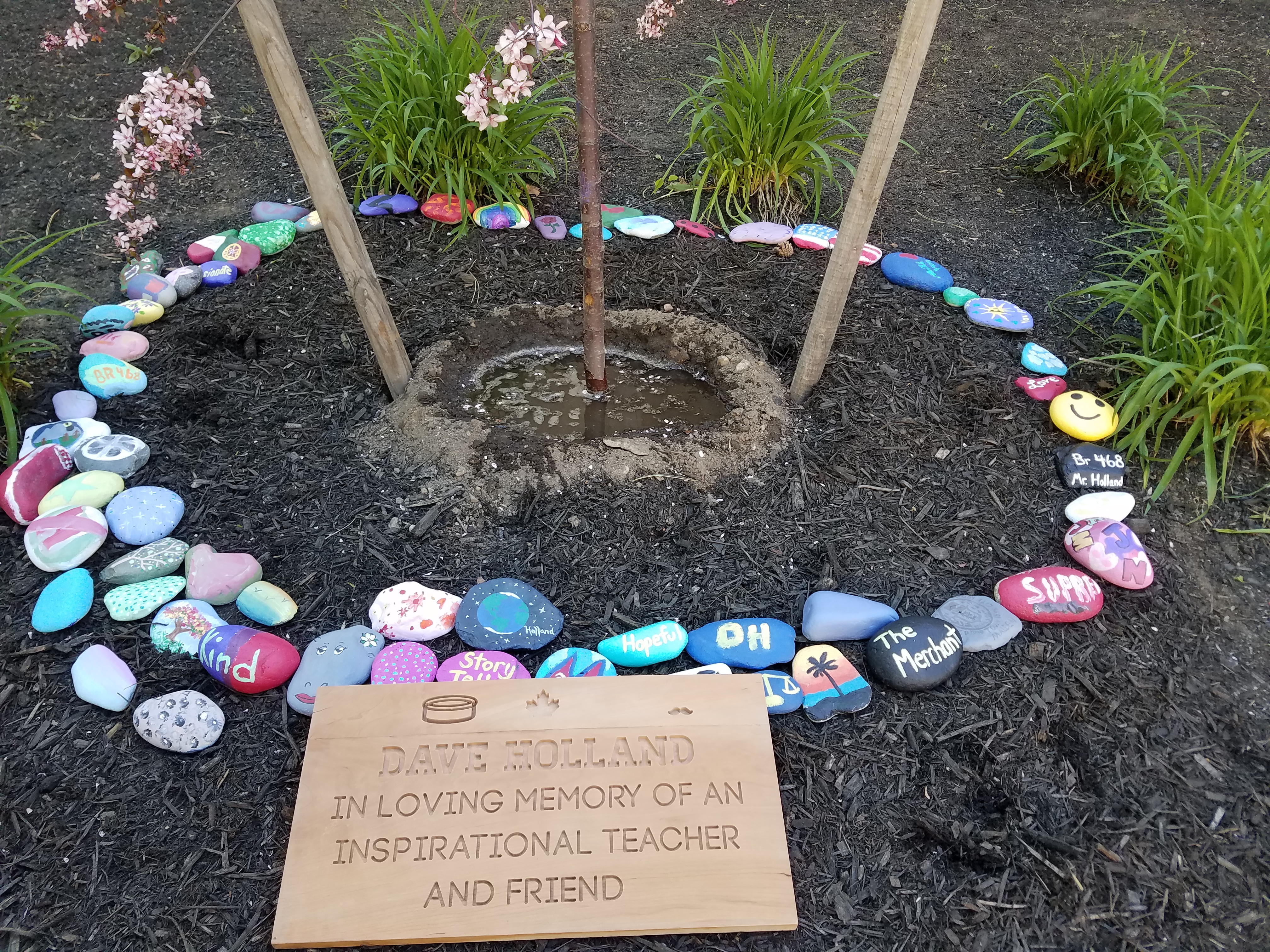 Another student, senior Sebastian Laguerre who had had Holland as a history teacher, spoke about how he and some fellow students including Paret, wanted to hold some type of memorial for Holland upon hearing news of his passing and wanted "to do something to remember him". Laguerre added how Holland "liked cracking jokes" and "taught [them] like [they] were equals...they were not just his students, but they were like friends or family" to him. Laguerre noted how Holland was "kind to everyone around him and if you [were] sad he would put a smile on your face" and "made sure you [got] to class early, and wouldn't skip." To Laguerre, "he was the best history teacher in the school."
Sherley Maximin, a senior who attended the ceremony, said that even though she did not know Holland personally, "the fact that all of these people gathered for him [was] a testimony to how good of a person he was." She enforced the importance of this event saying,"these type of activities make us value life more by teaching us to honor what makes us great."
The service concluded with the Tree Planting portion of the ceremony in which painted rocks were placed around a tree that was planted in the MHS courtyard as a memorial to Holland. The planting of the tree symbolized the outstanding legacy that Holland will have on MHS in the years to come.