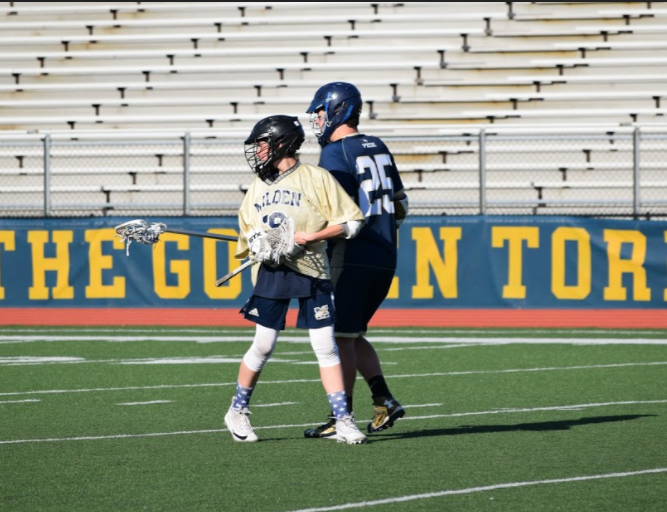 Malden Player looks back at his teammates. Photo by Jesaias Benitez.
The MHS Boys Lacrosse season is almost over with one more game left of the season as of May 25th. This season has been a challenging one but as a whole, the team has accomplished a goal never achieved ever from a MHS Boys Lacrosse team, as they have qualified for the State tournament. They achieved this through their 7-5 win on May 10th against Salem, and overall with their impressive record of 9 wins and 8 losses with 1 more game left of the season.
This season has been led by a team of dedicated Captains, Joey Costa, Zach Rufo and Hasnat Moughal. They all have had a part to play for their successful season, each serving a different, but important role for the team.
Rufo has led the offense with his goals and his leadership on and off the field. Costa has led the team through his amazing performance in both defense and offense, helping both the defensemen and offense with their roles. Moughal has had a difficult season playing as a goalie, however with a rotating line of defense, he has keep them in shape and due to his tremendous reflexes, he has proven himself the best goalie in the conference.
The team lost both of their first games. Despite this season starting off slowly, the team showed their resilience in afterwords going on a four-game win streak, changing their record to 4 wins and 2 losses.
Coach's Copithorne and Smith both are impressed by the resilience and determination that these players as a whole have shown throughout the season.
Coach Copithorne said "this year, we have shown resilience by recovering from our deficits. Our team does not give up, and that has allowed us to compete, and sometimes even defeat, some very good teams."
This season there have been results that have defined how the team has played, including the 7-6 victory against Revere and the 8-5 win against Everett.
Mr. Copithorne described the Revere game as "particularly satisfying because [they] started out slow, and had a fairly significant deficit at halftime, but [they] were able to claw [their]  way back to eventually come out on top."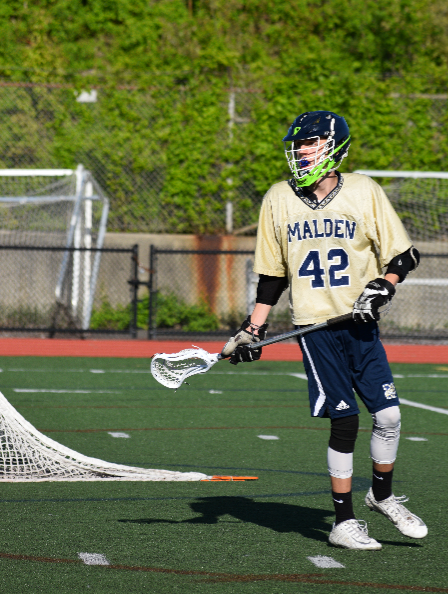 The Everett win was also important for the season because Everett has always been a rivalry team against Malden and the win was important for the team's confidence and performance.
Mr. Copithorne's opinion on the game was that "Everett was coming off of a major victory and had much improved since our last meeting. [They] knew that [they] needed to win the game, and Everett was in no mood to give [them] the game. Luckily [their] team was fortunate to come out on top in a well-earned 8-5 victory."
Another reason why this season's Lacrosse team is special is because they are also implementing a lot more youth than they have in the past. This is good for all the players because the newer players will learn from the more experienced players and thus they are building for the future so they will hopefully have much more successful seasons in the next few years.
One issue that this team will have to overcome is the pressure that comes with playing at a State tournament. The experience at playing at the tournament will be good for the new players in the team and it helps the team for the future, however it will be tough for the coaches and players since they do not have the experience that most likely other teams will have in the tournament.
This season has been a rollercoaster for the Boys Lacrosse team. They had to deal with a rotating roster, injuries, and tough opponents, but they have overcome all those challenges which is a quality that makes them a record breaking team.
They have the persistence and determination that enabled them to make states, and with a young and talented squad, they are a team to lookout for and support in the state tournament.