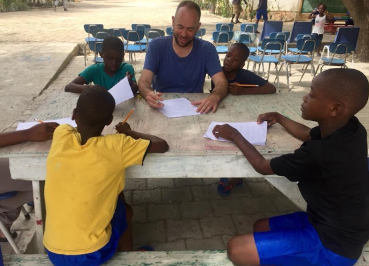 Malden High School French teacher, Paul Degenkolb, has had the opportunity to go to Haiti previously— his first trip was back in 2015, and he visited again later in 2017— but now, in 2018 he has decided to visit once more to raise his own awareness of the world around him.
On his first trip in 2015, he went on a fellowship with "Fund for Teachers" foundation but he paid for his other two trips himself. The purpose of the first trip was to learn about the Haitian educational system in order to better support students that emigrate from Haiti to the United States.
While he was there, Degenkolb made lots of connections with people in the educational field on the Island of La Gonave and he says that, when he came back to MHS, the Haitian Culture Club students were "really interested" in learning more about his trip.
He says his experience in Haiti for the first time around was "hard to adapt to," since he was staying in the middle of nowhere with no electricity, roads, or anything of the sort. "Regardless," he says, "it was a great experience."
Degenkolb emphasizes that "more people in the world live that way than the way we do," which leads him to believe that "it's important for [Americans] to be in touch with that and realize how privileged [Americans] are."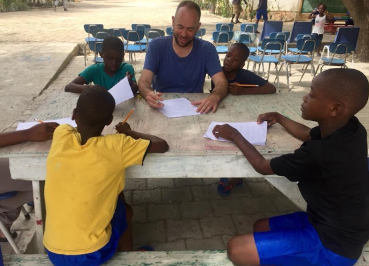 "There are people who don't even have access to books and learning materials that really want them," he says, suggesting that the more fortunate "need to make sure that people who need [resources] and want [resources], can access [them] too."
In 2017, ESL teacher, Judy Cummings, went with Degenkolb because she was also interested in visiting another country. Cummings knew what to expect before arriving in Haiti but says she was still very much "surprised" to see a place "so close to the U.S" experience such poverty. Cummings agrees that the environment was difficult to adjust to, but that the people "were wonderful and really friendly."
Cummings thinks the trip was important because it helped her as better understand some of her Haitian students. Haitians make up one of the largest groups of students in Malden High School, but there are no Haitian teachers at MHS, and so she thinks it's important "for those students to know there's an adult in the building who really wants to connect with [them] and speaks a language [they] can speak and can make them feel at home."
Degenkolb concludes that it is crucial for diverse communities like Malden "to understand and support each others' backgrounds." His experience with Haiti has affected his daily life profoundly, allowing him to recognize how "easy" his life is here in comparison and how much harder it could be for him. He hopes everyone comes to this realization.