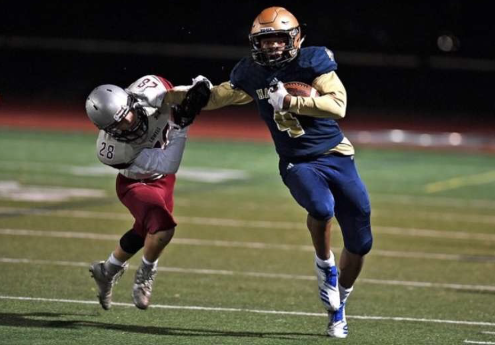 Senior Rashaud Moore running the ball during a game. Photo submitted by Moore.
Rashaud Moore, a senior at Malden High, plays wide receiver and safety on Malden High's varsity football team. Moore has been playing football for 11 years, with hopes of playing in the NFL ever since he was a young boy. "I just want to make it, you know what I mean?" stated Moore. He feels that he needs to gain more speed and strength as a football player, which is a key component of being a wide receiver. Moore believes that playing college football will help him with his skills and hopefully be a pathway to the pros.
"Our record hasn't reflected a good season," Moore states. However, he sees a lot of potential in the team this year and moving forward, "the Malden High Football team will be very good." In a game, Moore mentions that, "[he's] just trying to make plays, help [his] team out, help get a win." When asked about what can be improved on for the remainder of the season, Moore states, "We have the talent, we just need to keep our heads in the game."
Leon McFarlane, a senior who plays offensive lineman and defensive lineman on the football team has had an excellent experience with Moore as a captain. Although McFarlane has been on the team for only one year, "[Moore] has shown exceptional leadership skills on and off the field." McFarlane believes that Moore is one of the best wide receivers on the team and really has talent.
"The team would be really different without [Moore]," McFarlane states. He agrees that their record is not an accurate representation of the teams talent. "We have small numbers on the team but if we had more athletes for every position, we'd be unstoppable."