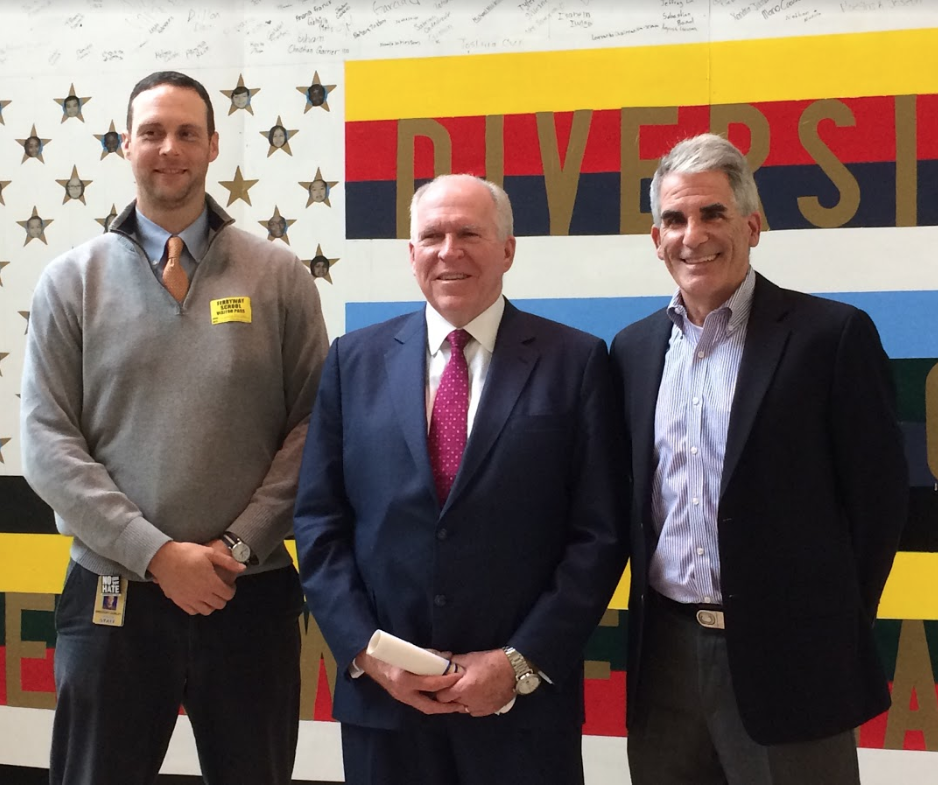 From left to right: MHS History teacher Greg Hurley, former CIA Director John Brennan, and Ferryway Social Studies teacher Timothy Stratford. Photo submitted by Stratford.
By Ailin Toro and Abhishek Rana
Former CIA Director, John Brennan, gave a lecture at Ferryway Middle School on Tuesday, October 23rd. Among those present were the school's eighth grade students and faculty along with members of the Malden Youth Civics Council and select AP Government students from Malden High.
Brennan served as the CIA Director during President Barack Obama's second term, between 2013-2017, and was also the daily intelligence briefer for President Bill Clinton. Brennan served at the CIA for 25 years and was involved in the highest level of American government.
In his lecture, Brennan shared his experiences working at the CIA and explained what his role was while working at the White House. Students were also given the chance to ask Director Brennan questions regarding his career as well as his thoughts on current events. Brennan was candid about topics ranging from the Bin Laden raid to the CIA's enhanced interrogation and the recent death of Saudi Arabian journalist, Jamal Khashoggi.
Currently a paid contributor at MSNBC/NBC, the former director has caught media attention lately for being a vocal critic of President Donald Trump, who revoked Brennan's security clearance this August, a move that made headlines around the country.
Timothy Stratford, a Social Studies teacher at Ferryway School, invited Brennan to speak at the school. Stratford and Brennan are former high school basketball teammates and met when Stratford was in 6th grade and Brennan was in 7th. They both attended a small catholic school in New Jersey where "everybody knew each other." One of the motivating moments Brennan mentioned in his lecture had to do with how he was cut from the basketball team freshman, sophomore, and junior year, but then made the team as a senior, attributing his success to his "persistence."
Stratford and Brennan remain friendly even now, so he was invited to a party this summer that was a surprise anniversary party for Brennan and his wife. There, Brennan told Stratford that he was speaking at a school in Boston and that they should get together, which is what led Stratford to suggest that Brennan come speak at Ferryway. He told Brennan about Malden and Ferryway, and Brennan seemed interested. Later, Brennan contacted him and told him when he would be in Boston, what time he had free, and asked if he could speak.
Of the lecture, Stratford says that Brennan was "incredible." Stratford "knew how polished, and how eloquent he would be," but was "still impressed by how really brilliant [Brennan] is."
Stratford mentioned that whenever they have speakers at the school, "there are always a couple students who say the speaker was boring, but this time nobody gave that reaction." He adds that "most of the students were impressed with how he answered all the questions, but also by how funny he was." Stratford had students do research on Brennan before his lecture so they could be familiar with him and ask him questions. Stratford said that during the research process, Brennan had "appeared as a very serious person to the students, so the fact that he had a sense of humor and talked about his family really humanized him and [the students] really liked that." Overall Stratford credited the lecture as being "more fun than than [he] ever imagined."
Greg Hurley, History teacher at Malden High School as well as the advisor of the Malden Youth Civics Council, says that he was excited about this field trip because "it was an incredible opportunity for students to be able to meet someone who has been at the highest levels of our government and get insight into the daily operation." Hurley explains that Brennan was "very forthcoming with the details, in what the job entailed, and on his opinions on the current administration which [he] think[s] was really great."
Senior Felix Li, who went to Ferryway as a member of the Malden Youth Civics council, says that the lecture "was really interesting." He explains how "as someone who is part of a club that is meant to be civically engaged it was awesome to do something that was actually a physical manifestation of that." He goes on adding that "people often talk about doing their own research and doing their best to be active in politics, and actually talking to someone who has experience in politics was really nice." What stood out to Li, was how honestly Brennan answered the questions that were asked. Li concludes that the "whole experience was surreal."