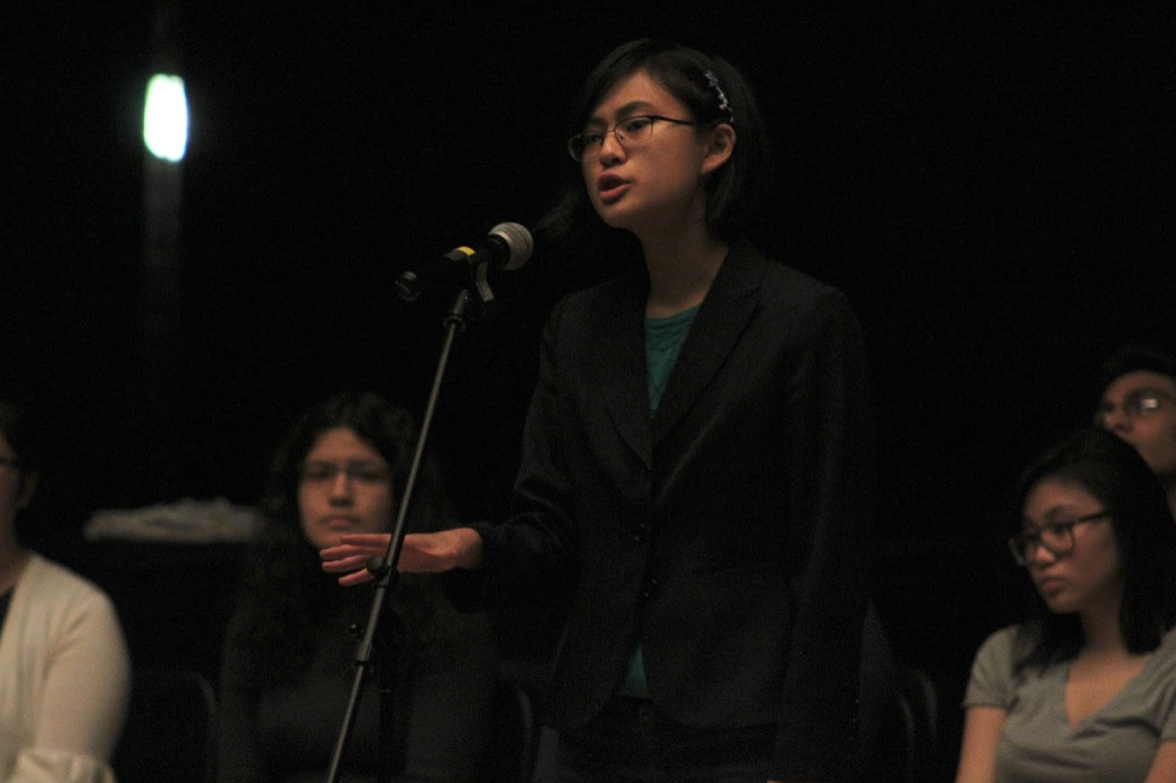 Junior Rasmee Ky reciting "The Legend" by Garrett Hongo. Photo by Falyn Kelley.
Malden High School held their Poetry Out Loud Semi Finals on Wednesday, January 9th 2019 and Thursday, January 10th 2019.

Poetry Out Loud is a poetry recitation contest done in English classes across the nation. The contest was created in 2006 and has been integrated into the Malden High English Curriculum as an annual tradition.

Each student recites a poem of their choosing and teachers select one winner to represent their class in the Semi Final Period Competition. The winners from each class then compete against other students from other English classes during the same period. From each period, two students were selected to advance to the Final School Competition. The students who are competing at the Final School Competition were instructed to choose a new poem from the pre-twentieth century time frame.

English teacher, Yahaira Marquez checked for accuracy as each student recited their poem while English teacher, Jennifer Clapp judged each student's overall performance.

The 15 students who will be competing at the Final School Competition are freshmen Ina Lu, Mayada Giha, Jing Ren, sophomores Angela Truong and Grayson Garside, juniors Rasmee Ky, Mohammed Ayyoub Belatreche, Gregory Chau, Ana Pirosca, and seniors Birukti Tsige, Paige Pimental, Sebastian Romani, Makesha Mercedat, Michelle Chan and Jenna Vanella.

Freshman Semi Finalist, Jennifer Rodrigues recited "Old Love" by Pat Mora. She explained that she chose that poem because "[she] could picture [herself] bringing the poem to life." Rodrigues expressed that the poem and the meaning behind it "stood out to [her] because it told a story of losing a loved one." She mentioned that "[her] initial goal for Poetry Out Loud was to get a good grade in class but I never thought [she] would move on to the next round." Rodrigues expected that the Semi Finals were going to "be a lot tougher than the class competition." She added, like many other students "[she] felt very nervous before [her] recitation."

Freshman Finalist, Jing Ren recited "From Blossoms" by Li-Young Lee. She expressed that the theme and symbolism really stood out to her. Ren saw it as "visual reminder of how precious life is." She explained that her "initial goal for Poetry Out Loud this year was just to get it over with," she added that "[she did not] plan to win the class and the period competition." Ren said she was nervous before her recitation in front of her class. However, before the period competition "[she] was calm and a bit confident because [she] kept reassuring [herself] that everything [would] be alright." Ren mentioned that she just wanted "to try [her] best," no matter the outcomes.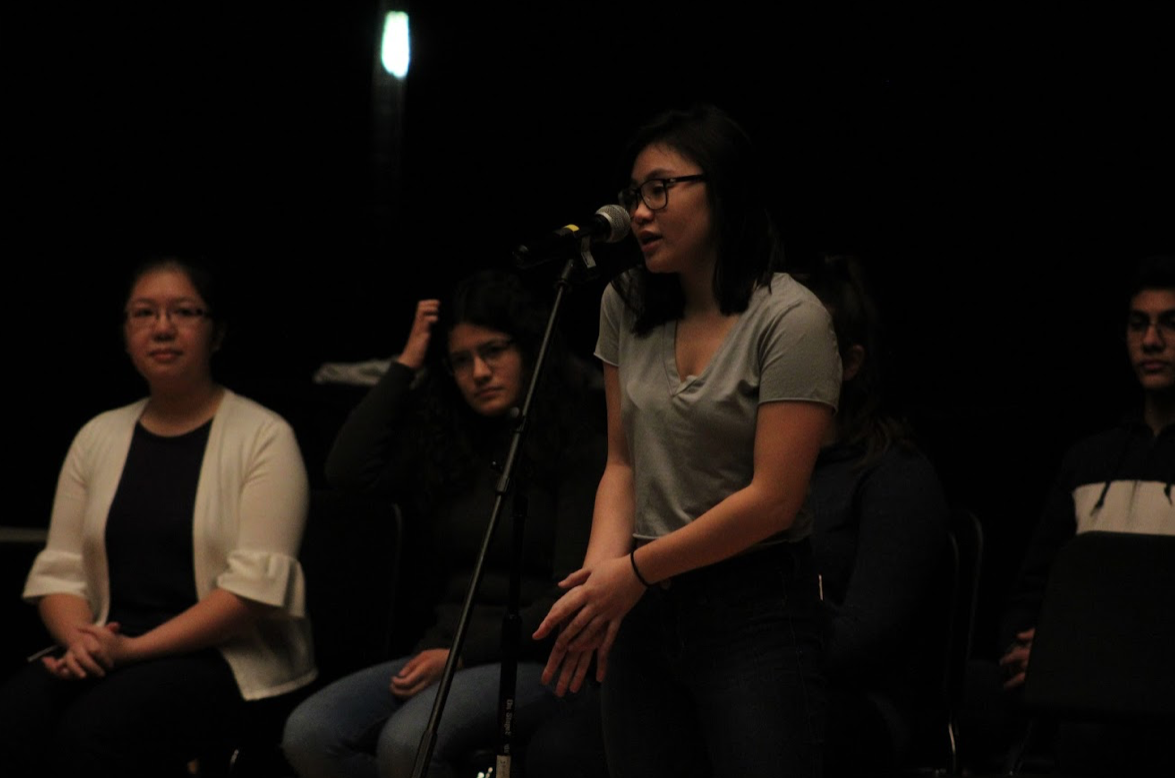 Sophomore Finalist, Angela Truong recited "Author's Prayer" by Ilya Kaminsky. She explained that she chose "that poem because it reminded [her] of [her] grandpa," she added that when reading it she felt the passionate connection. Truong expressed that "[she] tried [her] best to put some emotions into the poem." She strategized by not allowing herself to get nervous and making sure she does not rush through her poem.

Sophomore Finalist, Grayson Garside recited "Fairy-tale Logic" by A.E. Stalling. She expressed that she chose that poem because "[she] really liked its interesting interpretations of fairy-tales." "It [was not] a normal perfect ending," she added. Garside's goal for Poetry Out Loud this year was to have a "performance [she] was proud of." She also mentioned that she "worked really hard to put [her] personal feelings into it and overall [she felt] good about it." Garside stated that she "expected that everyone would be amazing, which was true, but "[she did not] expect that [she] would win."

Senior Finalist, Birukti Tsige recited "Vagrants and Loiters" by Kwame Dawes. She expressed how she really "liked the swagger it had in the beginning of the poem," and how it shifted "in the end to a more serious tone that talked about issues [...] going on today." Tsige's goal was to recite her poem to the best of her ability and "take into account pointers that my teacher, Mr. Walsh, had given me after my class performance." She explained that "[she] was nervous," before her recitation "but once [she] introduced [herself] and the title, it all flowed smoothly."

Senior Finalist, Sebastian Romani recited "Momma Said" by Calvin Forbes. He explained that he honestly "just wanted to get it over with." Romani further explained that he was "never really good at [Poetry Out Loud] ever since freshman year." He decided that since it was his senior year he would "step out of [his] comfort zone and put more effort," into his recitation. He added that "[he] was really shocked when they called my name for the finals." Before the period competition, Romani "was feeling super nervous, as each person was performing and [his] turn was coming up, [he] kept getting more nervous." When it was time for his recitation, "[he] just took a deep breath and went on with [his] poem."

Senior Finalist, Jenna Vanella recited "Dead Butterfly" by Ellen Bass. She explained that she chose that poem "because it was different than any [she] had seen before." It "allowed [her] to play a character, which comes in handy [since she has] experience in acting." Vanella mentioned that "it [was] a very stressful process," but she tried to remind herself that "all of the students in the audience [...] had been just as nervous as I was." Knowing that everyone in the audience had the same feeling before their recitations calmed her down. As she was waiting for her turn to recite her poem, Vanella stated that "[she] took deep breaths and went over the poem in [her] head a couple of times."

The Final School Competition will be on January 31st , 2019 in the Jenkins Auditorium during period 5.