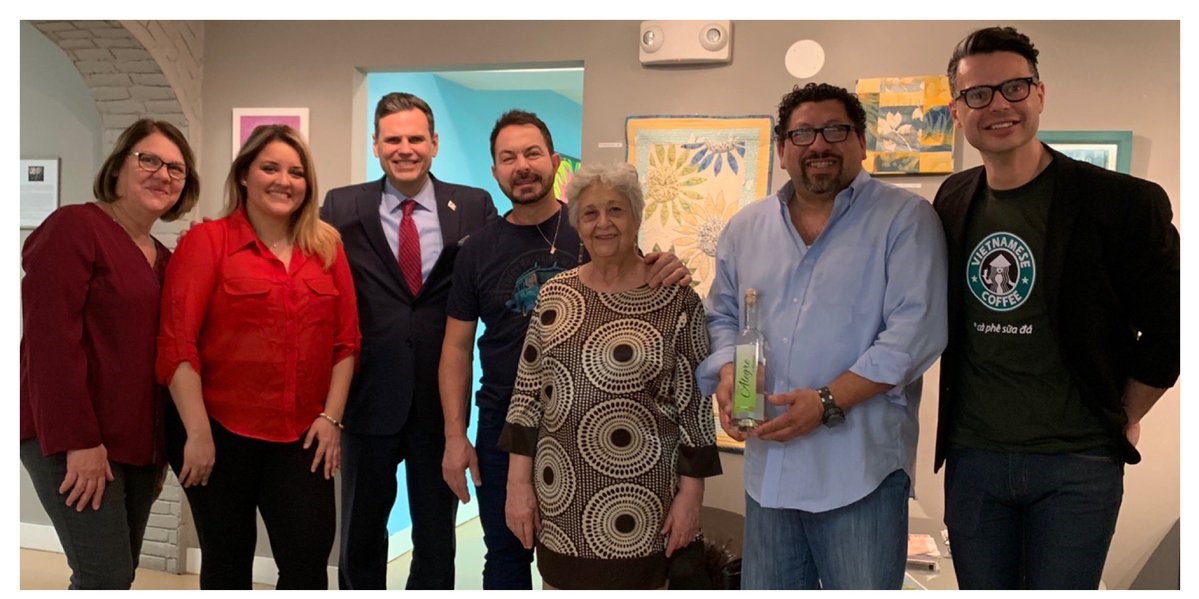 Photo submitted by LUVA Hair & Day Spa.
On January 26, 2019, the LUVA Hair & Day Spa hosted a Winter/Spring Art Show featuring artists Yvonne Gastelu and Janis Doucette.

The art show brought together many community members and leaders, including Mayor Gary Christenson. "It was great not only because of the amazing artwork that was displayed but because LUVA Hair and Day Spa was once again able to bring our city together for a wonderful event."

The LUVA Hair & Day Spa has been supporting local artist for more than 4 years, which led to the Mayor's presence at this year's Winter/Spring art show. According to Alisson DeFaria, LUVA's art show planner, "it started with Windows Art Malden when local artists were paired up with local business and for a weekend people would stroll Malden center to see their artwork showing." They were paired up with artist, Paige Wallis, who already had her art in the shop but was asked by LUVA if she wanted to keep in the Spa longer. This was the creation of LUVA's Art Gallery.
In creating the art show, LUVA intended to "give artists a venue where they [can] show their craft." They don't change anything that the artists paint and all the profits it makes goes to them. As well as giving artists a place for their art, the art show is also a good way for people in the community to learn more about their business. Additionally, the art show is a good way to get the community to come together and spend some time with each other. The Mayor also agrees with this saying that "art brings the community together and is able to connect people from all cultures and backgrounds."
The Winter/Spring Art Show wasn't the first art show that LUVA has hosted. In fact, they host art shows every month with openings commonly in January and July. "The difference between shows are the mediums artist choose to show. From oils in canvas, pastels, mix media, sculptures." LUVA also host fundraisers and pop-up markets.

Though they had much great art there, not many people were able to attend due to the weather; the art show only had between 20 to 30 attendees. In contrast to the fewer spectators of the Winter/Spring art shows, Summer/Fall art shows attract many more attendees. Previous Summer/Fall art shows have seen record attendance, up to 100 community members showing up to view the artwork. "It all depends if we are able to bring musicians for the Openings as well," DeFaria says.
LUVA Hair & Day Spa also sells the pieces they display in the Art Show and their Art Gallery, making it possible for the attendees to buy the art they liked.

Christenson explained that "small businesses are what help keep Malden vibrant," adding that "attending their many events is one way of thanking them for being part of [the Malden] community."
The Luva Hair & Day Spa is a nail salon, hair salon and spa all in one shop. It is located on 379 Main St, Malden, MA and is open from Tuesday to Saturday.