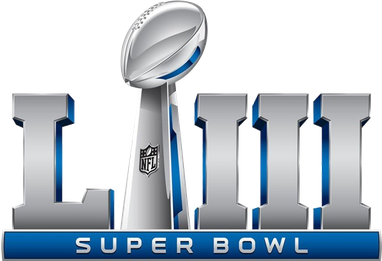 Super Bowl LIII took place on Sunday, February 3rd at the Mercedes-Benz Stadium in Atlanta, Georgia, featuring the New England Patriots and the Los Angeles Rams.
During the week leading up to the game, most were predicting a Patriots' victory over the Rams. New England was playing in the Super Bowl for the fourth time in five years. Meanwhile, the Rams had not played the Super Bowl since 2002, when they were defeated by….. you guessed it, the New England Patriots.
Many in Malden and the rest of the Boston area believed that the Patriots had an advantage over the upstart Rams because of their experience. The Patriots also were lead by the iconic duo of head coach Bill Belichick and quarterback. In their previous eight Super Bowl appearances leading up to last Sunday, Brady and Belichick took part in some of the most memorable Super Bowls in NFL history. However, many also believed that not taking into account experience, Los Angeles had the more talented and well-balanced team.
In the past, the Patriots have been known to do unpredictable things. Two years ago, they went down 28-3 before mounting the greatest Super Bowl comeback of all time and beating the Falcons. Last year, the Patriots played in the highest scoring Super Bowl of all time, in a heartbreaking loss against the Eagles.
Before the game, freshman Luke Zubrzycki, a Patriots fan, predicted that the Patriots will win because "[they] already beat the best team in the league in the AFC Championship, the Chiefs" and that the "Rams aren't better than the Chiefs were." Many people predicted that it would be a high scoring game considering it featured two of the best offenses in the league this year. Regardless of the score, tt was difficult to find someone in Malden who was a Rams fan and/or did not see the Patriots coming out on top.
While the game was not the offensive shootout many predicted, the Patriots did end up winning with a final score of 13-3. And despite the lackluster entertainment value, the win was all that mattered to the ecstatic Patriots fans. Zubrzycki stated that "it was a great game," regardless of the fact that "there was only a total of 16 points." He and many other people were proud of the team, especially the defense for only allowing 3 points to such an explosive offense. Gilberto Ceja, a freshman and Patriots fan, explained that the "defense was phenomenal," and he attributed the win to them.
For many people, including Sandra Rivadeneira, a sophomore at Malden High, the Super Bowl is a chance for families to come together and bond. She said that her "family [does not] usually watch football games, but when it comes to the Super Bowl [they are] automatically football fans." Following the game, some people were disappointed in how uneventful it ended up being, but Rivadeneira said that "it [was] cool to watch a historic [game]."
Because of the winning culture of Boston sports teams in this century, many Patriots fans' attentions have already turned to next season and the quest of their team to capture a record breaking seventh Super Bowl. The question now remains will Brady retire anytime soon? Despite him promising that Super Bowl LIII won't be his last game, many have speculated as to when the 41 year-old will decide to hang up his cleats.. However, Brady has expressed that he wants to continue playing until he is 45. In an interview after winning the Super Bowl, he reaffirmed that winning "doesn't change anything."
Ceja explained that he believes Brady will not retire this year and that he should "give it 2-3 years." As for the future of the Patriots, he said that it is "bright if [they] get a new quarterback." Ceja, like many others, agreed that while Brady is one of the best players of all time, "he is slowly [declining]" because of his age. Rivadeneira agreed that Brady still has "a season or two more in him," but she mentioned that she think that the former all-pro tight-end "[Rob Gronkowski] might be retiring soon because of the injuries he has racked up throughout his career."
When asked about the future of the Patriots, Zubrzycki explained that "[they] winning five more Super Bowls."