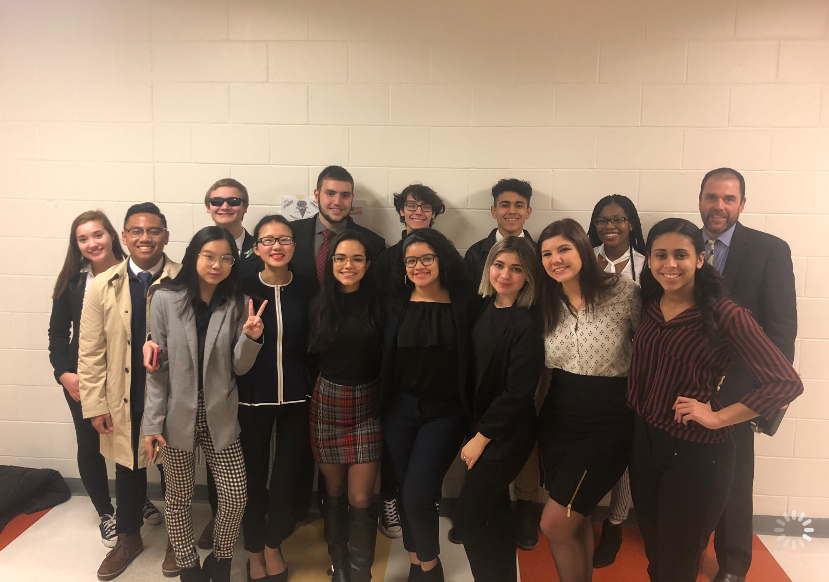 The Malden High Mock Trial team. Photo submitted by Rebeca Pereira.
The Malden High Mock Trial team is advancing to the Regional Mock Trial competition for the third year in a row.

The class, taught by Richard Tivnan, gives students the opportunity to "explore various topics relating to the functions of the court system of Massachusetts," according to the Malden High School website. The class is open to sophomore, junior, and senior students and has a 25 student cap. Though it does not require any specific history courses to be taken previously, a teacher recommendation is required to apply for the team.

Mock trial at Malden High was first an after school club started by Tivnan "with the help of Ms. Pember." It was a club for three years until it became an elective course in 2011. Tivnan explained that he feels that it is important to have it as a class because it "[provides] students with an opportunity [to] learn some very valuable skills" while "learning about the legal system." Furthermore, it also allows students to "build confidence in their public speaking skills, hone critical thinking and analysis skills, and learn to work cooperatively as a member of a team," all of which "will prove to be valuable assets as they move on from high school. "

Before the regional competition, the team competed in three trials within their bracket, comprised of Malden High, Revere High, Pope John, and Chelsea High.

The first trial was against Pope John, with Malden High acting as the prosecution. Members on the team explained that Pope John team did not put up much of a fight, as they were not very prepared. This resulted in an easy win for Malden.

In the second trial, Malden acted as defense against Chelsea High. They were very well prepared and challenged Malden very strongly, but Malden won in the end.

The third trial was also a victory for Malden, but not for the typical reason. The trial was supposed to be against Revere High with Malden as prosecution, but Revere forfeited, as they failed to show up to the competition. Due to their absence, Malden won the third and final trial.

The win of the third trial advanced Malden to regionals, as they had the most wins in their bracket, but it also created issues for the team. In mock trial, you need to be able to think on the spot and the lack of practice due to other teams not being prepared or present resulted in a major disadvantage for the Malden High prosecution. If Malden has to act as prosecution at regionals they will have had less preparation than other teams may have had at the regionals.

The current trial case is centered around a alleged case of police brutality. It is a criminal case about a police officer who killed a citizen he confused for somebody else. The person he killed was an activist in the community and the officer was suspected to have a vendetta against him. The defense is to argue that it was a simple case of mistaken identity and that the officer should not be charged. Prosecution will argue that it was intentional and the officer is guilty of murder.

This case is extremely relevant today, as there have been many cases of police brutality emerging in the media. February is Black History Month and many Americans still mourn the death of Trayvon Martin, whose family members notably became activists after his death, and many other victims like him.

According to Tivnan, the process of preparing for trials is "long and difficult" because "the students must learn the rules of the competition, courtroom procedure, and the rules of evidence, which govern what can and cannot be said in court," along with "all of the facts of the case and relevant law presented in the materials."

Tivnan explained that he always tells his students that "just when you think you're done, you're not." Preparing for regionals is "more of the same" but it is more focused on "working to fine tune [the team's] skills" by making changes "based on what they did well, or not so well, in the preliminary trials."

In mock trial, "the competition starts out with approximately 135 teams. The regionals only include the [remaining] 32 teams." Tivnan added that "the competition is very tough and requires a very strong performance from the teams that win."

Team captain Katherin Machado said that she is "excited to see how [they] will perform" as the team is "more confident and seem[s] more prepared." She is also excited "about the competition, and to see how they will deliver the case." Though she is excited, Machado is still nervous about regionals, explaining that "[she is] nervous about the judge. [Their] last two years at regionals, the judges were a bit tough on [them], but [they] took the criticism and went home happy."

The team has very specific strengths and weaknesses, with Machado citing their strengths as how "[they] all work so well together." She explained that "[they] always motivate each other to do [their] best." She said that she believes "that [their] only weakness is that [they] sometimes get distracted easily, and that sometimes slows [them] down." Regardless, she expressed that "[she] think[s] that [they're] ready for regionals and [they're] ready to bring home another win!"

Tivnan also said the team has strengths and weaknesses, including strengths such as the "smart, dedicated students who have worked hard to learn how to be successful" and weaknesses such as "the fact that the majority of the team is new this year."

Regionals will be held on March 3rd at Clark University in Worcester.