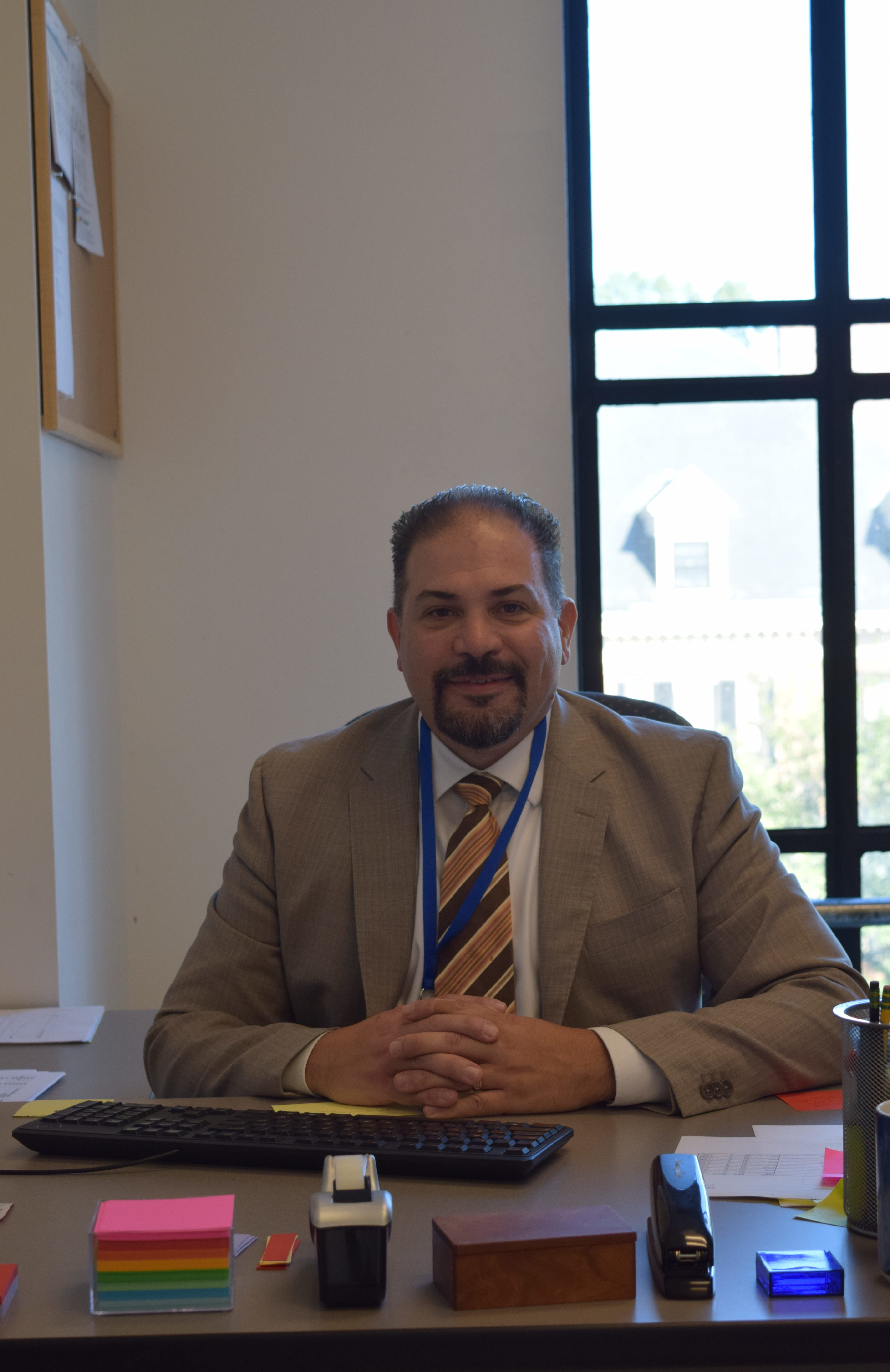 Photo from 2017-18 B&G archives.
Malden High School administration has recently announced former Brunelli House Principal Ray Garcia's departure as he prepares to assume his new position as interim principal for the Linden STEAM Academy, one of the district of Malden's five middle schools.
The internal hire, which for many students and faculty seemed to have emerged abruptly, arose from the need to fill the position quickly, as former Linden principal resigned for undisclosed health reasons. The mid-year resignation demanded quick action and the decision to transfer Garcia was reached within the week.
Garcia's experience in the science field prepared him especially for administration of a STEAM (science, technology, engineering, arts and mathematics) school such as the Linden, which converted to an innovation school in 2012.
Garcia was born and raised in Lawrence, Massachusetts, and working in Malden as house principal was his first time working outside of his hometown. He graduated from Lawrence High and then went on to major in education at UMass Amherst and Salem State University. He taught for 25 years before he came to Malden High, and he was previously a school director at Lawrence High.
Garcia has previously been a science teacher, department head, lead teacher and assistant principal and has not only maintained his interest in science and innovation, but has also been continually involved in the eighth to ninth grade transition, a process he will continue to assist as principal of the Linden.
MHS principal Chris Mastrangelo reflects on Garcia's short one-and-a-half-year tenure as house principal saying that "[he] has had a very successful run." Mastrangelo, who could always rely on Garcia to "sit and strategize" before meetings, knew immediately that Garcia, who has previously expressed an interest in expanding his role, would be fit for the job.
Mastrangelo says it was as simple as asking Garcia to "go down to [the Linden] and do [his] Mr. Garcia thing," an "it factor" that Superintendent John Oteri also believes is inherent in Garcia.
Oteri expresses that, though his experience with Garcia has been limited, in spite of his "more removed" interaction, he has noticed that Garcia is "a very positive leader."
Garcia will be the third principal the Linden has in the span of one year and Oteri hopes that his advocacy and good listening skills will help the community "heal" amidst the flux and instability in that school administration. Oteri commented that Garcia has always been "thoughtful, respectful and reflective when it comes to engaging with students" and that he has a "high degree of confidence" in Garcia's transferal to the Linden.
If Garcia decides to remain at the Linden, which Mastrangelo describes as the "best case scenario," Oteri, as superintendent, can appoint him as the permanent hire. If that outcome does not occur, however, there will be a much more public hiring process which will engage community members, teachers, administrators, students, para-professionals and parents for what Oteri calls a "broad base of representation."
Meanwhile, Heather Northrop, formerly a 9th grade counselor, will act as interim house principal for Brunelli.
Freshman guidance counselor Taryn Belowsky also reflected on Mr. Garcia's time at MHS describing him as "a great and valuable asset with [his] best interest in mind".
She also mentioned that Garcia is "quiet at first, but when you get to know [him], [he] really opens up and gives you some great advice and ideas."
The MHS community of students and faculty said farewell to Garcia on Friday, March 1st as he began filling in his new post on Monday of the following week.