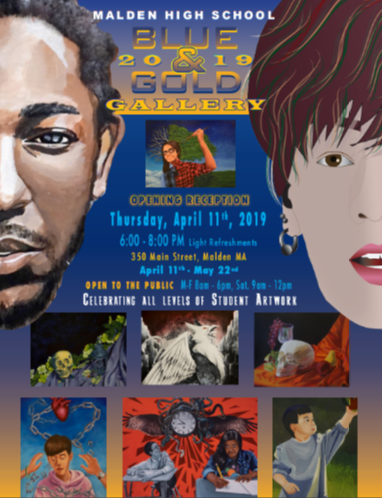 Flyer for the Malden High School Art Department 2019 Blue and Gold event.
On Thursday, April 13th, parents, students and many other community members met to celebrate the hard work and dedication of the students and teachers of the Malden High School Art Department at the 2019 Blue and Gold Gallery.

Approximately 20 years ago, calligraphy and studio art teacher Maryann Seager decided to honor Malden's 350th anniversary by displaying student artwork. She, along with her brother, initially planned to "make some parade puppets" which then evolved into "a gala of student art." Since its inception, the Blue and Gold Gallery expanded and changed but its purpose has remained the same, to "take [student work] outside of school so that people can see all the wonderful things that [students] are doing [at MHS]," says Seager.

Each year, John Preotle lends the venue, 350 Main St., and assumes all responsibilities regarding the preparation of the building, providing hors d'oeuvres on opening night and catering services. Superintendent John Oteri states that "[Preotle] continues to use his own creativity in Malden" and elaborates saying that "art flourishes because of benefactors like [him]."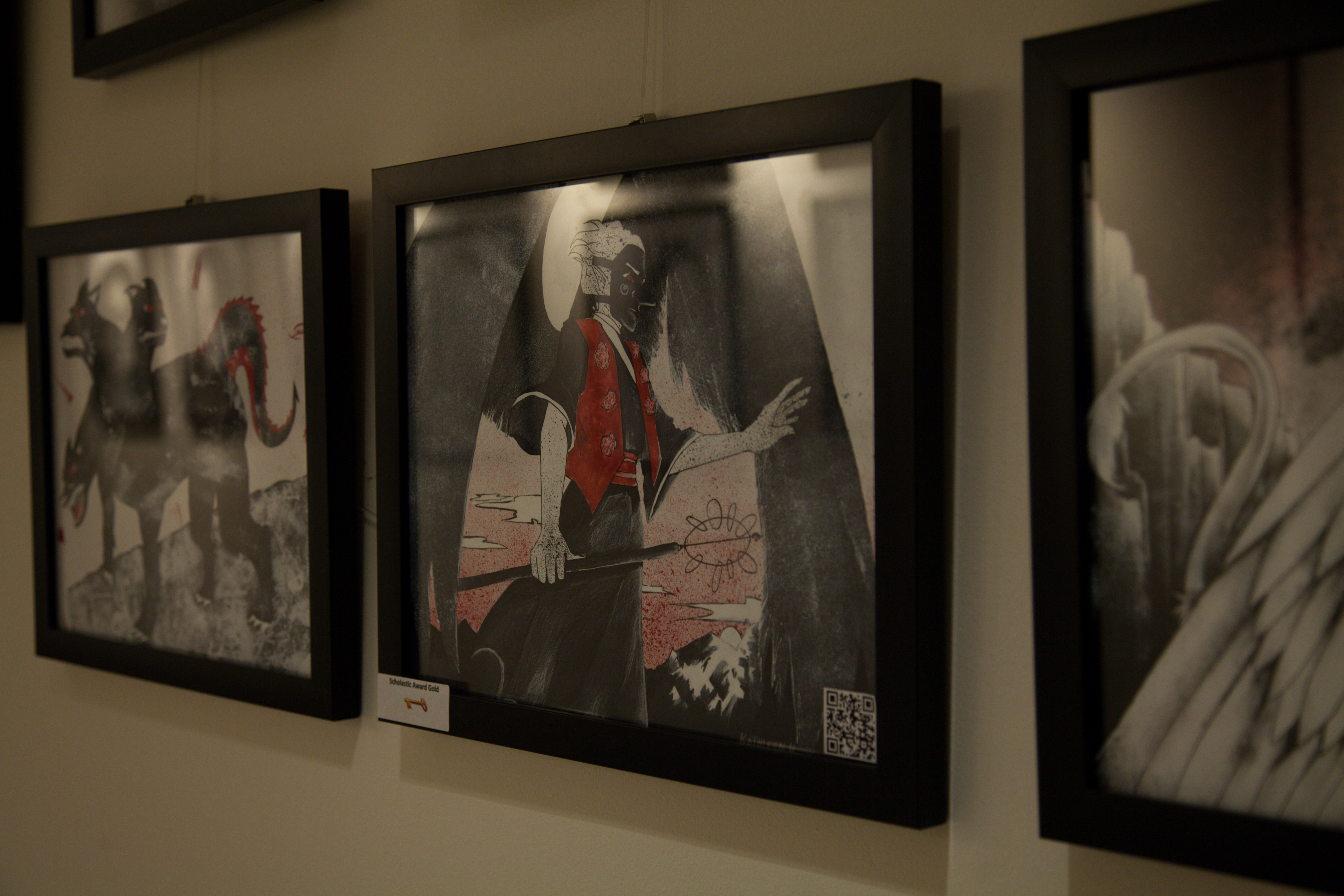 Julie Mullane, another teacher from the MHS Art Department, says that "[she] thinks that it's important for [ students] to get [their] artwork out in the community." She believes that the exhibition of student artwork allows students to view their work differently because "[their work is] in a different building, it's framed, it's lit nicely, it just takes on a whole new look."

Mullane also notes that "the seniors really get a chance to shine, especially juniors and seniors that are planning on going to art school." By highlighting the highlighting the accomplishments of Gold and Silver Key winners, the gallery also acts as a tribute to upperclassmen who have grown and expanded their skillset within the MHS Art Department.

Joseph Luongo, Digital Art teacher and Fine Arts Club advisor, says that "the work is always of a high caliber" because the curation process is very thorough. Throughout the year, each teacher sets aside noteworthy pieces and submits them to the department during several meetings, describing each as a "juried show."

During the opening ceremony, Luongo acknowledged the students who won twenty-five scholastic art awards, more than all the districts surrounding Malden and their respective charter schools combined.

One of the highlights of the night was when Luongo gifted a painting to Holland House principle Marilyn Slattery because she "has never missed an opening of the Blue and Gold Gallery." Luongo says that "[the Art Department has] made her an honorary Fine Arts Club member."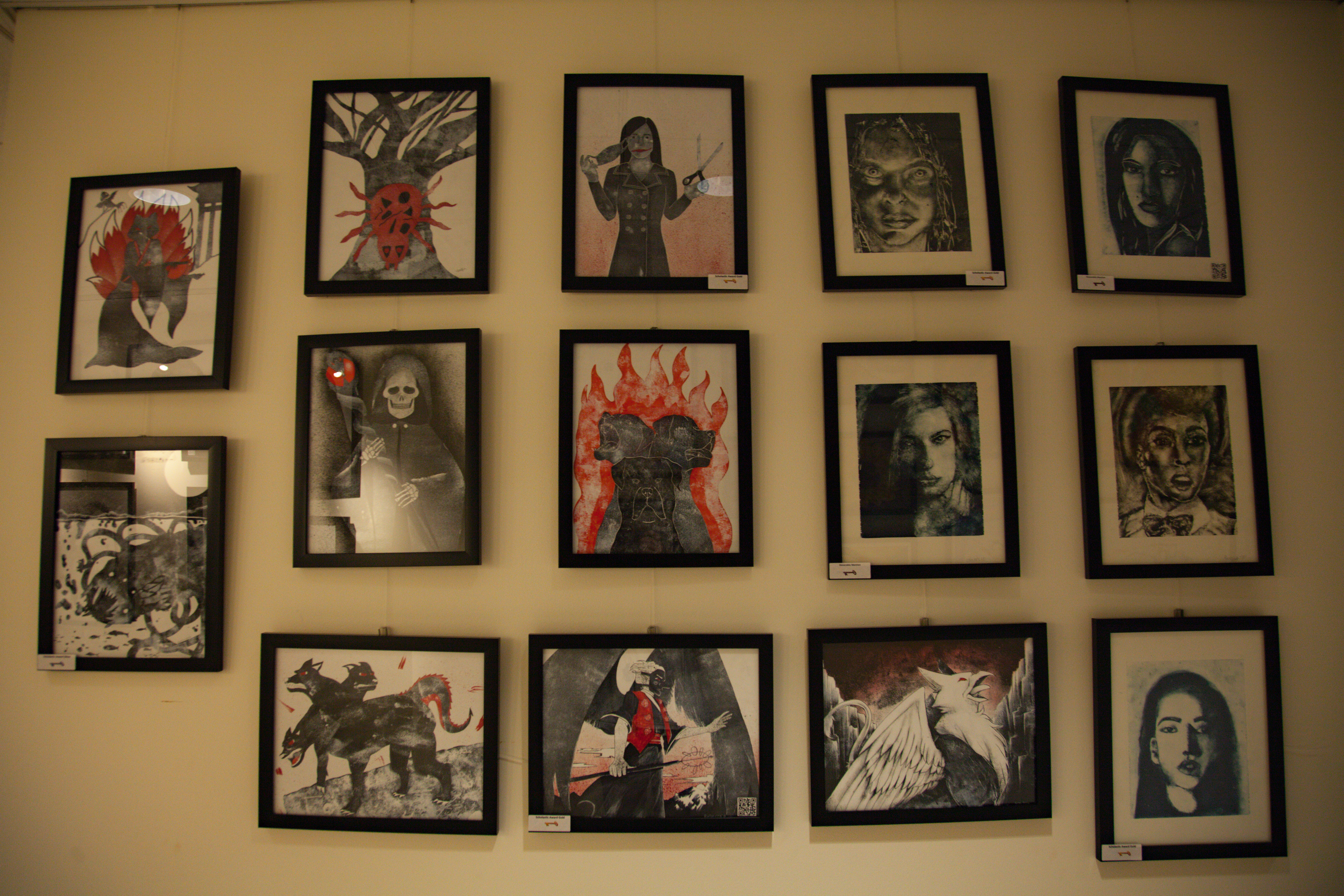 Slattery said that "[she] had seen something similar to [the painting presented to her] a number of years ago" and that "[she] wanted the painting, but the young lady who painted it didn't want to part with it, so [she] gave it up." Luongo recalled this instance and chose to present her with a replica of the painting she had previously wanted.

During the opening remarks, Malden High principal Chris Mastrangelo praised  Mullane, Seager, and Luongo for doing "incredible work with [the] students each day." He described the gallery as the "end result" and congratulated the students on the work they put in.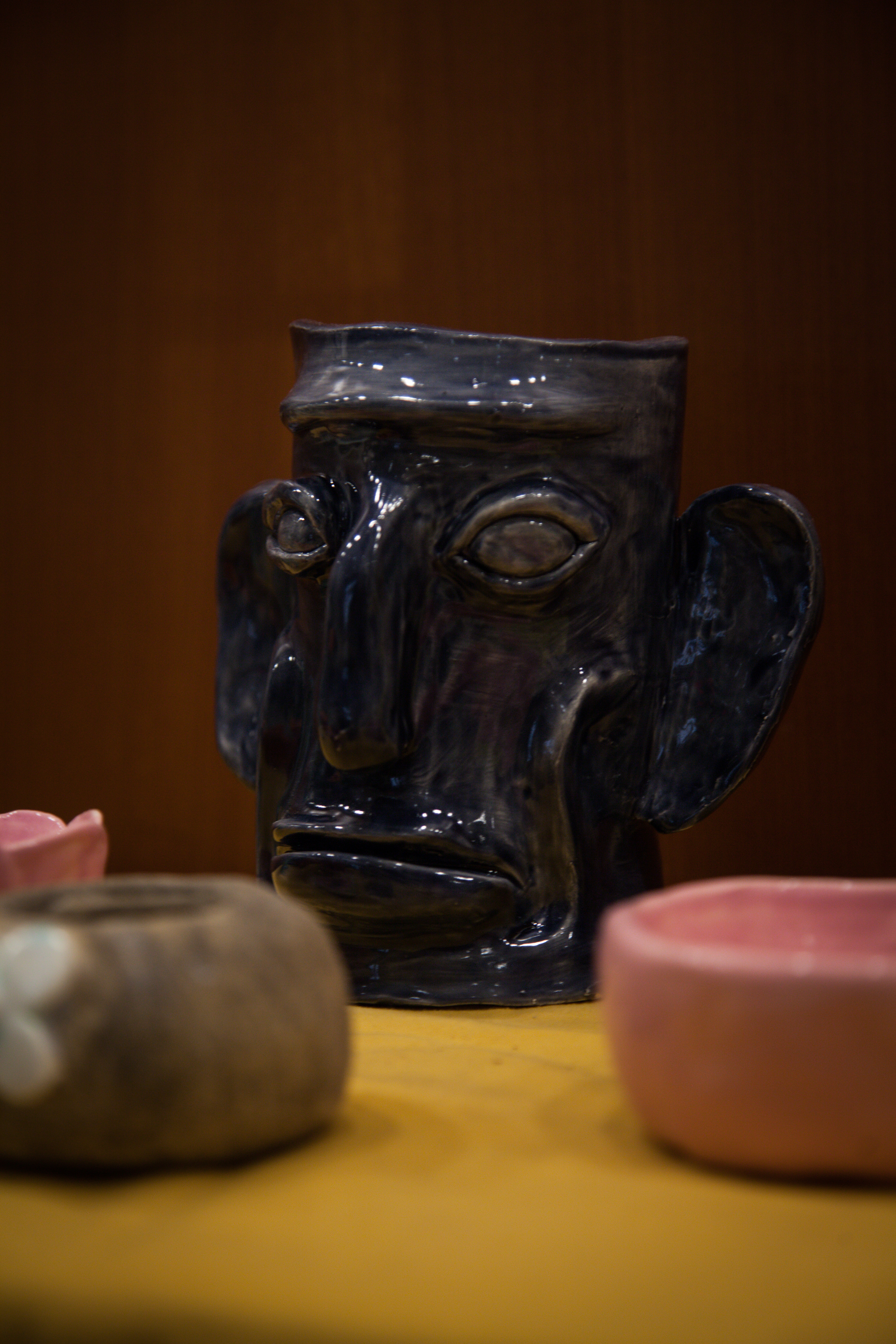 Superintendent Oteri, who spoke on behalf of Mayor Christenson, as he was double booked and not able to be there on time to deliver opening remarks, said that "[the artwork] reflects the talent seen every day at Malden High School," which is largely due to the "amazing student body and an incredibly dedicated teaching staff in the fine arts, performing arts and in the academic areas that engage kids.'"

The Blue and Gold Art Gallery will be open to the public until May 22nd, Mondays through Fridays from 8:00AM to 6:00PM, and on Saturdays from 9:00AM to 12:00PM.
Check out the YouTube video here!